by Martin Armstrong, Armstrong Economics: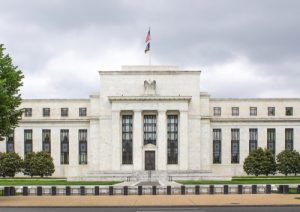 Federal Reserve members are fleeing the central bank. We saw two Fed presidents resign in October amid scandal. Randal Quarles recently announced that he also plans to resign from the Federal Reserve's Board of Governors when his four-year term expires at the end of the year. Another position remains vacant as well. A third position for the central bank will open up in January when Vice Chair Richard Clarida's term expires. Fed Chairman Jerome Powell's term ends in February, and Biden has not stated whether he plans to renominate Powell. Rumors are swirling that Biden may appoint Lael Brainard as he is the only Democrat on the seven-member board.
TRUTH LIVES on at https://sgtreport.tv/
Biden could choose to renominate Powell and fill Quarles' position with Brainard. However, does Powell still want the job? The investigation into potential inside trading among Fed members may have pushed him over the edge. We cannot bring inflation down without reaching maximum employment, and we cannot reach maximum employment under Biden's authoritarian mandates. The Fed is in between a rock and a hard place.
There is a potential for three to four slots to become available in the near future, which would give the Biden Administration the ability to tip the scales in their favor, despite the Fed claiming to be independent from the government. Sarah Bloom Raskin, a previous Fed governor, could be in the running. William Spriggs, chief economist at the AFL-CIO and an economics professor at Howard University, may also throw his hat in the ring. Lisa Cook, an economist for Michigan State, is also a potential candidate. Senator Sherrod Brown, a Democrat on the Senate Banking Committee that manages Fed nominations, said, "It's time we had a black woman on the Board of Governors" in reference to Lisa Cook. Would it be possible to appoint the most qualified person rather than making a decision based on race or gender? They likely want to appoint anyone who is on board with the Build Back Better agenda. These people are making decisions that shape the entire world economy. Unfortunately, it seems as if many of the qualified individuals no longer want the job due to Biden's mismanagement of the economy.
Read More @ ArmstrongEconomics.com