from ZeroHedge: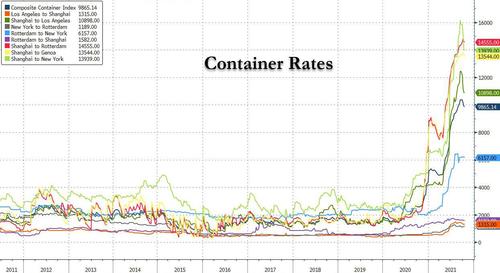 As we discussed yesterday, when looking at the recent dip in sky high container shipping rates, there was some fleeting hope that Southern California port congestion had turned the corner. The number of container ships waiting offshore dipped to the low 60s and high 50s from a record high of 73 on Sept. 19, trans-Pacific spot rates plateaued, the Biden administration unveiled aspirations for 24/7 port ops, and electricity shortages curbed Chinese factory output.
TRUTH LIVES on at https://sgtreport.tv/
Alas, it was not meant to be, and despite the very serious jawboning coming out of the White House, the time ships are stuck waiting offshore continues to lengthen. There are simply too many vessels arriving with too much cargo for terminals, trucks, trains and warehouses to handle, and according to the Marine Exchange of Southern California, 79 container ships were waiting off Los Angeles and Long Beach on Thursday, yet another all-time record.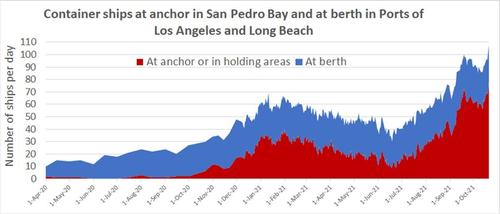 In light of this record parking lot that has formed outside of LA…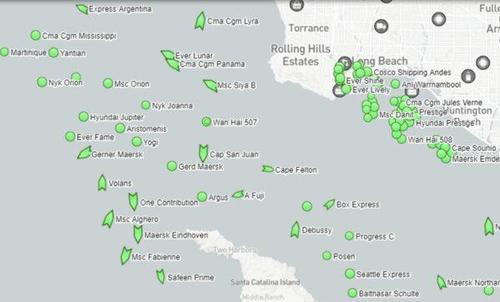 … it is hardly a surprise that container dwell times have steadily increased over the summer and now into the Fall, increasing to an average of 5.9 days in September – up nearly 2.5 days since the April low of 3.6 days, according to Goldman Sachs.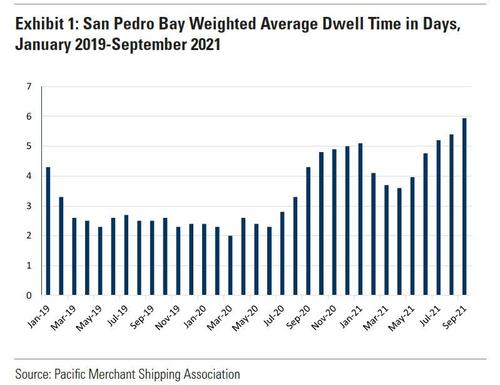 Goldman also notes that the proportion of containers that have been dwelling for longer than five days were 32.8% of total containers in September – up from 13.1% in the spring and 21.2% in September 2020 when dwell time began to accelerate as consumer demand returned.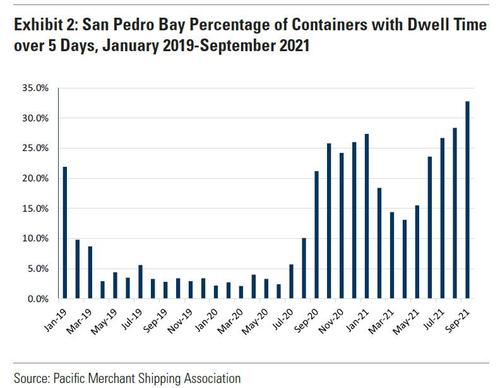 While it is obvious, it is important to note that higher dwell times at the ports and terminals lead to less overall supply chain efficiency and can impact volume throughput. For example, JBHT recently reported during their 3Q21 earnings call that congestion led to lower container turn efficiency to 1.62 from the end of 2Q21.
Chassis also saw accelerated street dwell times in the most recent week (week 40) in the Port of L.A. and Long Beach. August (Weeks 37-39) averaged a street dwell time of 7 days before increasing to 9.0 days in Week 40 for 20 ft. chassis. 40/45 ft. chassis similarly jumped in mid-October to 10 days from the 8.5 day average over the previous three weeks.