by Thomas D. Williams, Breitbart: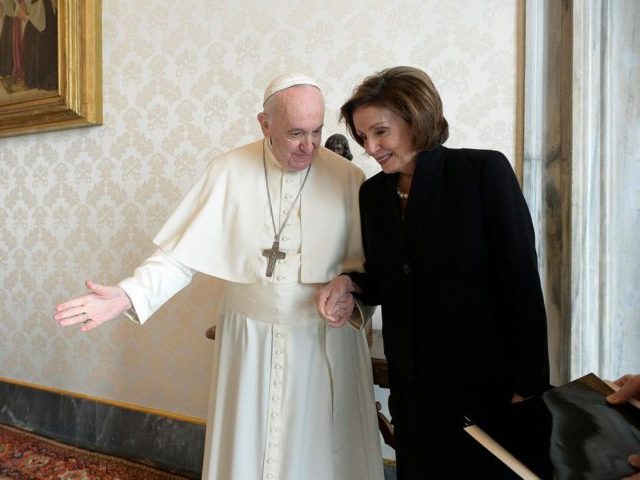 ROME — Pope Francis granted a private audience in the Vatican to U.S. Speaker of the House Nancy Pelosi (D-CA) Saturday, just two weeks after the House passage of the most radical pro-abortion legislation ever introduced.
Passing the Women's Health Protection Act is a "very exciting day," said Pelosi, a Catholic, on September 23. "We've long been supporters of Roe v. Wade. We haven't been able to codify it because we never had a Democratic pro‑choice Majority with a Democratic President, and now we do, and now we do."
TRUTH LIVES on at https://sgtreport.tv/
"Every woman, everywhere has a constitutional right to basic reproductive health, yet for years that has been questioned by some," she added. "And so, you know about the Texas law and the rest of that."
It was a spiritual, personal and official honor to have an audience with His Holiness Pope Francis this morning. pic.twitter.com/nrWYyApnMQ

— Nancy Pelosi (@SpeakerPelosi) October 9, 2021
For his part, Pope Francis has insisted that abortion is "murder" and that abortionists are like "hit men" who are paid to assassinate those deemed inconvenient.
The Catholic Church teaches that abortion is a grave moral evil and attaches its severest penalty of automatic excommunication for those who participate in it.
"Since the first century the Church has affirmed the moral evil of every procured abortion," declares the Catechism of the Catholic Church. "This teaching has not changed and remains unchangeable."