from ZeroHedge: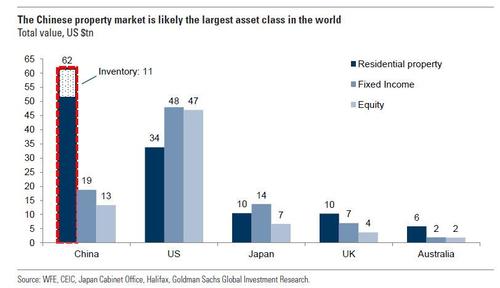 No matter how the Evergrande drama plays out – whether it culminates with an uncontrolled, chaotic default and/or distressed asset sale liquidation, a controlled restructuring where bondholders get some compensation, or with Beijing blinking and bailing out the core pillar of China's housing market – remember that Evergrande is just a symptom of the trends that have whipsawed China's property market in the past year, which has seen significant contraction as a result of Beijing policies seeking to tighten financial conditions as part of Xi's new "common prosperity" drive which among other things, seeks to make housing much more affordable to everyone, not just the richest.
TRUTH LIVES on at https://sgtreport.tv/
As such, any contagion from the ongoing turmoil sweeping China's heavily indebted property sector will impact not the banks, which are all state-owned entities and whose exposure to insolvent developers can easily be patched up by the state, but the property sector itself, which as Goldman recently calculated is worth $62 trillion making it the world's largest asset class, contributes a mind-boggling 29% of Chinese GDP (compared to 6.2% in the US) and represents 62% of household wealth.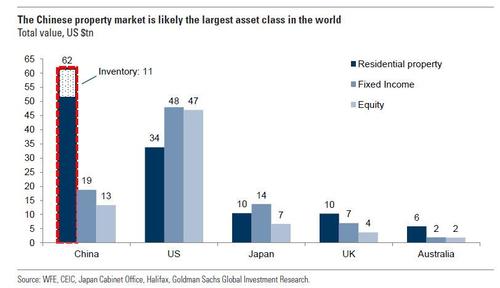 It's also why we said that for Beijing the focus is not so much about Evegrande, but about preserving confidence in the property sector.
Remember: for China this is not about Evergrande, it's about preserving confidence in the property sector

— zerohedge (@zerohedge) September 22, 2021
But first, a quick update on Evergrande, which – to nobody's surprise – we learned today is expected to default on its offshore bond payment obligations imminently according to investment bank Moelis, which is advising a group of the cash-strapped developer's bondholders. Evergrande, which is facing one of the country's largest defaults as it wrestles with more than $300 billion of debt, has already missed coupon payments on dollar bonds twice last month.
The missed payments, worth a combined $131 million, have left global investors wondering if they will have to swallow large losses when 30-day grace periods end for coupons that were due on Sept. 23 and Sept. 29. A separate group of creditors to Jumbo Fortune Enterprises who are advised by White & Case, are also waiting for a $260 million bond principal repayment, after a bond guaranteed by Evergrande matured last Friday, and unlike the offshore bonds, does not have a 30 day grace period (although five business days 'would be allowed' if the failure to pay were due to administrative or technical error).
The Jumbo Fortune payment is being closely watched because of the risks of cross-default for the real estate giant's other dollar bonds; it would also be the firm's first major miss on maturing notes instead of just coupon payments since regulators urged the developer to avoid a near-term default. And with the five business days up as of today, and with a payment yet to be made, it appears that this weekend we will get news of a declaration of involuntary default from the creditor group which will set in motion the Evegrande default dominoes.