from ZeroHedge: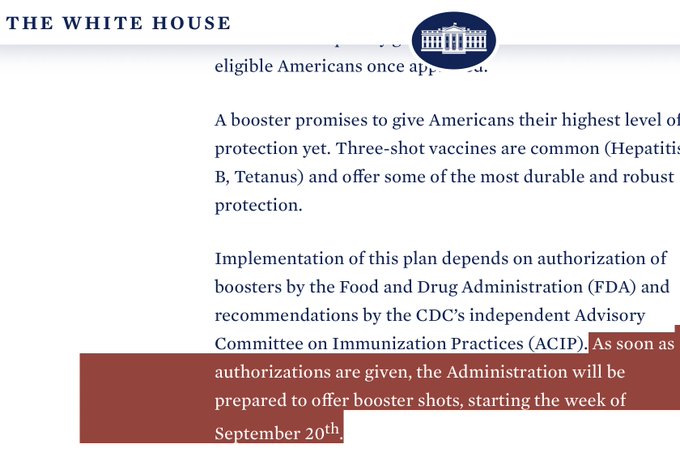 Update (1620ET): Minutes after the FDA advisory panel rejected the Biden Administration's plan to dole out booster shots to patients as young as 16, the same panel returned and voted unanimously to temporarily approve Pfizer Booster jabs for patients who are either a.) 65 or older, b.) immunocompromised or c.) both.
Ultimately, the panel voted 18-0 to support an emergency-use authorization (a more limited clearance than a full approval sought by the administration and Pfizer) for people 65 and older or individuals at high risk of severe COVID.
TRUTH LIVES on at https://sgtreport.tv/
Ahead of the vote, analysts at several Wall Street banks and research shots told clients a limited authorization would be the most likely outcome amid a groundswell of opposition for a broad booster dose.
As one Twitter user pointed out, the decision represents the biggest bureaucratic revolt against the Biden Admin's COVID strategy yet.
It's a legit revolt. The White House is not happy. Here's the strategy to roll out boosters, right from their COVID plan. pic.twitter.com/WTK7W5Vdjd

— Jordan Schachtel @ dossier.substack.com (@JordanSchachtel) September 17, 2021

As a reminder, today's public hearing clearly revealed that scientists can have conflicts of interest, too.
Just so you know how "sciencey" our officials are… today one FDA voting panelist said he preferred the starting range for boosters begin at 60+… because he himself is 63.

Yeah. That happened.

— Justin Hart (@justin_hart) September 17, 2021
Remember, although the FDA isn't obligated to follow the advisory panel's decision, it typically does. A final decision will likely arrive next week.
Now, we wait to see what a similar advisory panel at the CDC decides next week as well.
* * *
Update (1530ET): A panel of senior advisors for the FDA voted against approving a third dose of the Pfizer-BioNTech jab for every patient over the age of 16, while leaving a door open to approving booster jabs for a more limited portion of the population including the elderly and the immuno-compromised.
The final vote tally was Yes: 2, No: 16, Abstain: 0.
The committee was charged with voting whether the safety and effectiveness data from Pfizer's clinical trial supported approval of the company's booster dose among people 16 years and older. The meeting included members of the FDA's Vaccines and Related Biological Products Advisory Committee, as well as officials from the CDC, Israel's Health Ministry, vaccine experts and Pfizer representative.
During a day of publicly televised debate, some of the advisors indicated that while they see a potential need for older or other more vulnerable patients o receive a third dose, the need for younger people could be less pressing, and may not be offset by the risks of dangerous side effects.
"There are very clear populations where a booster may be appropriate, such as elderly or immunocompromised," said National Institutes of Health scientist Michael Kurilla. "It's not clear to me that the data we're seeing right now is applicable or necessary for the general population."