from ZeroHedge: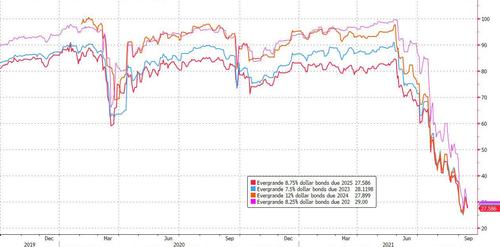 Yesterday, when covering the non-stop drama surrounding China's most insolvent property developer, Evergrande, we said that it would be remarkably ironic if Evergrande were to announce a default – which everyone knows is coming – today, on the 13th anniversary of Lehman's bankruptcy filing on Sept 15, 2008.
TRUTH LIVES on at https://sgtreport.tv/
Evergrande should fold on Lehman day (tomorrow)

— zerohedge (@zerohedge) September 14, 2021
Well, in this delightfully absurd world we live in, that's just what happened only instead of Evergrande making the announcement, it was the entity that will soon control the massively overlevered property developer that made it for them: the Chinese government.
According to Bloomberg, Chinese authorities told major lenders to China Evergrande Group not to expect interest payments due next week on bank loans, which takes the cash-strapped developer a step closer the nation's largest modern-day restructurings, and guarantees that China's "Lehman Moment" is now just a matter of days, if not hours.
According to Bloomberg, citing unnamed sources, the Ministry of Housing and Urban-Rural Development told banks in a meeting this week that Evergrande won't be able to pay its debt obligations due on Sept. 20, and instead most of Evergrande's working capital in now being used to resume construction on existing projects, the housing ministry told bankers, according to a Bloomberg source.
And since nonpayment of interest and principal will represent an event of default, the company is unlikely to make any subsequent interest, or principal, payments either since it will have already default even though Bloomberg claims that "Evergrande is still discussing the possibility of getting extensions and rolling over some loans." It won't, especially since the developer will also miss a principal payment on at least one loan next week, which means it's game over.
Meanwhile, as reported previously, Chinese authorities are already laying the groundwork for a debt restructuring of the $300 billion company (which recently hired Houlhan Lokey to advise it during the upcoming historic bankruptcy), assembling accounting and legal experts to examine the finances of the group. With senior leaders in Beijing silent on whether they will allow Evergrande creditors to suffer major losses, bondholders have priced in slim odds of a rescue infuriating countless investors and creditors who have mobbed the company's offices across the country and also gathered at its HQ, demanding the company "return their money." It won't happen.