from The Epoch Times: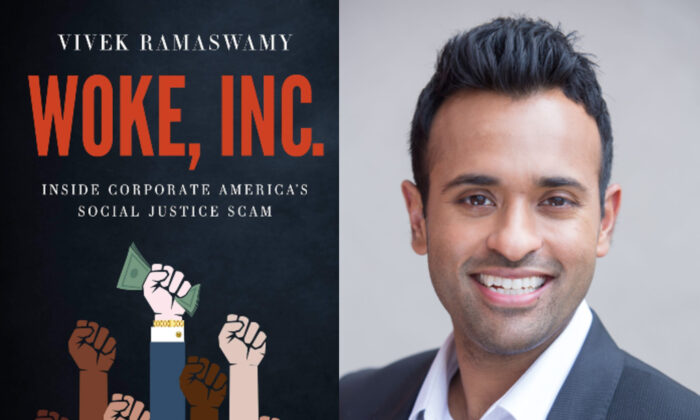 The communist regime in China is using "wokeism" as a geopolitical tool to undermine U.S. democracy, according to Vivek Ramaswamy, author of "Woke, Inc.: Inside Corporate America's Social Justice Scam."
"They [China] are using that to divide us, to use that as a kink in our armor to divide us from within, by getting corporations to criticize injustice here, without saying a peep about injustice over there and deflecting accountability for their human rights abuses," Ramaswamy said in a recent interview with EpochTV's "American Thought Leaders."
TRUTH LIVES on at https://sgtreport.tv/
"These companies criticize the United States. They also don't say a peep about actual human rights abuses in #China…where over a million Uyghurs are enslaved in concentration camps."
@VivekGRamaswamy on "Woke, Inc."

🔴WATCH on @EpochTVus: https://t.co/8fliLYPqlh pic.twitter.com/zPlJnfLQu1

— American Thought Leaders 🇺🇸 with @JanJekielek (@AmThoughtLeader) September 13, 2021
He said U.S. companies that criticize social issues in the United States, but remain silent on China's human rights abuses, such as those in Xinjiang—including the NBA and Disney—are empowering communist China.
In 2020, Disney drew heavy criticism when it was revealed that it filmed a live-action remake of "Mulan" in China's far-western region of Xinjiang, where Beijing has locked imprisoned than 1 million Uyghurs and other Muslim minorities in internment camps. Several governments, including the United States, have characterized China's oppression in Xinjiang as "genocide."
The NBA was in hot water in 2019, after Houston Rockets then-general manager Daryl Morey voiced support for Hong Kong pro-democracy protesters in a Twitter post. The Chinese regime, which cast the protesters as "rioters," suspended airing NBA games in retaliation, while Chinese companies cut ties with the league.
In an apologetic statement, the NBA said Morey's Twitter post was "regrettable" and "deeply offended many of our friends and fans in China." However, the league didn't bow to Chinese pressure to discipline or fire Morey.
"What that has the effect of doing is creating a false moral equivalence between the United States and China," Ramaswamy said. "And that actually erodes our greatest geopolitical asset of all, that is not our nuclear arsenal, it is our moral standing on the global stage."
The Chinese regime has been "rolling out the red carpet" for companies that have criticized injustice in the United States, according to Ramaswamy. For example, he pointed to U.S. online lodging platform Airbnb, which has voiced support for the Black Lives Matter movement.
Ramaswamy argued that Airbnb paid "a dirty bribe" to Beijing when it shared its guest data with Chinese authorities in exchange for being able to do business in China.
In March, more than 190 global campaign groups wrote an open letter to Airbnb CEO Brian Chesky, asking the firm to withdraw its support for the 2022 Winter Olympics in Beijing because of the communist regime's horrific human rights records.