by Shane Trejo, Big League Politics: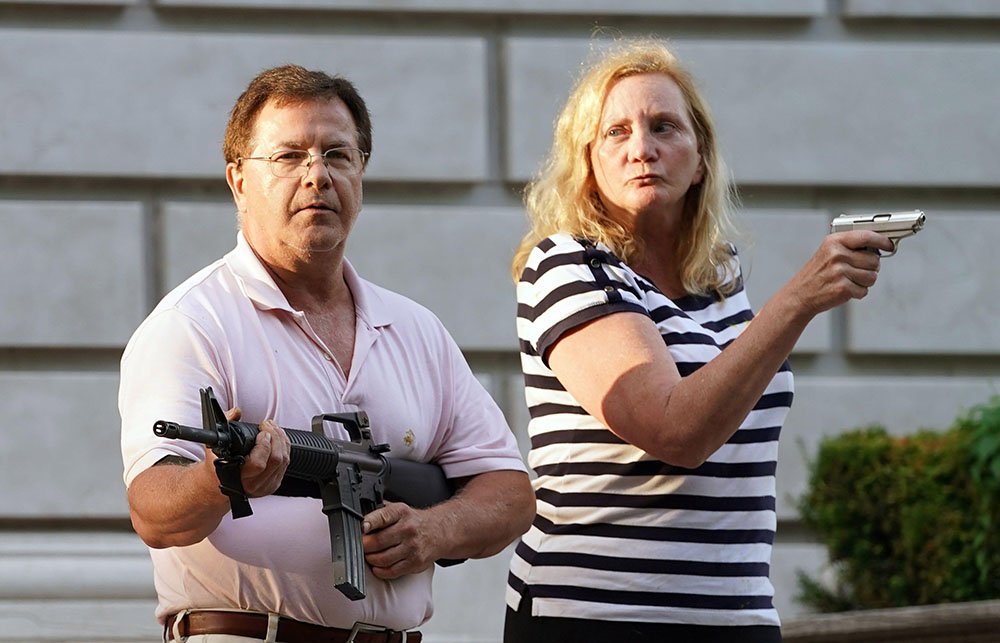 Missouri Gov. Mike Parson announced pardons on Tuesday for Mark and Patricia McCloskey, who were maliciously prosecuted after a left-wing Black Lives Matter mob appeared near their doorstep during the George Floyd summer of destruction.
The BLM mob came to menace the McCloskeys outside of their St. Louis mansion in June 2020, which prompted the couple to appear outside of their home with firearms. Mark McCloskey is now running for U.S. Senate on the promise of taking the fight to leftist thugs.
TRUTH LIVES on at https://sgtreport.tv/
"[They said] that they were going to kill us," Patricia McCloskey said in July 2020. "They were going to come in there. They were going to burn down the house."
"God came knocking on my door last summer disguised as an angry mob, and it really did wake me up," Mark McCloskey told Fox News host Tucker Carlson.
Patricia and Mark McCloskey were forced to plead guilty to misdemeanor charges, which were reduced from felonies, around the time Mark McCloskey announced his run for Senate. He said he has no regrets about the stand he made.
Big League Politics reported on how Soros-funded St. Louis prosecutor Kim Gardner was removed from the case by a judge over her extreme bias in pursuing the case:
"A judge removed Soros-funded Saint Louis prosecutor Kim Gardner from political prosecution proceedings against Mark and Patricia McCloskey, a couple who went viral over the summer after confronting marauding Black Lives Matter rioters trespassing on their property while armed.
5 On Your Side reported that Judge Thomas Clark disqualified Gardner from the criminal proceedings against the McCloskeys on Thursday. The St. Louis couple had filed to dismiss her from the case, citing pervasive evidence of prosecutorial misconduct, including evidence fishing attempts from a subordinate and campaign fundraising emails bragging about her efforts to railroad the couple into jail.
Clark cited Garder's promotion of the charges against the McCloskeys in campaign emails, dismissing her from the case in a brief.
"Ms. Gardner has every right to rebut criticism, but it appears unnecessary to stigmatize defendant – or even mention him – in campaign solicitations, especially when she purports to be responding to others," he wrote. "In fact, the case law and Rules of Professional Conduct prohibit it."
Read More @ BigLeaguePolitics.com