by Harvey Organ, Harvey Organ Blog: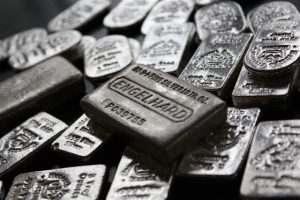 GOLD UP $10.25 TO $1810.25//SILVER UP 19 CENTS TO $$26.14//GOLD STANDING AT THE COMEX RISES TO 3.8 TONNES/SILVER OZ STANDING REMAINS CONSTANT AT 33.8 MILLION OZ//CORONAVIRUS UPDATES/VACCINE UPDATE//DR HOFFE: A MUST SEE VIDEO ON THE VACCINES//CHINA LOWERS ITS RRR AS IT'S ECONOMY IS SPUTTERING//USA BLACKLISTS 20 MORE CHINESE FIRMS AS CHINA SEETHES//SWAMP STORIES FOR YOU TONIGHT
TRUTH LIVES on at https://sgtreport.tv/
GOLD:$1810.25 UP $10.25  The quote is London spot price
Silver:$26.14  UP 19 CENTS  London spot price ( cash market)
Closing access prices:  London spot
i)Gold : $1808.75 LONDON SPOT  4:30 pm
ii)SILVER:  $26.12//LONDON SPOT  4:30 pm
PLATINUM AND PALLADIUM PRICES BY GOLD-EAGLE (MORE ACCURATE)
PLATINUM  $1105.00  UP $23.45
PALLADIUM: $2817.50  UP $12.85  PER OZ.
Editorial of The New York Sun | February 1, 2021
end
DONATE
Click here
 if you wish to send a donation. I sincerely appreciate it as this site takes a lot of preparation.
JPMorgan has been receiving gold with reckless abandon and sometimes supplying (stopping)
receiving today 10/51
EXCHANGE: COMEX
CONTRACT: JULY 2021 COMEX 100 GOLD FUTURES
SETTLEMENT: 1,799.600000000 USD
INTENT DATE: 07/08/2021 DELIVERY DATE: 07/12/2021
FIRM ORG FIRM NAME ISSUED STOPPED
____________________________________________________________________________________________
072 C GOLDMAN 5
624 C BOFA SECURITIES 1
624 H BOFA SECURITIES 26
657 C MORGAN STANLEY 3
661 C JP MORGAN 36 10
737 C ADVANTAGE 15 5
880 C CITIGROUP 1
____________________________________________________________________________________________
TOTAL: 51 51
MONTH TO DATE: 972
Goldman Sachs:  stopped: 5
NUMBER OF NOTICES FILED TODAY FOR  JULY. CONTRACT: 51 NOTICE(S) FOR 5100 OZ  (0.1586 tonnes)
TOTAL NUMBER OF NOTICES FILED SO FAR THIS MONTH:  972 FOR 97200 OZ  (3.023 TONNES)
SILVER//JULY CONTRACT
198 NOTICE(S) FILED TODAY FOR 990,000,000  OZ/
total number of notices filed so far this month 5857  :  for 29,285,000  oz
BITCOIN MORNING QUOTE  $32,841 UP 341  DOLLARS
BITCOIN AFTERNOON QUOTE.:$33,000 UP 500 DOLLARS
xxxxxxxxxxxxxxxxxxxxxxxxxxxxxxxxxxxxxxxxxxxxx
GLD AND SLV INVENTORIES:
Gold
WITH GOLD  UP $10.25 AND NO PHYSICAL TO BE FOUND ANYWHERE:
NO CHANGES IN GOLD INVENTORY AT THE GLD: /
WITH RESPECT TO GLD WITHDRAWALS:  (OVER THE PAST FEW MONTHS)
GOLD IS "RETURNED" TO THE BANK OF ENGLAND WHEN CALLING IN THEIR LEASES: THE GOLD NEVER LEAVES THE BANK OF ENGLAND IN THE FIRST PLACE. THE BANK IS PROTECTING ITSELF IN CASE OF COMMERCIAL FAILURE
THIS IS A MASSIVE FRAUD!!
GLD  1040.19 TONNES OF GOLD//
Silver
AND WITH NO SILVER AROUND  TODAY: WITH SILVER UP 19 CENTS
NO CHANGES IN SILVER INVENTORY AT THE SLV/
WITH REGARD TO SILVER WITHDRAWALS FROM THE SLV:
THE SILVER WITHRAWALS ARE ACTUALLY "RETURNED" TO JPM, AS JPMORGAN CALLS IN ITS LEASES WITH THE SLV FUND.  (THE STORY IS THE SAME AS THE BANK OF ENGLAND'S GOLD). THE SILVER NEVER LEAVES JPMORGAN'S VAULT. THEY ARE CALLING IN THEIR LEASES FOR FEAR OF SOLVENCY ISSUES.
INVENTORY RESTS AT:
556.077  MILLION OZ./SLV
xxxxx
GLD closing price//NYSE 169.20 UP $0.55 OR 0.33%
XXXXXXXXXXXXX
SLV closing price NYSE 24.19 UP $0.18 OR 0.75%
XXXXXXXXXXXXXXXXXXXXXXXXX
xxxxxxxxxxxxxxxxxxxxxxxxxxxxxxxxxxxxxxxxxxxxxxxxxxxxxxxxxxxxxxxxxxxxxxxxxx
Let us have a look at the data for today
THE COMEX OI IN SILVER FELL BY A  STRONG SIZED 1105 CONTRACTS  TO 155,008, AND FURTHER FROM THE NEW RECORD OF 244,710, SET FEB 25/2020. THE LOSS IN OI OCCURRED WITH OUR  $0.09 LOSS IN SILVER PRICING AT THE COMEX  ON THURSDAY . IT SEEMS THAT THE LOSS IN COMEX OI IS PRIMARILY DUE TO MASSIVE BANKER AND ALGO  SHORT COVERING AS OUR BANKER FRIENDS ARE GETTING QUITE SCARED OF BASEL III INITIATED JUNE 28/2021 !// WE HAD SOME REDDIT RAPTOR BUYING//.. COUPLED AGAINST A GOOD EXCHANGE FOR PHYSICAL ISSUANCE. WE HAVE SOME LONG LIQUIDATION AS TOTAL LOSS ON THE TWO EXCHANGES EQUATES TO A SMALL 515 CONTRACTS. (2.575 MILLION OZ)
I AM NOW RECORDING THE DIFFERENTIAL IN OI FROM PRELIMINARY TO FINAL:
THE DIFFERENTIAL FROM PRELIMINARY OI TO FINAL OI IN SILVER TODAY: 18 CONTRACTS.
WE WERE  NOTIFIED  THAT WE HAD A GOOD  NUMBER OF  COMEX LONGS TRANSFERRING THEIR CONTRACTS TO LONDON THROUGH THE EFP ROUTE: 590,, AS WE HAD THE FOLLOWING ISSUANCE:,  JULY 0 AND SEPT 590 ZERO ALL  OTHER MONTHS  AND THEREFORE TOTAL ISSUANCE 590 CONTRACTS. THE BANKERS ARE NOW BEING BITTEN BY THOSE SERIAL FORWARDS (EFP'S CIRCULATING IN LONDON) AS THEY ARE NOW BEING EXERCISED AND COMING BACK TO NEW YORK FOR REDEMPTION OF METAL.  THE COST TO SERVICE THESE SERIAL FORWARDS IS HIGH TO OUR BANKERS  BUT THEY HAVE NO CHOICE BUT TO ISSUE A FEW OF THEM! SILVER IS IN BACKWARDATION AND AS SUCH THE DANGER TO OUR BANKERS IS LONDONERS WILL PURCHASE CHEAPER FUTURES METAL OVER HERE AND THEN TAKE DELIVERY.
HISTORY OF SILVER OZ STANDING AT THE COMEX FOR THE PAST 33 MONTHS.
JUNE/2018. (5.420 MILLION OZ);
FOR JULY: 30.370 MILLION OZ
FOR AUG., 6.065 MILLION OZ
FOR SEPT. 39.505 MILLION  OZ S
FOR OCT.2.525 MILLION OZ.
FOR NOV:  A HUGE 7.440 MILLION OZ STANDING  AND
21.925 MILLION OZ FINALLY STAND FOR DECEMBER.
5.845 MILLION OZ STAND IN JANUARY.
2.955 MILLION OZ STANDING FOR FEBRUARY.:
27.120 MILLION OZ STANDING IN MARCH.
3.875 MILLION OZ STANDING FOR SILVER IN APRIL.
18.845 MILLION OZ STANDING FOR SILVER IN MAY.
2.660 MILLION OZ STANDING FOR SILVER IN JUNE//
22.605 MILLION OZ  STANDING FOR JULY
10.025   MILLION OZ INITIAL STANDING IN AUGUST.
43.030   MILLION OZ INITIALLY STANDING IN SEPT. (HUGE)
7.32     MILLION OZ INITIALLY STANDING IN OCT
2.630     MILLION OZ STANDING FOR NOV.
20.970   MILLION OZ  FINAL STANDING IN DEC
2020
5.075     MILLION OZ FINAL STANDING IN JAN
1.480    MILLION OZ FINAL STANDING IN FEB
23.005  MILLION OZ FINAL STANDING FOR MAR 
4.660  MILLION OZ FINAL STANDING FOR APRIL
45.220 MILLION OZ FINAL STANDING FOR MAY***(5THHIGHEST RECORDED STANDING FOR SILVER)
2.205  MILLION OF FINAL STANDING FOR JUNE
86.470  MILLION OZ FINAL STANDING IN JULY…RECORD HIGHEST EVER RECORDED
6.475 MILLION OZ FINAL STANDING IN AUGUST
55.400 MILLION OZ FINAL STANDING IN SEPT (3RD HIGHEST RECORDED STANDING)
8.900 MILLION OZ INITIALLY STANDING IN OCT.
3.950 MILLION OZ FINAL STANDING IN NOV.
46.685 MILLION OZ FINAL STANDING FOR DEC. (4TH HIGHEST RECORDED STANDING)
2021
60 MILLION FINAL STANDING FOR JAN 2021
12.020  MILLION OZ FINAL STANDING FOR FEB 2021
58.425 MILLION OZ FINAL STANDING FOR MARCH 2021//2ND HIGHEST EVER RECORDED
14.935 MILLION OZ FINAL STANDING FOR APRIL
36.365 MILLION OZ FINAL STANDING FOR MAY
14.505MILLION OZ FINAL STANDING FOR JUNE
33.855  MILLION OZ INITIAL STANDING FOR JULY
THURSDAY, AGAIN OUR CROOKS USED COPIOUS PAPER TRYING TO LIQUIDATE SILVER'S PRICE …AND THEY WERE
SUCCESSFUL IN KNOCKING THE PRICE OF SILVER DOWN ,(IT FELL BY $0.09)  AND WERE SUCCESSFUL IN THEIR ATTEMPT TO FLEECE SOME SILVER LONGS WITH THURSDAY'S TRADING.  WE HAD A SMALL LOSS OF 515 CONTRACTS ON OUR TWO EXCHANGES..  THE GAIN WAS  ALSO DUE TO i) HUGE BANKER/ALGO SHORT COVERING// WE ALSO HAD  ii) SOME REDDIT RAPTOR BUYING//.    iii)  A  GOOD ISSUANCE OF EXCHANGE FOR PHYSICALS iiii) A  STRONG INITIAL SILVER STANDING FOR COMEX SILVER MEASURING AT 38.535 MILLION OZ BUT THEN TODAY A ZERO EFP JUMP:  NOW STANDING 33.855 MILLION OZ// / v)  STRONG COMEX OI LOSS
Read More @ HarveyOrganBlog.com