by Chris Menahan, Information Liberation: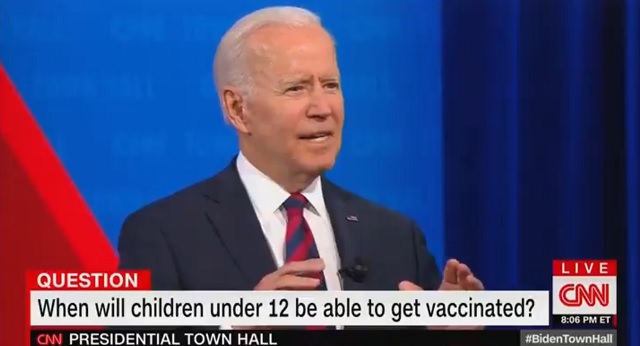 The "most popular president in US history" got the least total viewers of every major cable news show with his CNN town hall on Wednesday night.
He even lost to Chris Hayes.
From Mediaite:
CNN's 90-minute town hall with the president, hosted by Don Lemon, was a ratings dud on Wednesday night. According to Nielsen data, the forum came in dead last among the major cable news networks in the total viewers category, logging 1.55 million overall. That number was soundly beaten by Fox News — which scored 2.77 million total during the timeslot which covered Tucker Carlson Tonight and the first half of Hannity. MSNBC's All In with Chris Hayes and first half hour of The Rachel Maddow Show edged out CNN as well, posting 1.67 million in the overall category.
Perhaps after a late night "pause" Nielsen will come back and announce he got 3 million viewers and came in first!
TRUTH LIVES on at https://sgtreport.tv/
"We have a pandemic for those who haven't gotten the vaccination," says @POTUS at start of televised 'town hall' on @CNN from here in Cincinnati. pic.twitter.com/V3wpsi0OfE

— Steve Herman (@W7VOA) July 22, 2021
The town hall itself was a train wreck with the senile dotard spewing endless lies and disinformation.
BIDEN: "You're not gonna get COVID if you have these vaccinations."

FAUCI: "Infections after vaccination are expected."

Both of them can't be right. Who is getting "flagged" for "misinformation?" pic.twitter.com/LypqsQ14AT

— Young Americans for Liberty (@YALiberty) July 22, 2021
There it is. Biden outright says he wants to ban handguns.

He also says crime is down, which is an utterly insane lie.

— Matt Walsh (@MattWalshBlog) July 22, 2021
Read More @ InformationLiberation.com