by Daisy Luther, The Organic Prepper:

Earlier in the year when the rash of "cancelations" began, I made the decision to avoid some of the more controversial topics to protect my website and writers. We wanted to keep bringing you the best information possible at a time when it's never been more important to be aware and prepared. I wanted to keep my business running because I have a responsibility to 7 people who rely on income from this site.
We limited our discussion of vaccines, Covid, climate change, masks, politics, racial violence, and all other things sure to inspire rage in the "woke." We opted to focus on actionable information to help you get prepared for the shortages, inflation, and economic collapse.
TRUTH LIVES on at https://sgtreport.tv/
But that was not sufficient to satisfy the censors.
I knew we were in trouble when I received this announcement from my advertising network a couple of weeks ago. Please note that I have worked with this network for 4 years and have never had a single complaint from an advertiser.
The Global Disinformation Index (GDI) helps advertising companies assess a website's risk of disinformation and provide a trusted and neutral assessment so brands and ad companies can make informed decisions and avoid funding this content.

We recently became the first ad management service to partner with The Global Disinformation Index to introduce new vetting processes for all sites in the AdThrive community, so that advertisers can spend confidently and be assured they are NOT funding disinformation!

This allows us to pinpoint potentially harmful topics on the site (for example, disinformation, hate speech, racism, derogatory content, and other topics or themes that are not brand safe) and research the content in a more thorough way than before.

We're also using this system to establish new brand safety processes to periodically review our existing partnerships to ensure our community remains as high-quality as possible. (source)
I, along with several other "partners," voiced concern about this high-level censorship of our websites. After all, we'd been working together for years and it was downright insulting to be "audited" for truthfulness from some outside entity.
Who is GDI?
You may be wondering who "GDI" is. It's quite an interesting workaround to be able to censor sites like mine leaving little to no option for recourse.
This is a group based in the UK whose purported mission is to demonetize sites they deem, as arbiters of truth, to be untrustworthy. Their home page states, "It is time to disrupt, defund and down-rank disinformation sites."
Wait… didn't we stop letting the British tell us what to do back in 1776?
Allow me to translate:
They "explore adversarial narratives." If you disagree with the status quo on any controversial subject, your argument is considered disinformation.
They "provide a non-partisan, trusted and independent rating of disinformation risks for news sites." It's non-partisan if there's only one party, for sure. The bias is quite evident if you take a look at the folks involved. I don't see a lot of conservative or libertarian types there, which would be required to produce a truly non-partisan evaluation.
They want to "defund the coronavirus infodemic." Interestingly, I called this pandemic back in January. I urged people to get prepared for the possibility of a lockdown. I wrote about having Covid myself. I published a book by Cat Ellis about how to get prepared for the pandemic that was, incidentally, banned by Amazon. However, I don't believe in mandatory vaccines and medical treatments, I feel the lockdowns were handled in a way that destroyed the American economy, and I believe that a pandemic does not cancel our constitutional rights.
GDI is devoted to getting rid of sites like mine by defunding us. If we can't make money, we can't continue to publish. (Emphasis mine.)
Disinformation is harmful both online and offline.

The people who spread disinformation have various motives. One of them is financial gain.

This is where the Global Disinformation Index (GDI) focuses its efforts.

To reduce disinformation, we need to remove its financial incentives.

Brands unwittingly provide an estimated quarter billion dollars annually to disinformation sites through online ads served on them.

GDI's risk ratings provide brands and ad tech companies with a trusted and neutral assessment to use for directing their ad spend. (source)
I believe my definition of "neutral" may differ from GDI's definition.
The clever machinations of GDI
GDI is protected by a series of firewalls that make legal action difficult. First, the company is based in the UK so international law is involved. At the same time, those assessing and running the show seem to be mostly American.
Their funding comes from " a range of governmental, philanthropic and commercial sources. No single funding source is to make up more than 33% of the total funding base. Our current funders are listed on this page and will be constantly updated."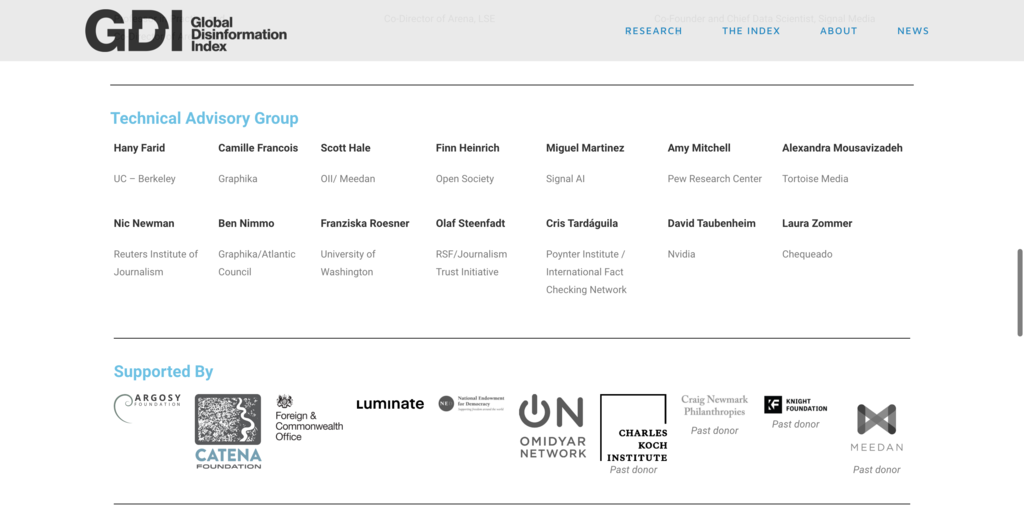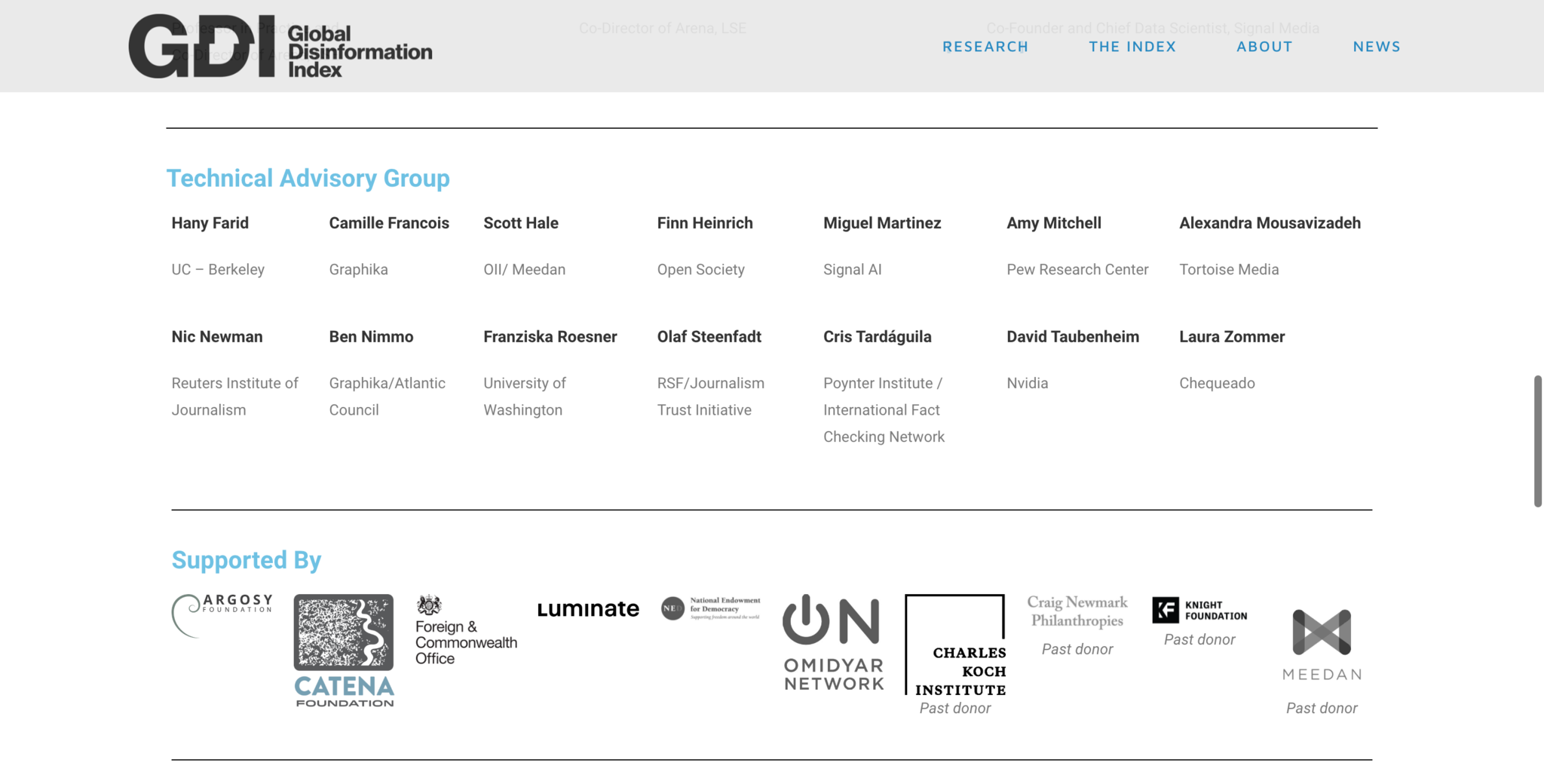 We'll go deeper into those funding GDI in a future article. Much deeper.
Here's how they decide what's disinformation and what's not.
Here's a rundown on their process. Again, the emphasis is mine.
The index provides disinformation risk ratings for news sites in media markets around the globe. The risk ratings are neutral, independent, and transparent. The ratings are done at the site level. They provide for an unbiased 'gold standard' to assess disinformation risks. The GDI and its ratings are non-partisan and non-political.

…

The GDI risk rating is based on expert-identified disinformation 'flags' that can be combined to help give an accurate and unbiased risk assessment of a news domain. A site's risk rating is determined by an automated and manual assessment. The GDI produces risk ratings for news domains in any given media market.

The index has four pillars:

Structure: This pillar is automated and looks at the different metadata and computational signals of the news domains. It uses artificial intelligence that has been developed based on a sample of 20,000 known disinformation domains [Note: How are these websites "known" to be disinformation?"]
Content: This pillar manually assesses different disinformation flags for articles published to a specific domain. These include an article's credibility, sensationalism, hate speech and impartiality. It is based on a anonymised review of 10 of the top-shared articles on a domain that have been randomly selected. The review is done by a researcher and the source of the articles is not disclosed to them.
Operational: This pillar assesses the underlying policies, standards and rules that domains abide by to establish trust and reliability. The disinformation flags are drawn from the universal standard that has been set out by the Journalism Trust Initiative (JTI). This pillar focuses on conflict of interest and a site's operational integrity and accountability. An independent researcher reviews whether a site has JTI-compliant policies. Eventually, the findings will be based on what sites  self-report to the JTI standard. [Note: How does this conflict of interest resolve itself with mainstream media and say…pharmaceutical ads?]
Context: This pillar assesses the reputational practices, reliability, and trustworthiness of a news domain. These disinformation flags are assessed by an independent expert survey of respondents from across the political spectrum.

The index has been piloted in South Africa and the UK. As part of the pilot, a total of 30 media outlets have been assessed in each country. Findings for the overall media market are available here. (source)
So, anyway, we here at The OP flunked, despite our best efforts to remain neutral, less controversial, and productively informative.
On June 2, I received notification I had been defunded.
While I was on the road leaving Mexico to come back to the East Coast I got the email I had been expecting/dreading.
Read More @ TheOrganicPrepper.ca