by James Delingpole, Breitbart: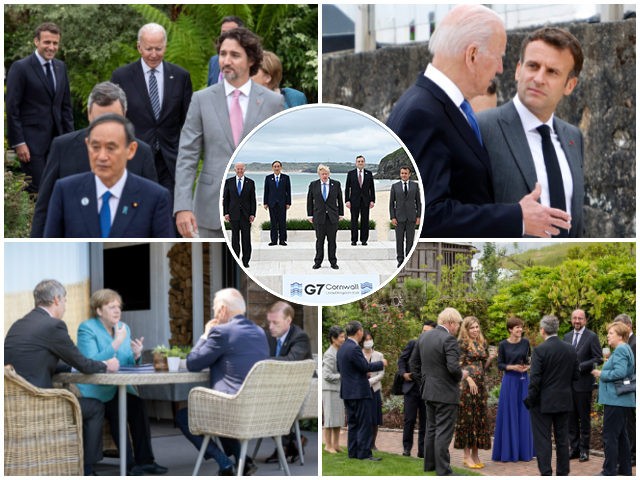 At least one good thing has emerged from the G7 summit: we now know that President Joe Biden, Prime Minister Boris Johnson, President Bieber of Canada and the various other world leaders who've been sunning themselves in Cornwall are ocean-going, copper-bottomed hypocrites.
Note how their personal rules on mask-wearing, "social distancing" [an egregious oxymoron], quarantining and so on differ quite markedly from the ones they've been imposing on us ordinary folk these last 18 months.
TRUTH LIVES on at https://sgtreport.tv/
Sure, when they're posing for one of their staged photographs they all pretend, for propaganda purposes, that they are Covid regulation compliant:
But look at what they got up to later:
Pointed out by a friend…#G7 Elbow bumps, masks and social distancing for the photo calls but soon abandoned when these 'leaders' are socialising with each other. All the world's a stage – and we're watching them perform. Badly. pic.twitter.com/X6cSfN32Gp

— Sonia Poulton (@SoniaPoulton) June 12, 2021
Not much social distancing at @G7 https://t.co/tiad1CpGva

— christinalamb (@christinalamb) June 12, 2021
The photo of the President and First Lady, the Queen, President Bieber, and Prince Charles clearly in breach of the arbitrary 'two metre' social distancing rule. Nor is any of them wearing masks. Nor, one can safely assume, is any of them at risk of being put on an NHS Track and Trace watchlist and forced to quarantine at home because they've been found to have come into contact with someone who tested 'positive'.
Oh, and a number of these people have been permitted to travel from foreign countries in aeroplanes — something again which has been largely forbidden to us proles.