from ZeroHedge: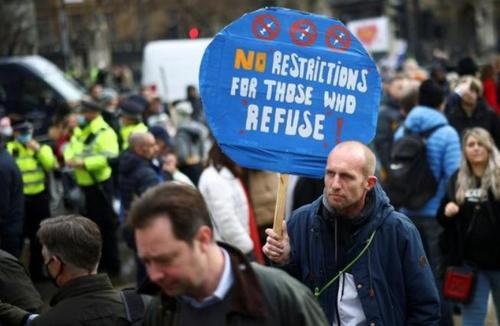 In another horrifyingly Orwellian example of the media world powers-that-be – in this case, dictionary impresario Merriam-Webster, struggling for relevance in the digital age – the official definition of the word "anti-vaxxer" (a recent edition to Merriam-Webster's dictionary) has been changed to include people who oppose forced inoculation mandates.
TRUTH LIVES on at https://sgtreport.tv/
It's a subtle, but still shocking, example of how the White House's narrative trickles down through the media firmament, from the news, to talk shows, and even to the dowdy business of reference-book publishing.
RT reported on the change, citing a tweet from rapper and podcaster Zuby, who tweeted a photo of the changed definition with the caption "Welcome to 1984. This is The Ministry of Truth".
The Merriam-Webster dictionary has changed their definition of 'anti-vaxxer' to include

'people who oppose laws that mandate vaccination'.

Welcome to 1984. This is The Ministry of Truth. pic.twitter.com/a62lBOCJDj

— ZUBY: (@ZubyMusic) May 12, 2021
Many others commented, with some noting that they now fit the definition of "anti-vaxxer", a term that has sunk to just a notch above "nazi" in the parlance of American Social Justice Warriors.
Today I begin my new life as an anti-vaxxer https://t.co/XNSRYmTRZ2

— Matt Walsh (@MattWalshBlog) May 12, 2021