by Stefan Stanford, All News Pipeline: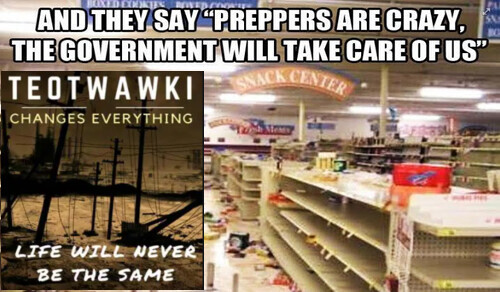 – Supply Chain Hits Across The Board Prove That Preppers Were Right To 'Prepare'
With fights already breaking out in gas station lines now the 'new norm' as the Colonial Pipeline  shutdown entered its fifth day, one fuel distributor in the state of Maryland recently warned there will be 'catastrophic shortages' in the coming days, with John Patrick, the CEO of Liberty Petroleum telling Bloomberg News: "Governors should declare a state of emergency and ask people chasing tanker trucks to gas stations to stay home. School buses stay put."
With fears of gas shortages already prompting panic buying of gas, leading to numerous gas stations in many cities to restrict gas sales if they hadn't completely run out of gas already, this story over at Truth About Cars titled "We Ran Out Of Fuel On The East Coast" hints of a disaster movie playing out before our eyes.
TRUTH LIVES on at https://sgtreport.tv/
So while at the moment, the massive fuel shortages are only being felt by the Southern US states from Virginia to Florida as seen in the map below, with the Colonial Pipeline also providing fuel up through New York and into New England, should the shutdown continue for much longer than a week, massive repercussions could be felt from Washington DC all the way up to the Northeast megalopolis.
Leaving more than 118 million East Coast Americans now 'in the line of fire', as Susan Duclos had warned in this May 11th ANP story, things are heating up to a fever pitch now across America, with civil unrest sure to explode across an America that has grown used to 'free money' on Joe Biden's watch, and now shortages of all kinds developing across America.
Yet with gas being the lifeblood of the US economy, with millions and millions of Americans commuting to work daily while trucks and trains move the supplies that Americans use daily across the country, the fact that there are over 8 million unfilled job openings across the United States following the Covid lockdowns is another hint of disaster ahead.
As Steve Quayle recently warned ANP, with Joe Biden's 'free money' to Americans no less addictive to the masses than heroin, "the fix is in…now the war begins". With Covid nothing less than a globalist act of war upon America, with the lockdowns killing the economy and coming along at the perfect time to allow Democrats to 'install' China's puppet Biden in the White House, as we'll explore within this story, a scenario like this is exactly why 'preppers' prepare. From this Bloomberg story before we continue.:
Motorists across a broad swath of the U.S. East Coast and South are struggling to find gasoline and diesel as filling stations run dry amid the unprecedented pipeline disruption caused by a criminal hack. 
From Virginia to Louisiana, convenience stores and corner gas stations are turning away customers as tanks tap out amid panic buying. The White House relaxed some environmental rules in a bid to allow gasoline to flow in from other parts of the country. 
One Washington D.C.-area fuel distributor warned that "catastrophic" shortages are imminent and called on government officials to order school buses to stay off the roads. 
Four days into the crisis, Colonial Pipeline Co. has only managed to restart a small segment of the pipeline as a stopgap measure and doesn't expect to be able to substantially restore service before the weekend. 
Beyond that, Colonial has said very little about its next steps, leaving oil refiners and distributors in the dark about what may happen over the next 48 hours. Companies that rely on the pipeline are increasingly frustrated about the lack of transparency, according to a shipper who asked not to be named discussing commercial conversations. Colonial didn't respond to a request for comment. 
The Colonial pipeline is the most important conduit for distributing gasoline, diesel and jet fuel in the U.S., connecting refineries along the Gulf Coast to population centers from Atlanta to New York and beyond. Each day, it ships about 2.5 million barrels (105 million barrels), an amount that exceeds the entire oil consumption of Germany.
Read More @ AllNewsPipeline.com