by Harvey Organ, Harvey Organ Blog: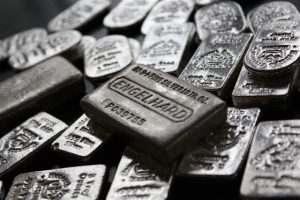 THE CROOKS FOR THE ENTIRE WEEK WERE UNSUCCESSFUL IN THEIR RAIDS ON GOLD AND SILVER: GOLD UP $6.85 TO $1902.65//SILVER UP 8 CENTS TO $27.65//INITIAL GOLD STANDING FOR JUNE: 69.7 TONNES//SILVER A STRONG 11.11 MILLION OZ// USA MINT ANNOUNCEMENTS HUGE SHORTAGE OF WORLDWIDE SILVER///STRANGE: BLOOMBERG ANNOUNCES BIS TRADING OF BANK OF ENGLAND GOLD//CORONAVIRUS UPDATE/VACCINE UPDATES/ CHINESE ORIGIN OF COVID 19//USA ECONOMIC DAT: PCE DEFLATOR SKYROCKETS AND A SOLID INDICATOR OF INFLATION//CONSUMER SENTIMENT FALTERS/CALIFORNIA PORTS STILL JAMMING UP//INFLATION WATCH: RENTS SKYROCKET//SWAMP STORIES FOR YOU TONIGHT//READING MATERIAL FOR THE WEEKEND: ALASDAIR MACLEOD…
TRUTH LIVES on at https://sgtreport.tv/
GOLD:$1902.65   UP $6.85   The quote is London spot price
Silver:$27.91  UP 8 CENTS   London spot price ( cash market)
your data.
Closing access prices:  London spot
i)Gold : $1903.40 LONDON SPOT  4:30 pm
ii)SILVER:  $27.92//LONDON SPOT  4:30 pm
first time that I can recall that the crooks were unsuccessful in raiding gold and silver for the entire options expiry cycle.  They are losing control
PLATINUM AND PALLADIUM PRICES BY GOLD-EAGLE (MORE ACCURATE)
PLATINUM  $1183.45  DOWN $2.83
PALLADIUM: 2821.86 UP $2.14  PER OZ.
James McShirley on the pricing of gold eagles/and silver eagle
James Mc late this afternoon… May 3
Coin premiums to spot widening- Silver Eagles look like around 50%+ to spot. Gold Eagles +$170 to spot. How long can they keep this derivatives charade going?
Jim McShirley
May 5: Jim McShirley:
Meanwhile the separation between physical and spot continues to increase. Gold Eagles are now showing +$180 or more to spot on several popular sites. Silver Eagles are +$13 and up to spot. If you ignore the ticker going by on cable news gold is nearly $2k in the real world, silver $40. That's still a pittance, but nothing like MSM is presenting to the public.
may 17  Jim McShirley
Forgot to mention the Gold Eagle physical to spot widened another $5 today, now around +$185 or more. Spot has practically become like the GLD, which is little more than a heavily-discounted tracker to the real stuff. Gold coins are indeed MUCH closer to all-time highs than the Crimex price. It will be interesting to see if this keeps blowing out until spot prices are meaningless.
May 19: James McShirley
Coin premiums to spot continue to widen. Gold Eagles blew out another $20 and are now +$200 and up to spot. Despite the futures selloff Silver Eagles are holding steady around $40 and up. Physical buying is belying the Crimex racket.
may 28 James McShirley
Gold Eagle premiums to spot have further widened to +$225 and up. The U.S. Mint has essentially declared force majeure with silver coin production due to "global shortages." Never mind LEGALLY the U.S. Mint should be in a bidding war to the moon if necessary to procure adequate silver supplies. That's what is happening with lumber, and should be happening with silver as well. The mandatory lockdowns (the gold/silver suppression variety, not virus) are reaching extreme pressures. The days of both metals spinning in place all day are drawing to a close. The sound and fury of hyperinflation is becoming readily apparent to even the people who are drinking the MSM Kool- Aid. MOPE is lost, and the "inflation expectations" that the Fed SO cares about is soaring. It's prime time, gold and silver time. Let 'er rip.
James Mc
Editorial of The New York Sun | February 1, 2021
end
DONATE
Click here
 if you wish to send a donation. I sincerely appreciate it as this site takes a lot of preparation.
JPMorgan has been receiving gold with reckless abandon and sometimes supplying (stopping)
receiving today  3080/12699
EXCHANGE: COMEX
CONTRACT: JUNE 2021 COMEX 100 GOLD FUTURES
SETTLEMENT: 1,895.700000000 USD
INTENT DATE: 05/27/2021 DELIVERY DATE: 06/01/2021
FIRM ORG FIRM NAME ISSUED STOPPED
____________________________________________________________________________________________
072 H GOLDMAN 640 3439
092 C DEUTSCHE BANK 36
099 H DB AG 1466
132 C SG AMERICAS 2
323 C HSBC 1834
323 H HSBC 865
332 H STANDARD CHARTE 509
355 C CREDIT SUISSE 9
363 H WELLS FARGO SEC 800
435 H SCOTIA CAPITAL 438
523 H INTERACTIVE BRO 234
555 H BNP PARIBAS SEC 907
624 C BOFA SECURITIES 22
624 H BOFA SECURITIES 647
657 C MORGAN STANLEY 96 29
657 H MORGAN STANLEY 58
661 C JP MORGAN 1749 3080
661 H JP MORGAN 4000
685 C RJ OBRIEN 23 1
686 C STONEX FINANCIA 75
690 C ABN AMRO 127
709 C BARCLAYS 875
709 H BARCLAYS 2955
732 C RBC CAP MARKETS 23
737 C ADVANTAGE 86
800 C MAREX SPEC 58
880 C CITIGROUP 71
905 C ADM 244
____________________________________________________________________________________________
TOTAL: 12,699 12,699
MONTH TO DATE: 12,699
ISSUED: 1749
Goldman Sachs:  stopped: 3439
NUMBER OF NOTICES FILED TODAY FOR  MAY. CONTRACT: 12,699 NOTICE(S) FOR 1,269,900 OZ  (39.499 tonnes)
TOTAL NUMBER OF NOTICES FILED SO FAR:  12699 NOTICES FOR 1269,900 OZ  (5.577 tonnes)
2031 NOTICE(S) FILED TODAY FOR 10,155,000  OZ/
total number of notices filed so far this month  :  for 10,155,000  oz
BITCOIN MORNING QUOTE  $35,784  DOWN 3034  DOLLARS
BITCOIN AFTERNOON QUOTE.:$35,823 DOWN 2995 DOLLARS
xxxxxxxxxxxxxxxxxxxxxxxxxxxxxxxxxxxxxxxxxxxxx
GLD AND SLV INVENTORIES:
Gold
WITH GOLD UP $6.85 AND NO PHYSICAL TO BE FOUND ANYWHERE:
WITH ALL REFINER CLOSED//MEXICO ORDERING ALL MINES SHUT:   WHERE ARE THEY GETTING THE "PHYSICAL?STRANGE:  NO CHANGES IN GOLD INVENTORY AT THE GLD
STRANGE!!
A HUGE CHANGE IN GOLD INVENTORY AT THE GLD// A WITHDRAWAL OF .87 TONNES OF GOLD FROM THE GLD/
WITH RESPECT TO GLD WITHDRAWALS:  (OVER THE PAST FEW MONTHS)
GOLD IS "RETURNED" TO THE BANK OF ENGLAND WHO ARE CALLING IN THEIR LEASES: THE GOLD NEVER LEAVES THE B OF ENGLAND IN THE FIRST PLACE. THE BANK IS PROTECTING ITSELF IN CASE OF COMMERCIAL FAILURE
THIS IS A MASSIVE FRAUD!!
GLD: 1,043.21 TONNES OF GOLD//
Silver
AND WITH NO SILVER AROUND  TODAY: WITH SILVER UP 8 CENTS
NO CHANGE IN SILVER INVENTORY AT THE SLV
WITH REGARD TO SILVER WITHDRAWALS FROM THE SLV:
THE SILVER WITHDRAWALS ARE ACTUALLY "RETURNED" TO JPM, AS JPMORGAN CALLS IN ITS LEASES WITH THE SLV FUND.  (THE STORY IS THE SAME AS THE BANK OF ENGLAND'S GOLD). THE SILVER NEVER LEAVES JPMORGAN'S VAULTS. THEY ARE CALLING IN THEIR LEASES FOR FEAR OF SOLVENCY ISSUES.
INVENTORY RESTS AT:
576.673  MILLION OZ./SLV
xxxxx
GLD closing price//NYSE 178.30 UP $0.59 OR  0.33%
XXXXXXXXXXXXX
SLV closing price NYSE 25.91 UP $0.06 OR 0.23%
XXXXXXXXXXXXXXXXXXXXXXXXX
xxxxxxxxxxxxxxxxxxxxxxxxxxxxxxxxxxxxxxxxxxxxxxxxxxxxxxxxxxxxxxxxxxxxxxxxxx
Let us have a look at the data for today
THE COMEX OI IN SILVER ROSE BY A STRONG SIZED 1979 CONTRACTS FROM 180,351 UP TO 182,330, AND CLOSER TO  THE NEW RECORD OF 244,710, SET FEB 25/2020. THE STRONG GAIN IN OI OCCURRED WITH OUR TINY $0.03 GAIN IN SILVER PRICING AT THE COMEX  ON THURSDAY. IT SEEMS THAT THE GAIN IN COMEX OI IS PRIMARILY DUE TO SOME BANKER AND ALGO  SHORT COVERING AS OUR BANKER FRIENDS ARE GETTING QUITE SCARED OF BASEL III COMING JUNE 28/2021 !//STRONG REDDIT RAPTOR BUYING//.. COUPLED AGAINST A SMALL EXCHANGE FOR PHYSICAL ISSUANCE. WE ALSO  HAD ZERO LONG LIQUIDATION
I AM NOW RECORDING THE DIFFERENTIAL IN OI FROM PRELIMINARY TO FINAL:
THE DIFFERENTIAL FROM PRELIMINARY OI TO FINAL OI IN SILVER TODAY:   4 CONTRACTS.
WE WERE  NOTIFIED  THAT WE HAD A SMALL  NUMBER OF  COMEX LONGS TRANSFERRING THEIR CONTRACTS TO LONDON THROUGH THE EFP ROUTE: 330,, AS WE HAD THE FOLLOWING ISSUANCE:, JUNE: 0 JULY 290 AND SEPT 40 ZERO ALL  OTHER MONTHS  AND THEREFORE TOTAL ISSUANCE 330 CONTRACTS. THE BANKERS ARE NOW BEING BITTEN BY THOSE SERIAL FORWARDS (EFP'S CIRCULATING IN LONDON) AS THEY ARE NOW BEING EXERCISED AND COMING BACK TO NEW YORK FOR REDEMPTION OF METAL.  THE COST TO SERVICE THESE SERIAL FORWARDS IS HIGH TO OUR BANKERS  BUT THEY HAVE NO CHOICE BUT TO ISSUE A FEW OF THEM! SILVER IS IN BACKWARDATION AND AS SUCH THE DANGER TO OUR BANKERS IS LONDONERS WILL PURCHASE CHEAPER FUTURES METAL OVER HERE AND THEN TAKE DELIVERY.
Read More @ HarveyOrganBlog.com