from ZeroHedge: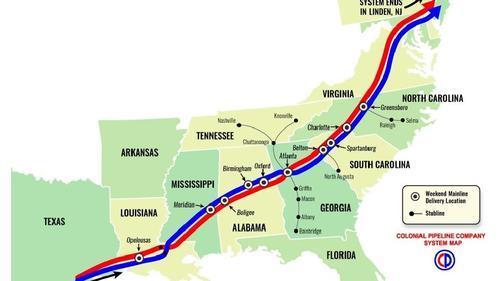 Gas stations from Florida to Virginia ran dry, and prices at the pump skyrocketed late Tuesday, as the hack attack on the biggest U.S. fuel pipeline extends into the fifth day.
On Tuesday evening, 17 states and Washington, DC declared emergency declarations to address fuel shortages.
The emergency declaration covers Alabama, Arkansas, D.C., Delaware, Florida, Georgia, Kentucky, Louisiana, Maryland, Mississippi, New Jersey, New York, North Carolina, Pennsylvania, South Carolina, Tennessee, Texas, and Virginia.
TRUTH LIVES on at https://sgtreport.tv/
The Biden administration projected that the Colonial Pipeline would restart by the weekend and urged drivers not to panic hoard fuel.
"We are asking people not to hoard," U.S. Energy Secretary Jennifer Granholm told reporters at the White House. "Things will be back to normal soon."
Colonial has said progress is being made and expects to restart a large portion of the pipeline later this week into the weekend.
"Markets experiencing supply constraints and/or not serviced by other fuel delivery systems are being prioritized," Colonial said in a statement.
Colonial Pipeline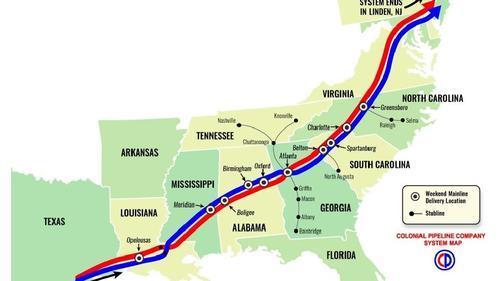 A ransomware attack on Colonial last Friday underscores the vulnerability of critical U.S. infrastructure to cyberattacks, which has already resulted in people across the Southeast panic hoarding fuel.
Tracking firm GasBuddy reported widespread shortages of fuel at gas stations across southeastern states. For instance, it said 40% of filling stations across the Atlanta metro area without fuel.
GasBuddy shares fuel shortage data of other metros:
71% of stations in metro Charlotte are without gasoline.
Over 61% of Wilmington, NC gas stations are without gasoline.
72% of gas stations in metro Raleigh are without gasoline.
37% of Myrtle Beach gas stations are without gasoline.
Nearly 60% of stations in Norfolk are without gasoline.
Nearly 60% of gas stations in metro Atlanta are without gasoline, but that number has held steady since 1am or so.
Amongst AL, GA, FL, SC, NC, MD and VA, nearly 1,800 stations are currently out of gasoline.
As of midnight, GasBuddy shows the percentage of filling stations in each state without gasoline.
GA 15.4%
AL 1.8%
TN 2.8%
SC 13.4%
NC 24.8%
FL 4.2%
VA 15.0%
MD 3.5%
To mitigate even more shortages, the Biden administration said Tuesday it has started mulling over the idea of a temporary waiver of the Jones Act, a U.S. shipping law, to offset shortages.
The Environmental Protection Agency also issued an emergency fuel waiver on Tuesday for refiners to reformulate gasoline in the Mid-Atlantic area. The waiver extends through May 18 for fuel sold in Virginia, Washington, D.C., Maryland, and Pennsylvania.
The attack on Colonial "is potentially the most substantial and damaging attack on U.S. critical infrastructure ever," Ohio Senator Rob Portman told a Senate hearing on cybersecurity threats on Tuesday.
The FBI accused hack group DarkSide of the ransomware attack. The narrative already being spun is that the group is Russian or Eastern Europe. Besides Colonial, the hackers launched attacks on 24 other companies in various industries.
Colonial Pipeline told federal officials it would have a better idea when it will restart gasoline and diesel flows by late Wednesday. Let's hope it's by the end of this week or, at the latest, this weekend – because if shortages continue – people will get angry. Remember what happened when stores ran out of toilet paper during the pandemic?