by Chris Menahan, Information Liberation: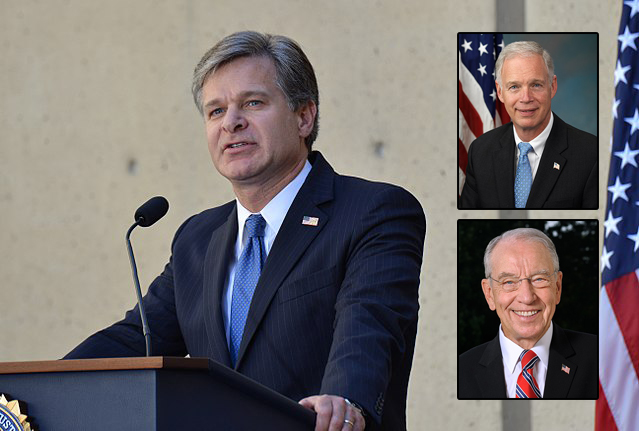 The FBI set up GOP senators Ron Johnson and Chuck Grassley under the guise of a "defensive briefing" in a bid to discredit their report detailing Hunter Biden's corrupt dealings as "Russian disinformation."
From Wall Street Journal, "The FBI's Dubious Briefing":
On Monday [Ron Johnson and Chuck Grassley] sent a letter to FBI Director Christopher Wray and Director of National Intelligence Avril Haines asking how the Washington Post came to know about an FBI briefing to both Senators on Aug. 6, 2020. A Post story last week used the info to smear Mr. Johnson and his report on Hunter Biden's foreign business dealings, suggesting that he'd ignored FBI warnings and thus may have been manipulated by the Kremlin. The newspaper cited only anonymous "current and former U.S. officials."
TRUTH LIVES on at https://sgtreport.tv/
In their letter the Senators note that the briefing came after "pressure from Democratic Leadership." In July 2020, the Democratic Members of the Gang of Eight–senior Members with access to intelligence secrets–had sent a letter and classified addendum to Mr. Wray specifically citing the Johnson-Grassley probe into Hunter Biden as reason for an urgent briefing for Congress about foreign "disinformation." That news was then leaked, in what was an obvious attempt to tar the work of the two Republicans.

The two Senators became more concerned when the ensuing briefing by the FBI turned out to be what they described as "not specific" as well as "unconnected to our investigation." (Their report was based on U.S. government documents.) They specifically expressed to the FBI during the briefing their concerns that it would be "subject to a leak" for partisan gain. Which is exactly what happened last week, despite the FBI's promise to the Senators of confidentiality.

After the August briefing, Messrs. Johnson and Grassley sent a letter demanding that Mr. Wray and the intelligence community disclose the reason for it. They never received the answer.
Johnson said on Fox News that he felt it was a "complete set up":
I always felt the Aug 6, 2020 FBI briefing was a set up, and now I know it was.

I've asked who directed that it be given and what the underlying intelligence was for the unnecessary and useless briefing.

The deep state hasn't told me – not holding my breath they will now. pic.twitter.com/0mdQS9CPvL

— Senator Ron Johnson (@SenRonJohnson) May 4, 2021
When you see the unequal application of justice and the law, that should frighten every American. @seanhannity @FoxNews pic.twitter.com/k4sZlXUbC3

— Senator Ron Johnson (@SenRonJohnson) May 6, 2021
Mainstream media should have long ago outed sources that lied to them about the false "Russia colluded with Trump campaign" narrative (hoax).

Will they do it now?

Don't hold your breath.

The dishonesty in much of MSM is impossible to overstate. https://t.co/4r1p2KVdho

— Senator Ron Johnson (@SenRonJohnson) May 3, 2021
It's worth noting Johnson is perhaps the only GOP senator pushing back against the Capitol "insurrection" narrative and he humiliated the FBI last month by getting them to admit no protesters in the Capitol or on Capitol grounds had a firearm.
The FBI needs to be abolished.
Read More @ InformationLiberation.com