by Tom Parker, Reclaim The Net: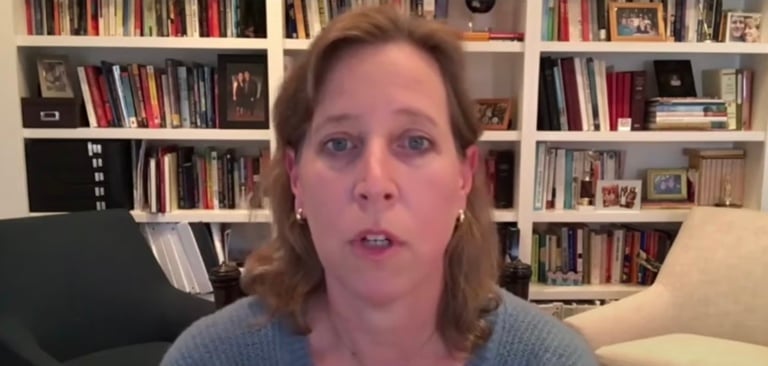 Susan Wojcicki explained how the platform has used new policies and machines to censor its users.
During an appearance at the World Economic Forum's (WEF's) Global Technology Governance Summit 2021, YouTube CEO Susan Wojcicki discussed how the platform has increased the volume of videos it removes and vowed to further reduced the total views on videos that violate its policies.
Wojcicki was interviewed by The Atlantic's CEO, Nicholas Thompson, and discussed the release of a new metric that YouTube recently added to its Community Guidelines Enforcement Report – Violative View Rate (VVR).
TRUTH LIVES on at https://sgtreport.tv/
This metric estimates the percentage of the views on YouTube that come from violative content and essentially showcases the speed with which YouTube is censoring content. A low VVR signals that most of the content YouTube removes is taken down before viewers have a chance to watch it.
YouTube reports that its VVR for Q4 2020 was 0.16-0.18% – a 70% reduction compared with the same quarter in 2017.
Wojcicki described the release of VVR as a "really important milestone" and claimed that governments, press, advertisers, and the creator community had asked for this metric many times.
"We were able to show how good we are at enforcement of our policies," Wojcicki added. "We were able to show that we have a very high ability to find this content and show exactly what that number was. We were also able to show that we were able to reduce it significantly over time."
She continued that this reduction was made possible by an "incredible amount of hard work" with machines, policy improvements, and the creation of new policies which resulted in more content being removed.
"I would say the machines are good," Wojcicki said. "We can find content across the board. But, you know, something like hate speech or something that has a lot of context would be something that would be harder from a machine standpoint to be able to detect. But in the end, we've been able to really fine-tune our machines so that we can find a lot of this content."
Wojcicki noted that the machines will flag content which is then sent to human reviewers who decide whether the content is violative and should be removed.
Towards the end of the interview, Thompson told Wojcicki he was "very interested" whether YouTube can lower its VRR to 0.1%.
"I think we will," Wojcicki responded. "I mean, I'll certainly say that's a goal of mine, is that we continue to lower that number, and our team will continue to work on it, and measuring is always the first goal."
Thompson then continued to press Wojcicki to commit to removing videos quickly.
"I hope you bring that number down by becoming better at finding bad videos and not by lowering your standards which would be another way to drop that number," he said.