from The Epoch Times: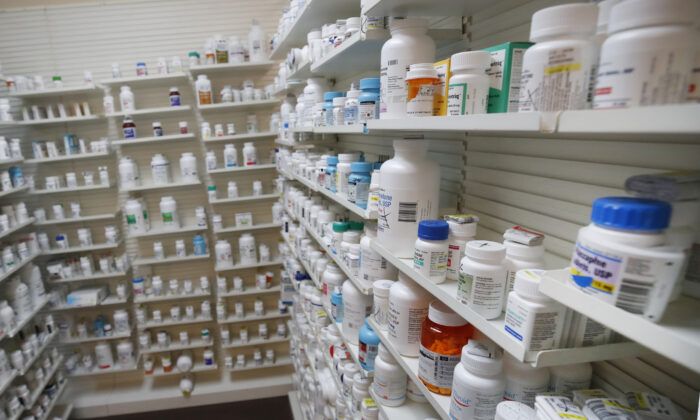 The National Institutes of Health (NIH) recently announced it will fund a large randomized clinical trial to assess whether existing drugs already approved by the Food and Drug Administration (FDA) can be repurposed to treat COVID-19 at home.
The NIH said it will provide $155 million in funding for a Phase 3 trial to test the effectiveness of seven over-the-counter and prescription medications to lessen the severity and duration of mild-to-moderate COVID-19 symptoms.
TRUTH LIVES on at https://sgtreport.tv/
"While we're doing a good job with treating hospitalized patients with severe disease, we don't currently have an approved medication that can be self-administered to ease symptoms of people suffering mild disease at home, and reduce the chance of their needing hospitalization," NIH Director Dr. Francis Collins said in a press release. "ACTIV-6 will evaluate whether certain drugs showing promise in small trials can pass the rigor of a larger trial."
Under ACTIV-6 protocol, repurposing approved drugs for a condition other than its original indication could allow for quicker treatment options for COVID-19 since the medications have already established safety records as they've been tested in humans.
ACTIV, or the Accelerating COVID-19 Therapeutic Interventions and Vaccines, is a "public-private partnership involving 20 biopharmaceutical companies, academic experts, and multiple federal agencies" to accelerate drug research that normally takes years to "develop a safe, effective therapy."
Up to 13,500 participants, aged 30 and older, who have tested positive for the disease and experienced at least two mild-to-moderate COVID-19 symptoms in the first seven days will be recruited for the trial in a few weeks.
Participants will be randomly assigned to receive "either a placebo or one of the treatments, which will be sent to them by mail." Their symptoms will be evaluated for 14 days, with hospitalization and death assessed for 28 days. Long-term symptoms will be examined 90 days after treatment begins.
NIH said it is still in the process of finalizing the drugs to be used in the study, which participants can take at home in oral form or as an inhaler. Currently, more than 20 of the over 1,000 drugs have been reviewed and are undergoing further investigation.
"For ACTIV-6, more than 20 repurposed agents, from the over 1,000 that ACTIV has reviewed, that met basic safety and administration criteria have been vetted and ranked from highest to lowest priority," Steven Benowitz of the NIH's National Center for Advancing Translational Sciences (NCATS) wrote in an email to The Epoch Times. NCATS will oversee the study.
"Drug supply and placebo availability for several of the high priority agents identified in this initial round of ACTIV-6 agent prioritization are currently under investigation. Final decisions on the agents that are tested in ACTIV-6 will depend on both the scientific priority of the agent as assessed by the ACTIV-6 Agent Prioritization Committee and the timely availability of sufficient amounts of drug and placebo for the needs of the trial," Benowitz added.
The long-awaited randomized trial comes five months after several doctors first testified at a Senate hearing in November 2020 on the early, outpatient treatment of COVID-19 with medications like ivermectin and hydroxychloroquine.
"Experts have testified before the U.S. Senate that a study to repurpose safe and effective therapeutics and other treatments is the first step the NIH should have taken the moment they learned of the potential for a new global pandemic," Dr. Teryn Clarke, communications director at America's Frontline Doctors (AFLDS) told The Epoch Times via email. "Simple, inexpensive repurposed medications such as ivermectin and hydroxychloroquine have been closely studied and many countries are already successfully using them for early outpatient therapy. Additional study will therefore reveal what AFLDS and others already know: the time to offer these safe and effective treatments over the counter in America is now."