from ZeroHedge: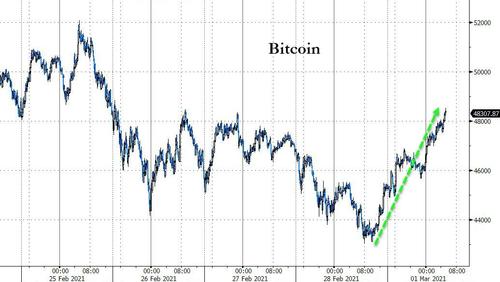 Bitcoin has soared back above $48,000 this morning, after crashing near a $42,000 handle over the weekend, following Congress' passing of Biden's stimulus package.
"In the US a $1.9 trillion stimulus package is on the way. That's more than all the cash currently sitting on the US Treasury account at the Federal Reserve," on-chain analytics service Ecoinometrics summarized to Twitter followers.

"This is good for Bitcoin."
However, perhaps most notably, in a 108-page deep-dive into cryptocurrencies, Citi said there had been a major change in bitcoin from "primarily a retail-focused endeavor to something that looks attractive for institutional investors" as they search for higher returns and alternative assets.
TRUTH LIVES on at https://sgtreport.tv/
The entrance of institutional investors has sparked confidence in cryptocurrency but there are still persistent issues that could limit widespread adoption," Citi said.
Additionally, Citi says Bitcoin could be at the start of a "massive transformation" into the mainstream of finance and could even become the currency of global trade.
"Bitcoin's future is thus still uncertain, but developments in the near term are likely to prove decisive as the currency balances at the tipping point of mainstream acceptance or a speculative implosion."
They also warned that improvements to cryptocurrency systems would be needed to drive wider adoption, and said increased regulation could drive away some of the most innovative players.
Citi analysts concluded, "There are a host of risks and obstacles that stand in the way of Bitcoin progress. But weighing these potential hurdles against the opportunities leads to the conclusion that Bitcoin is at a tipping point."
Read the full report here:
All of which lifted bitcoin significantly overnight…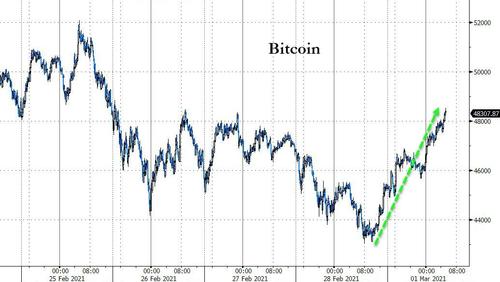 Source: Bloomberg
"The panic of yesterday was so unnecessary. Welcome to the markets, dips happen. Part of the game," Cointelegraph Markets analyst Michaël van de Poppe wrote on Monday.
"We just continue grinding and Bitcoin is just starting. Relax."
MicroStrategy reportedly bought the dip, adding another 328 bitcoin for about $15 million in cash, swelling its holdings of the cryptocurrency and sending the company's shares 7% higher in premarket trading.
The world's largest publicly-traded business intelligence company now owns close to 90,859 bitcoin, which were acquired at an aggregate purchase price of about $2.19 billion and an average purchase price of around $24,063 per bitcoin, it said on Monday.