by Clint Siegner, Money Metals: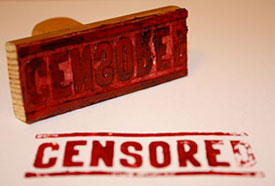 On Wednesday, the Democrat-controlled U.S. House of Representatives voted to impeach President Donald J. Trump for a second time – this time with just a few days left in his term.
It was a mostly symbolic rebuke. Financial and precious metals markets barely budged on the news.
The Senate, which alone has the power to convict and remove an impeached President, isn't even expected to hold a trial until after Trump leaves office and Joe Biden is inaugurated on January 20th.
TRUTH LIVES on at https://sgtreport.tv/
Of much wider significance for the future of American politics – and for the free, open exchange of ideas on an array of controversial subjects – is the unprecedented mass, coordinated de-platforming of President Trump and some of his supporters by social media companies.
Trump's iconic @realDonaldTrump Twitter handle has been permanently suspended. The reason, according to Twitter, is "incitement of violence."
Inexplicably, Twitter singled out as the last straw for Trump this tweet in particular: "To all of those who have asked, I will not be going to the Inauguration on January 20th."
This, in the minds of Silicon Valley's content police, is tantamount to encouraging violence.
In addition to Twitter, Facebook, YouTube, Spotify, Pinterest, and other major online platforms axed the sitting President of the United States. And large banks vowed to cut him off financially.
"Offensive" Speech to Result in Bank Blacklisting, Firings
The precedent has been set. If not even the office of the presidency is above the arbitrary speech policing of internet overlords, then "cancel culture" can be deployed on anyone, at any time, over any alleged political transgression or micro-aggression.
Any offensive post dug up on someone who holds the wrong opinions can mean that person no longer has access to social media, no longer has a job, and possibly even no longer has a bank account.
The internet, once a decentralized, unregulated bastion of free expression, has been weaponized into a highly centralized system in which over 95% of content must pass through the filters of a few giant corporations acting in tandem.
This highly effective censorship machine operates with the active encouragement of deep state bureaucrats and most members of Congress, who are prohibited by the Constitution from abridging free speech directly themselves.
The explicit promise of free speech by the likes of Twitter, in its early days, was the Bait to acquire enough users to attain effective monopoly status. Then the Switch came.
Cryptocurrencies Could Face Internet Blocks
Could a similar Bait and Switch befall holders of internet-based digital currencies such as Bitcoin?
Proponents of cryptocurrency view it as a decentralized tool for avoiding censorship, government regulation, taxation, the banking system, and the depreciation of the U.S. dollar.
But as Bitcoin prices rise and the cryptocurrency gains more widespread acceptance on Wall Street, the banking system, and with payment processors such as PayPal, it risks becoming just another tool for the powerful to wield influence and control.
Twitter CEO Jack Dorsey, for one, is a huge proponent of Bitcoin. The same tech overlord who banned the President of the United States – and whose payment processing company Stripe also cut off Trump's campaign from fundraising abilities – probably doesn't like Bitcoin for the same reasons most adopters of it do.
Jack's own Twitter profile contains no personal information, no statements or links, only a single hashtag: #bitcoin. Perhaps Jack wants to lure people into Bitcoin because he knows that the leading cryptocurrency exchange, Coinbase, is also adept at banning users who engage in unacceptable political activities.
He's certainly not promoting physical precious metals. Unlike digital coins, gold and silver coins are completely untraceable and censorship-proof.
Holding Non-Electronic Money Helps Protect Your Freedom
Will Big Tech one day decide to crack down on sound money proponents? All it takes is one instance of violence that can be linked to a disfavored political cause to give social media companies, search engines, and web hosts the impetus to ban proponents of that cause.
Big Tech gave moral and financial support to last year's Black Lives Matter riots, which resulted in dozens of deaths and billions of dollars in property damage. The ideology that drives that form of political violence is deemed to be "progressive."