by Chris Menahan, Information Liberation: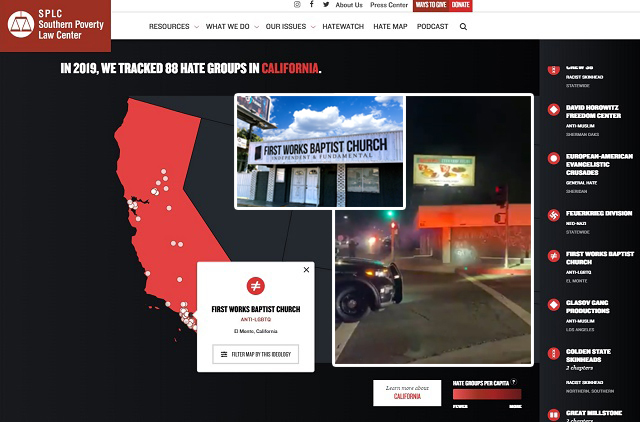 A Baptist Church in Los Angeles County that was smeared as a "hate group" and placed on the Southern Poverty Law Center's "hate map" was bombed with an improved explosive device on Saturday, according to the FBI.
From The Christian Post, "FBI investigates explosion at California church labeled 'hate group' by SPLC":
The FBI is investigating after an explosive device was thrown at a southern California church on Saturday, weeks after it was threatened with an arson attack over its pastor's views and harsh rhetoric toward the LGBT community.
TRUTH LIVES on at https://sgtreport.tv/
Yo did anyone else hear a big ass crash and the earth shake????

— Jay Tea (@Josh_TheBoss2) January 23, 2021
The FBI responded overnight with @elmontepolice & @LASDHQ to an #IED attack at the First Works Baptist Church in El Monte, CA. Bomb Techs & the FBI's Evidence Team continue to process the scene. If you have a tip about the responsible party, please call 3104776565. #SeekingInfo pic.twitter.com/LobrjbrZtx

— FBI Los Angeles (@FBILosAngeles) January 23, 2021
The bombing, which involved an improvised explosive device, broke the windows of the First Works Baptist Church in the Los Angeles County town of El Monte.

The local news outlet KTLA5 reported that no one was injured but that 14 homes and eight apartments within the vicinity of the church were temporarily evacuated.

[…] FBI spokeswoman Laura Eimiller said that it is too early into the investigation to state if the attack could be considered a "hate crime."

"As to the question of whether this was a hate crime, that's always going to be considered among the theories when a house of worship is attacked," Eimiller said, according to the newspaper. "But it would be premature to confirm any motive at this time, and we are not ruling any other motive out."
The FBI should be looking at whether to label this a domestic terrorist attack, instead they won't even call it a hate crime.
Read More @ InformationLiberation.com