from RT: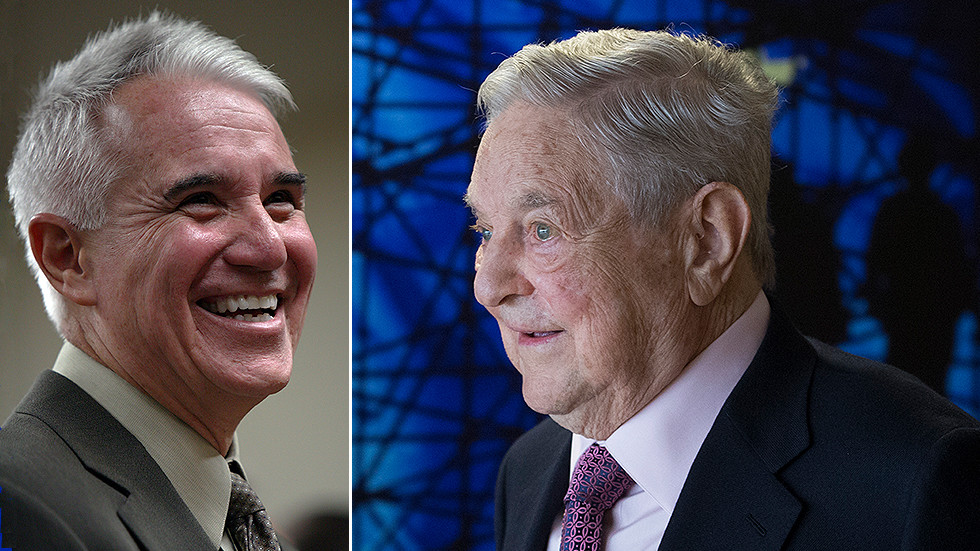 George Gascon is LA's new district attorney, having been backed by George Soros – just like Kim Foxx in Chicago. Conservatives in America need to fight back against Soros' influence and not be distracted by other issues.
Calling George Soros one of the biggest boogeymen in politics is not under-selling it. The Hungarian-born financier has become famous (or infamous) for the massive amounts of money that he is placing into political organizations and political campaigns. Sitting on a net worth of 8.6 billion dollars – which is more than treble that of President Donald Trump – Soros has a lot of money to throw into politics. It's very hard to find someone who can outspend him.
But what is particularly alarming at the moment is that he seems to be taking advantage of political opponents being distracted by lockdowns and Democrat congressman Eric Swalwell's relationship with a Chinese spy.
Now, I am not saying that there's anything wrong with these conversations. But these are short game issues rather than those that will affect the long game. And I think in the long term, Soros' desire to install district attorneys who tolerate lawlessness in major cities is way more important – and frightening – than anything going on right now.
Directly north of where I live is Chicago, the third most populous city in the United States. As I discussed in an article in August, Soros provided financial backing for Kim Foxx, the infamous district attorney who let Jussie Smollett off after his alleged faking of a hate crime. She has dismissed over 25,000 felony cases, 10 percent more than her predecessor.
In Los Angeles, George Gascon has now been elected district attorney. Controversially, he is moving to dismiss all sentencing enhancements against an alleged cop killer, Rhett Nelson. Gascon was previously San Francisco's district attorney for eight years, a period which saw the city suffer soaring rates of property crime and has caused many to question his legacy. Just like Foxx, Gascon has a tendency to drop felony cases and leave victims without justice.
Maybe I am in the minority here, but I find this considerably more worrying than Covid, or Chinese spies spending time with congressmen. Imagine living in a massive city with a district attorney who comes across like they watched Harvey Dent in the first half of The Dark Knight and decided they would do exactly the opposite. The prospect is horrifying.