from The Epoch Times: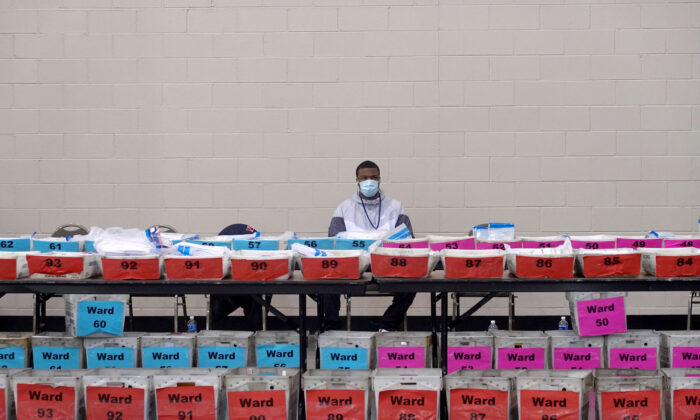 WASHINGTON—The former data and strategy director for President Donald Trump's 2016 election campaign says he has found enough evidence to suggest the election results could be "easily" turned to favor the current president.
"I have no confidence that Joe Biden is the deserved winner of this election, based on our findings," Matt Braynard said in a Nov. 25 video. "He may have won, he may not have won. Trump may have lost, Trump may have been reelected.
"We just can't know because of how bad this election system has operated."
Braynard assembled a team just days after the election to look for inconsistencies in six contested states: Pennsylvania, Georgia, Michigan, Wisconsin, Arizona, and Nevada.
The group initially identified 1.25 million voter issues and followed up on them through phone calls and by cross-checking data against other databases.
The team ran several major analyses including of voters who had moved out of state but still voted in the state they had left; voters who registered to vote using a post office box number rather than a residential address as required; voters who requested a mail-in ballot and sent it in, only for it not to be counted; voters who didn't request a mail-in ballot and didn't receive one, but discovered a vote had been cast in their name; as well as research on people who voted more than once and on those who are listed in the death index.
Change of Address
One of Braynard's biggest findings involved voters who had submitted a National Change of Address form to the post office, indicating they had moved out of state, yet appeared to have voted in 2020 in the state they moved from.
In Georgia, the team found 138,221 such people, which represents a much larger number than the state's current vote differential (12,670) in the presidential race.
In Michigan, there were 51,302 such people; Wisconsin had 26,673, Nevada had 27,271, Arizona had 19,997, and Pennsylvania had 13,671.
Braynard said the numbers are high enough that they could "easily" overturn current election projections.
"The number of questionable ballots surpasses the vote margin in at least three states right now—Arizona, Georgia, and Wisconsin," Braynard told The Epoch Times on Nov. 25. Those three states have a combined total of 37 electoral votes.
"This isn't speculative. This is just what the data shows."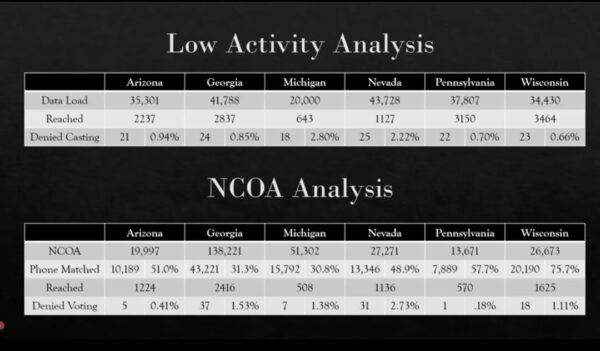 The current vote count difference between the two main presidential candidates and the electoral votes involved are as follows:
Arizona: 10,457 votes (11 electoral votes)
Georgia: 12,670 votes (16 electoral votes)
Nevada: 33,596 votes (6 electoral votes)
Michigan: 154,188 votes (16 electoral votes)
Pennsylvania: 80,555 votes (20 electoral votes)
Wisconsin: 20,608 votes (10 electoral votes)
Braynard said the team also found people who had voted more than once. However, he suggested the numbers his team found are likely much lower than the actual numbers, as he was unable to run the data against the numbers of in-person, Election Day voters.
The number of early and absentee double voters in Nevada and Pennsylvania was roughly 750 people, while in the other four contested states, it ranged from 150 to 400 people.
Braynard said the analyses his team conducted don't require any leap of faith or trust in some "magical mathematical formula."