by Bob Price, Breitbart: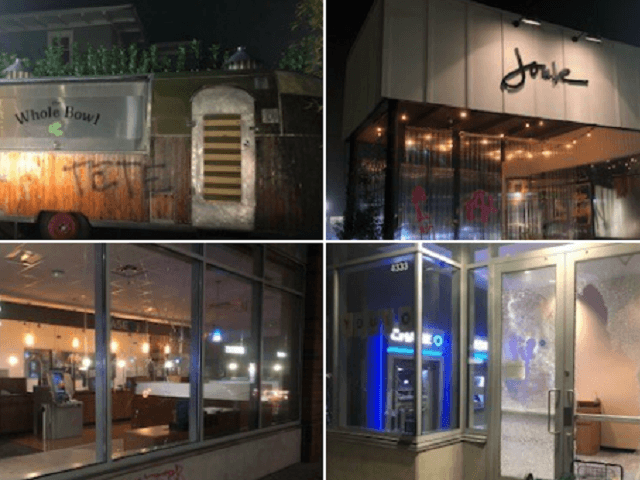 Reports from Portland, Oregon, indicate that police made no arrests of Antifa rioters who vandalized businesses on Friday night.
"This evening (Friday), a group gathered outside the Mexican Consulate in Downtown Portland," the Portland Police Bureau tweeted. "The group was described as dressed in all black and wearing helmets. The group engaged in criminal behavior which included spray painting and vandalizing the property."
TRUTH LIVES on at https://sgtreport.tv/
Portland journalist Andy Ngo, reported the Antifa group publicized the planned march and vandalism via a digital flyer on social media. They secretly spread the word about a second "private" march to take place while police were distracted with the downtown event, he reported.
There is a group of antifa in black bloc smashing up numerous businesses again in Portland. They announced their gathering via a digital flyer. They're vandalizing banks and real estate in the name of trans lives of color along NE Sandy Blvd. #PortlandRiots #antifa pic.twitter.com/rxZmcLm7mz

— Andy Ngô (@MrAndyNgo) November 21, 2020
Portland police acknowledged that "a separate group of nearly 50 people gathered at NE Halsey St and NE 52nd Ave before moving to NE 43rd Ave and NE Sandy Blvd. As the group headed southwest on NE Sandy Blvd towards NE 40th Ave, they vandalized many businesses including many small businesses in their path."
Tonight, a separate group of nearly 50 people gathered at NE Halsey St and NE 52nd Ave before moving to NE 43rd Ave and NE Sandy Blvd. As the group headed southwest on NE Sandy Blvd towards NE 40th Ave, they vandalized many businesses including many small businesses in their path pic.twitter.com/Oyc5RWlFOY

— Portland Police (@PortlandPolice) November 21, 2020