from ZeroHedge: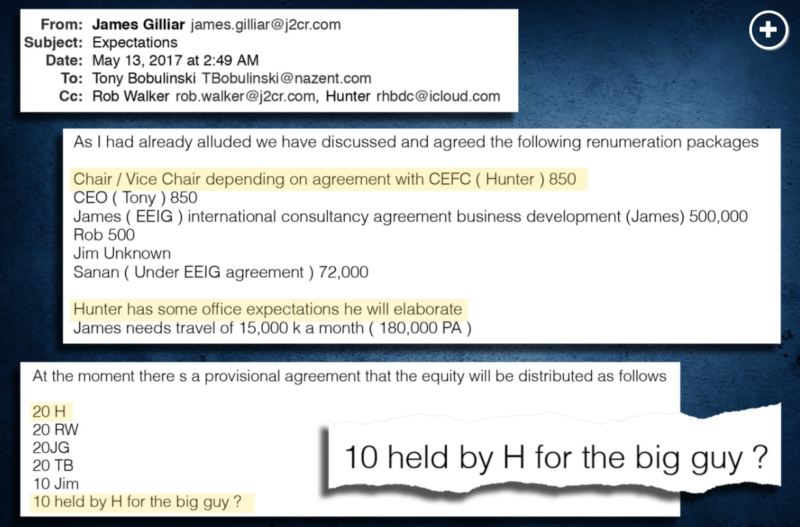 Former Biden insider Tony Bobulinski allegedly has a recording of Biden family operatives begging him to stay quiet, or he will "bury" the reputations of everyone involved in Hunter's overseas dealings.
According to The Federalist's Sean Davis, Bobulinski will play the tape on Fox News' "Tucker Carlson Tonight" on Tuesday, when Carlson will devote his show 'entirely' to an interview with the Biden whistleblower.
BREAKING: Tucker Carlson's show tomorrow night will be devoted entirely to an interview with Tony Bobulinksi, the Biden family insider-turned-whistleblower whose explosive e-mails show that Joe Biden himself was deeply involved in Hunter's foreign business dealings.

— Sean Davis (@seanmdav) October 26, 2020
As The Federalist notes:
The Federalist confirmed with sources familiar with the plans that Bobulinski, a retired Navy lieutenant and Biden associate, will be airing tapes of Biden operatives begging Bobulinski to remain quiet as former Vice President Joe Biden nears the finish line to the White House next week.
Bobulinski flipped on the Bidens following a Senate report which revealed that they received a $5 million interest-free loan from a now-bankrupt Chinese energy company.
According to the former Biden insider, he was introduced to Joe Biden by Hunter, and they had an hour-long meeting where they discussed the Biden's business plans with the Chinese, with which he says Joe was "plainly familiar at least at a high level." 
Text messages from Bobulinski also reveal an effort to conceal Joe Biden's involvement in Hunter's business dealings, while Tony has also confirmed that the "Big guy" described in a leaked email is none other than Joe Biden himself.
Of course, aside from the corruption allegations, Hunter Biden's laptop allegedly contained child porn, which the FBI sat on for nine months after a Delaware computer repair shop owner turned it over to them, only to approach Congress – and finally Rudy Giuliani, when nobody else would take action.
OAN's @ChanelRion confirms photos and videos on Hunter's laptop are of his niece, Natalie Biden, daughter of Beau Biden, Hunter's deceased brother. She was 14-years-old at the time the pictures and videos were taken. pic.twitter.com/OxOXdM8DB5

— Sha (@quip1) October 24, 2020