by Donald Jeffries, Keeping It Unreal: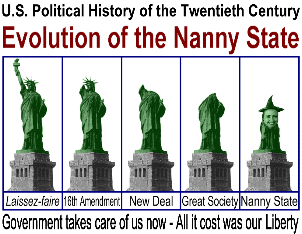 I have spent the last few months navigating through the endless layers of unproductive fat in our gargantuan government bureaucracy. I advocate for more than one close family member, and until you've dealt with it first hand, you have no idea of just how awful our system is.
You are invariably routed from one overpaid, often shockingly uneducated government employee to another. Few are civil, most are rude, and none are helpful. If you complain too much, they simply hang up on you. Good luck waiting an excruciatingly long time again, just to call back and take your place at the end of the line. To talk to an identically disinterested and incompetent worker. Whose salaries and benefits almost certainly compare favorably to the private working class that is forced to fund them.
I can state from personal experience that Legal Aid for the poor is a joke. They won't take your case. EEOC? I don't know- maybe it works for Black people. It certainly is useless for White people who've been discriminated against. The biggest farce of all is the Americans with Disabilities Act. That was the definition of an empty piece of legislation. There is no agency that oversees ADA. Seriously. You must simply wade through the countless agencies that supposedly deal with this issue. The fact is; all of them will tell you that "it's not my job," to quote the late comedian Freddie Prinze.
I almost had a loved one thrown out on the street from a nursing home, until I made enough noise to get her funneled into a decent place. But most people aren't as loud as I am. Too many lonely adults have no one who cares about them, let alone will advocate for them. The social "safety net" which has supposedly been cemented in place since the days of the New Deal, is full of holes. In fact, it rarely catches anyone.
Employed in a "Right to Work" state? That means they have a right to fire you for no reason at all. And you will have no recourse to fight it (I certainly can attest to that personally). You'd think that, out of all those unconstitutional alphabet agencies taxpayers fund, that there should be one to investigate every alleged case of unjust termination. There isn't. Same with workplace bullying; as I noted in Bullyocracy, employers are nearly as unlikely to punish harassment as our pathetic public schools are.
Speaking of those public schools, my book exposes their horrific track record on the issue of bullying. Even if they were wonderful in all other aspects (which, of course, they are decidedly not), the fact they continue to foster a climate that causes even elementary school students to kill themselves, is reason alone to overhaul that system. But it doesn't seem like 'Murricans are "mad as hell" about any of this. They might grumble quietly in the corner, but they're still paying for Transgender Story Hour.
The Department of Energy? Exactly what do they do? What alternative forms of energy are being promoted, or affordable to the general public? Inventors of potentially life-changing devices are either killed (Stanley Meyer), or denied a patent for their product (Joseph Newman). Who knows how many lesser known revolutionary minds have had their inventions suppressed? Nikola Tesla devised a way to provide free energy for all almost a century ago. His records have never surfaced (confiscated by none other than Donald Trump's uncle), and no one has continued his research.
In the wake of the 9/11 lie, the monstrosity known as the Homeland Security Department was established. Exactly how did our society function before then? What does Homeland Security staff do on a daily basis? Look out of their windows and verify that the "homeland" is safe? A few years back, the number 3 man in the entire agency fell for a police online sting involving a fake 13 year old girl. So we're paying for the best and brightest.
I have never been able to determine just what the function of the department of Health and Human Services is. They don't seem to provide any help in terms of anyone's health, and "human services" is a broad term that could mean almost anything. I haven't found any meaningful "service" they provide to the public. This used to be Health, Education, and Welfare. Welfare is an antiquated term, although conservatives still rant against it. Bill Clinton abolished it, and turned it into a scheme where fewer people get less help for a shorter period of time. But no taxes were saved by doing this.
The Federal Emergency Management Agency (FEMA) was created by Jimmy Carter. It was the most damaging thing he did in office. What do employees at this "emergency" agency do during….non-emergencies? Which should logically be the vast majority of the time. Their presence did nothing to facilitate assistance during Katrina and other crises, and they have been invisible during the entire "pandemic" thing. Doesn't this allegedly deadly virus quality as an emergency? What are they doing?
Our military industrial complex has only grown stronger and more impenetrable to public scrutiny, despite President Eisenhower's farewell warning against them sixty years ago. Our slew of intelligence agencies still have top secret budgets. So we don't even have the right to complain about how much of our money is being wasted there. Other than assassinations and subverting foreign elections, is there a legitimate purpose for any of these intelligence agencies?
During the 1980s, the Grace Commission investigated how our taxpayer dollars are allocated by the myriad of federal agencies. They found that fully one third of all government spending went to abuse, fraud, or simple waste. Ronald Reagan, tax-cutter extraordinaire that he was, ignored the recommendations of the Grace Commission. Think about that; a 33% tax cut and spending cut without slashing a single program. Given the drift of this crumbling country since then, there is no question that the percentage of waste, fraud, and abuse is much greater now.
Read More @ DonaldJeffries.Wordpress.com