by Michael Pento, Market Oracle:
The Japanese word for goodbye is Sayonara. But it doesn't just mean goodbye, it means goodbye forever. Unfortunately, that is what our country is doing to American Capitalism.
In the quixotic fantasy world of Keynesian economics, the more money a government borrows and prints the healthier the economy will become. Those who adhere to this philosophy also believe such profligacy comes without any negative economic consequences in the long run. This specious dogma contends that it is ok for a government to dig further into a big deficit hole during a recession because massive public spending will help the economy to climb out faster. And then, a government can cut spending in the good times, which leads to big budget surpluses.
TRUTH LIVES on at https://sgtreport.tv/
The trouble with this theory is the time never arrives to bring the scales into balance. Case in point, during the pre-pandemic year 2019, the U.S. had a deficit that was equal to 5% of GDP—one of the worst figures since WWII. This deficit occurred during a time which was purported to be one of the best economies in history.  Today, there are negotiations for yet another "stimulus" package after having already spending $3 trillion (15% of GDP) earlier this year. Speaker Pelosi and the Democrats want to spend another $2.2 trillion and Republican President Trump says, "I would like to see a bigger stimulus package, frankly, than either the democrats or Republicans are offering."
Unsurprisingly, Wall Street is also once again clamoring for another shot of heroin because all those trillions of dollars that were distributed in the spring and summer have already been spent. It seems both parties are ignorant of both history and real economics. The salient point must be stressed that no government has ever engendered a viable economy through the process of piling yet more debt on an already bankrupt pile. And no, having its central bank monetize the whole stinking dung heap is not a panacea.
We already know how this story turns out. A paragon for this experiment of unfettered fiscal and monetary profligacy in the nation of Japan.
Japan's debt to GDP ratio is projected to rise to 250% by the end of 2020.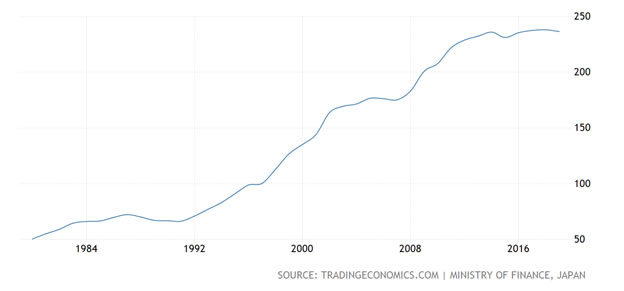 The Bank of Japan's Balance Sheet has skyrocketed since 2000, as the BOJ has been compelled to frenetically purchase half of all JGBs (Japanese Government Bonds).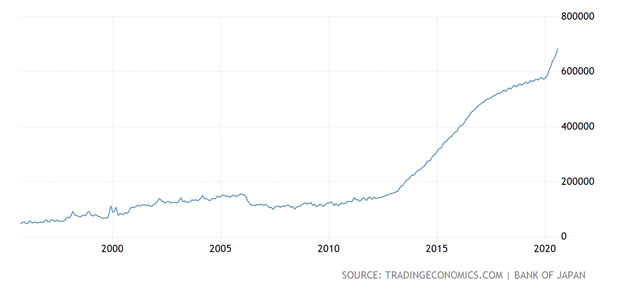 Meanwhile, all Japan's borrowing (a quadrillion yen outstanding) and money printing has not moved the needle on the nation's GDP.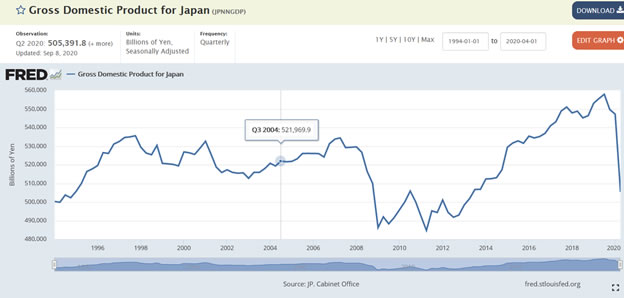 Japan's major equity Benchmark (Nikkei Dow) has endured three major crashes since the year 2000. The Index has only managed to increase about 15% from the start of the new millennia; and yet is still down 40% since 1989.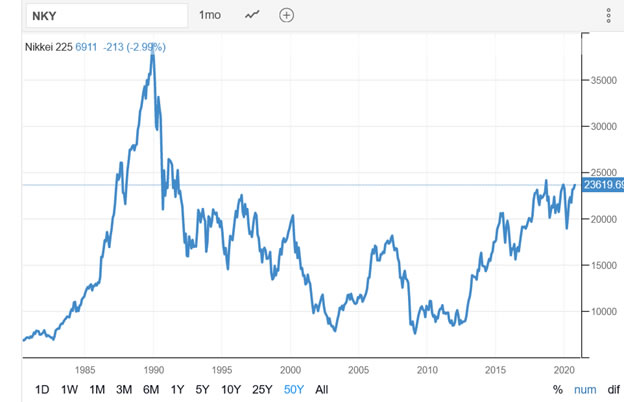 The conclusion from Japan's experience is clear. Massive fiscal and monetary stimulus does not at all boost GDP in the long run. In contrast, in rots the economy to its core. Although it can provide for a small gain in stock prices, it also comes with major crashes along the way. And ultimately, it can lead to intractable inflation and economic Armageddon.
Turing back to the U.S., Jerome Powell said this gem in a speech given on October 6th, "The US federal budget is on an unsustainable path, has been for some time, but this is not the time to give priority to those concerns." Powell also stated that the risks of overdoing stimulus are smaller than the dangers of not borrowing much more money right now—all of which will be printed by him with alacrity. That's tantamount to a doctor prescribing for a morbidly obese man with late stage heart disease to shove down boxes of fried Oreos rolled in pig lard until he feels well enough to begin the diet.
Read More @ MarketOracle.co.uk