by John Nolte, Breitbart: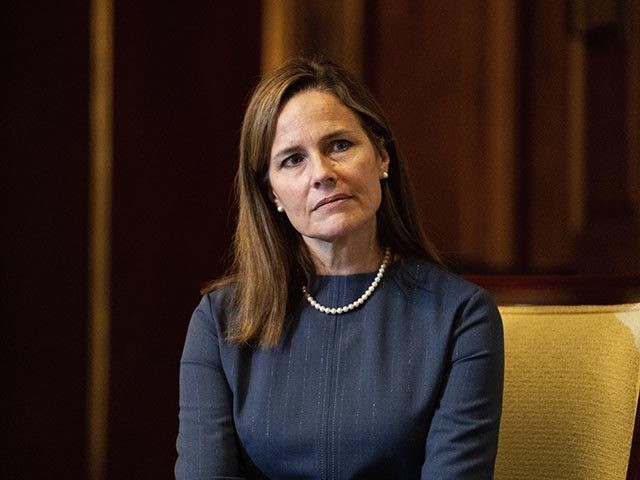 The Washington Post staffer responsible for launching fake news attacks against Brett Kavanaugh is now smearing Supreme Court nominee Amy Coney Barrett.
Emma Brown, a far-left Post reporter who was caught lying in the article that was pretty much responsible for launching a litany of now-debunked sexual assault allegations to derail Kavanaugh's confirmation to the Supreme Court, is at it again to derail Barrett. This time with a ridiculous story filled with anti-Catholic hatred, anti-Christian bigotry, and cherry-picked quotes.
On September 18, 2016, Brown broke the now-debunked story that accused Kavanaugh and his friend Mark Judge of attempting to rape Christine Blasey-Ford at a 1982 house party. Everyone would have been in high school at the time.
There was no investigative journalism involved in the Post hit (I do not link fake news). Brown not only took dictation from Blasey-Ford (a proven and re-proven serial liar) and then lied to Post readers by papering over Blasey-Ford's inconsistencies about who attended the 1982 house party (that never happened), Brown also deliberately withheld the name of one of the people Blasey-Ford told her was at the party, a lifelong friend of Blasey-Ford's named Leland Ingham Keyser.
Had the Post reported the full truth, it would have undermined Blasey-Ford's story considerably, and by extension, undermined Brown's and the Post's goal of destroying Kavanaugh's chances to sit on the high court.
Over six or seven years Blasey-Ford recounted the alleged rape attempt (that never happened), the number of her attackers changed, as did the gender of those who were supposedly at this 1982 house party (that never happened).
Rather than lay out the facts to readers, rather than report the inconsistencies, the Post and Brown accepted and passed along the explanation that Blasey-Ford's therapist got something wrong in the therapist notes.
What's more, even though there's proof Blasey-Ford told Brown and the Post about Keyser being at the 1982 house party (that never happened) prior to Brown publishing the piece, Brown still reported Ford said "four boys" and makes no mention of Keyser being there.
So Blasey-Ford told Brown Keyser was at the 1982 house party (that never happened), and Brown still stuck to the "four boys" narrative.
Why?
Why would Brown hide this information from readers?
The answer is simple. In order to do two things 1) make it look as though Blasey-Ford's story remained consistent, and 2) keep Leland Ingham Keyser's name hidden from the public.
Ah, but why would Brown and the Washington Post want to keep Leland Ingham Keyser's name hidden from readers? After all, Keyser is Blasey-Ford's friend, correct?
Yes, she is, but…
Keyser refused to lie for her old friend.