from ZeroHedge: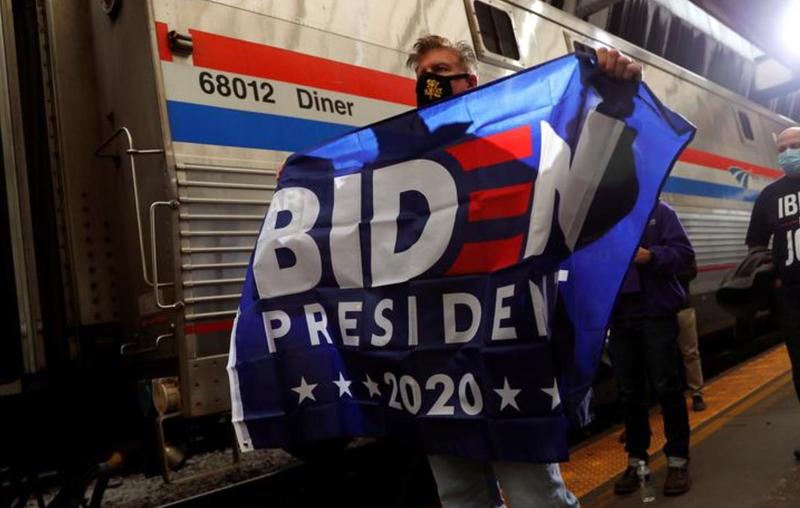 Reuters has partnered with Open Secrets to explore an often-overlooked issue in American politics. While Democrats like Joe Biden have talked the talk when it comes to holding Big Tech accountable, many senior members of Biden's circle have close ties to America's largest tech giants, particularly Amazon, which has come to symbolize Silicon Valley's corporate greed by paying no federal taxes, while its founder and CEO Jeff Bezos hardly paying any taxes, either.
Anybody who believes that Joe Biden, if elected, would simply pick up where President Trump's DoJ and FTC have left off when it comes to the anti-trust pressure facing Big Tech – pressure that could eventually lead to the breakup of Facebook and company – is probably ignoring these deep ties, which stretch all the way back to President Barack Obama's first presidential campaign.
Starting with the most obvious: Amazon spokesman Jay Carney is a former press secretary for the Obama Administration. Amazon General Counsel David Zapolsky is a top Democratic bundler. The Biden transition team and various issue-based working groups have drawn heavily from Silicon Valley.
Tech's ties to Biden run deep.

Amazon's Carney worked in former President Barack Obama's administration as press secretary for a little over three years. He was Vice President Biden's communications director for the first two years of the Obama administration.

Amazon General Counsel David Zapolsky is a top fundraiser for Biden, also known as a bundler who as individuals have raised more than $25,000. Bundlers are sometimes rewarded with plum positions in their beneficiary's administration, such as key jobs in federal agencies and influential advisory commissions. Zapolsky has also directly contributed a little over $250,000 to different funds supporting Biden's presidency, according to campaign finance records. Zapolsky did not comment.

Meanwhile the Biden campaign's transition team and working groups have added at least eight people who worked for Facebook, Google, Amazon and Apple and others with ties to these companies.
But it's not just personnel: Silicon Valley firms are among the biggest donors to the Biden campaign, according to data gleaned from Open Secrets, a nonprofit that seeks to organize campaign finance data. The data show that while Amazon has taken an early lead, Alphabet and Microsoft are also among the largest corporate donors to the Biden campaign. Since companies can't make these donations directly, these figures factor in money from company-affiliated PACs, as well as employees' personal donations.
GOP Sen. Josh Hawley, a vocal critic of China and Big Tech, told Reuters that progressives hoping for Biden to hold people like Zuckerberg "accountable" are being naive. The ties between Team Biden and the top levels of Amazon, Facebook and Alphabet are simply too strong.
Republican Senator Josh Hawley, a close ally of Trump and a vocal critic of large tech companies, said the progressives may get a "rhetorical nod in their direction now and then," but the Biden campaign's fundraising shows the progressives will struggle. "For Amazon in particular to be featured at a political convention is really, really worrisome," Hawley told Reuters. "It's taking their lobbying to a whole new level."
On the other hand, one source whom Reuters billed as a senior "advisor" to Biden on tech policy – a designation which of course means he has no official role inside the campaign – argued that the public outrage at Big Tech would force Biden's hand.
Donations from senior Amazon executives to the Biden campaign during the primaries were second only to Microsoft, according to data from the Revolving Door Project, which is part of the Center for Economic and Policy Research.

"I think all the fundraising we are seeing is probably going to buy them (Amazon) access, but in terms of policy results, I think it's going to buy them very little," said an advisor on tech policy to the Biden campaign, who did not wish to be named. "There is a lot of collective outrage against tech in Washington these days, and they simply cannot fly under the radar."
Still, progressives are clearly worried, as one aide to a "progressive" Senate Democrat added that opponents of Big Tech will need to focus on key administration appointments.
A senior policy counsel for a progressive Senate Democrat, who did not wish to be named, said Big Tech's closeness with the Biden campaign is worrying. The battle for the left wing of the Democratic party on this issue will be on whether they can get crucial appointments in the administration and less about moving Biden toward progressive options, the aide added.
Finally, Sally Hubbard, identified by her affiliation with the Washington-based Open Markets Institute, which is working to combat Big Tech's monopoly power, warned that all this money has probably bought Amazon and the rest of them plenty of inroads with the Biden people. That means a potential President Biden probably would treat Big Tech with kid gloves.