from RT: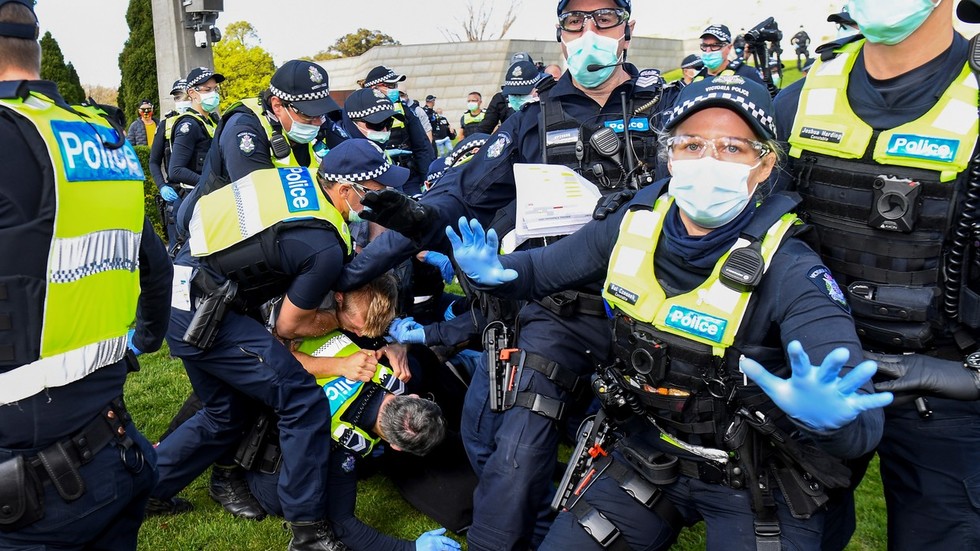 Dozens of Melburnians defied stern warnings from the police and turned up at a banned anti-lockdown rally, which was swarmed by throngs of officers who used full force to impose harsh Covid-19 restrictions.
Dubbed a 'freedom walk', the rally hit the streets of central Melbourne earlier on Saturday. Police geared up for a massive turnout of protesters, sealing off the Tan Running Track and the Shrine of Remembrance – a venue of last weekend's protest.
Some 1,500 people declared their willingness to attend online, signing up through a now-deleted Facebook group. However, only around 100 protesters actually showed up. Images of lockdown dodgers making their way downtown surfaced online just prior to the event.
BREAKING: Pro-virus extremists pictured en-route to #MelbourneProtest superspreader event. Not a mask or social distancing requirement adhered to sources on the ground say. pic.twitter.com/ZAHZpYjadj

— Not London Football Exchange (@hisaflog) September 12, 2020
Many were holding makeshift placards that called the Covid-19 epidemic a hoax and contested Australia's quarantine measures.
The 'walkers' attending were predictably outweighed by a heavy police presence. Officers employed strong-armed tactics, arresting at least 14 protesters in front of television cameras.
🇦🇺 #AUSTRALIA – Because the govt has renewed the #lockdown against #COVID19, protests in #Melbourne continue against the restrictions.

ℹ People are arrested because they not showing their ID.pic.twitter.com/jfWWGZubpm

— ISCResearch (@ISCResearch) September 12, 2020
Adding insult to injury, officers slapped fines on 51 people for "infringement" activity. Victoria Police earlier warned that anyone breaking lockdown restrictions could face a penalty of up to $1,652.
Organizers branded the action "a legal walk" that would enable Melburnians "to come together, get healthy and talk about getting our freedoms back." That sentiment, however, didn't play down well with Victoria Police, who repeatedly dished out stark warnings in the days leading up to the walk, reminding people that any protest would be unlawful.