by Harvey Organ, Harvey Organ Blog: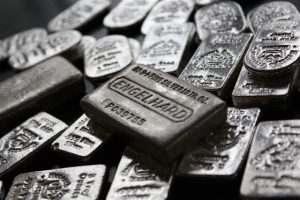 GOLD WITHSTANDS EARLY ATTACK BY BANKERS AND THEN CLIMBS UP $19.10 TO $1897.20//SILVER REVERSES COURSE AND IT UP A POWERFUL 86 CENTS TO $24.35// FINAL TOTAL COMEX GOLD STANDING FOR SEPT: 15.3 TONNES//A HUGE 52.4 MILLION OZ STANDING FOR SILVER//JPMORGAN FINALLY RECEIVES ITS 1 BILLION FINE AND IT INCLUDES: A) RACKETEERING B) SPOOFING////CORONAVIRUS UPDATE//THE BIG DEBATE TONIGHT//HUGE SWAMP STORY USA INTELLIGENCE INVESTIGATED HILLARY CLINTON FOR CORRUPT RUSSIAN DISINFORMATION AND SUPPLIED THIS TO OBAMA: WOW!// MORE SWAMP STORIES AS WELL TONIGHT
GOLD:$1897.20 UP  $19.10   The quote is London spot price
Silver:$24.35 UP  $0.86   London spot price ( cash market)
Comex options expiry is now over and the bankers made out like bandits again.  We still have to deal with the bigger options expiry on Wednesday Sept 30 at 10 am-11 am est
October is going to be a dandy delivery month. October OI is extremely high at 34,567
We will keep you abreast  on that.
comex option expiry FRIDAY: Sept 25
LBMA/OTC options expiry:  Sept 30
they tried last night to raid but the demand was just too great…
It is going to be an interesting week…
your data…
Closing access prices:  London spot
i)Gold : $1897.50  LONDON SPOT  4:30 pm
ii)SILVER:  $24.17//LONDON SPOT  4:30 pm
CLOSING FUTURES PRICES:  KEY MONTHS
OCT GOLD:  1894.30  CLOSE 1.30 PM//   SPREAD SPOT/FUTURE OCT /: $$3.10 BACKWARD//  VERY CHEAP@!! THIS IS A MAGNET TO ATTRACT THOSE WILLING TO PURCHASE AND THEN TAKE DELIVERY OF METAL.
DEC. GOLD  $1903.40   CLOSE 1.30 PM      SPREAD SPOT/FUTURE DEC   $5.20/ CONTANGO   ( $0.80 BELOW NORMAL CONTANGO) //allows for exch. for physical to be issued at lower cost.
CLOSING SILVER FUTURE MONTH
SILVER SEPT COMEX CLOSE;   $24.33…1:30 PM.//SPREAD SPOT/FUTURE SEPT//  :    ( 2 CENTS BACKWARD//)
SILVER DECEMBER  CLOSE:     $24.39  1:30  PM SPREAD SPOT/FUTURE DEC.       :   4  CENTS PER OZ  CONTANGO (   2 CENTS BELOW NORMAL CONTANGO)
XXXXXXXXXXXXXXXXXXXXXXXXX
JPMorgan has been receiving gold with reckless abandon and sometimes supplying (stopping)
receiving today:  13/16
EXCHANGE: COMEX
CONTRACT: SEPTEMBER 2020 COMEX 100 GOLD FUTURES
SETTLEMENT: 1,872.800000000 USD
INTENT DATE: 09/28/2020 DELIVERY DATE: 09/30/2020
FIRM ORG FIRM NAME ISSUED STOPPED
____________________________________________________________________________________________
657 C MORGAN STANLEY 8 1
657 H MORGAN STANLEY 5
661 H JP MORGAN 13
690 C ABN AMRO 2
905 C ADM 1 2
____________________________________________________________________________________________
TOTAL: 16 16
MONTH TO DATE: 4,938
issued:  0
NUMBER OF NOTICES FILED TODAY FOR  SEPT CONTRACT: 16 NOTICE(S) FOR 1600 OZ  (0.0497 tonnes)
TOTAL NUMBER OF NOTICES FILED SO FAR:  4938 NOTICES FOR 493800 OZ  (15.359 tonnes)
47 NOTICE(S) FILED TODAY FOR 235,000  OZ/
total number of notices filed so far this month: 11,080 for 55.400 MILLION oz
BITCOIN MORNING QUOTE  $10,770 up 74 dollars
BITCOIN AFTERNOON QUOTE.:  $10,747  UP 49 DOLLARS .
GLD AND SLV INVENTORIES:
WITH GOLD UP $19.10  AND NO PHYSICAL TO BE FOUND ANYWHERE:
WITH ALL REFINERS CLOSED//MEXICO ORDERING ALL MINES SHUT:   WHERE ARE THEY GETTING THE "PHYSICAL?
NO CHANGE IN GOLD INVENTORY AT THE GLD//
GLD: 1,268.89 TONNES OF GOLD//
WITH SILVER UP 48 CENTS  TODAY: AND WITH NO SILVER AROUND:
NO CHANGES IN SILVER INVENTORY AT THE SLV.
SLV: 550.791  MILLION OZ./
XXXXXXXXXXXXXXXXXXXXXXXXX
Let us have a look at the data for today
xxxxxxxxxxxxxxxxxxxxxxxxxxxxxxxxxxxxxxxxxxxxxxxxxxxxxxxxxxxxxxxxxxxxxxxxxx
IN SILVER THE COMEX OI ROSE BY A STRONG 1198 CONTRACTS FROM 153,293 UP TO 154,491, AND CLOSER TO  OUR NEW RECORD OF 244,710, (FEB 25/2020. THE GAIN IN OI OCCURRED WITH OUR $0.48 GAIN IN SILVER PRICING AT THE COMEX. IT SEEMS THAT THE  GAIN IN COMEX OI IS  DUE TO CONSIDERABLE BANKER AND ALGO  SHORT COVERING..  COUPLED AGAINST A SMALL EXCHANGE FOR PHYSICAL. WE ALSO HAD ZERO LONG LIQUIDATION, AND A STRONG INCREASE IN SILVER OZ  STANDING  AT THE COMEX FOR SEPT.  WE HAD A STRONG NET GAIN IN OUR TWO EXCHANGES OF 1548 CONTRACTS  (SEE CALCULATIONS BELOW).
Read More @ HarveyOrganBlog.com