by Harvey Organ, Harvey Organ Blog: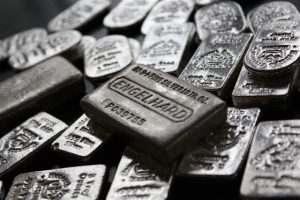 ANOTHER STRONG UPSIDE DAY REVERSAL: GOLD UP $19.55 TO $1945.95//SILVER UP 6 CENTS TO $26.90//GOLD TONNAGE STANDING AT THE COMEX: 11.43 TONNES//TWO IMPORTANT READS: HUGO SALINAS PRICE AND MIKE WHITNEY//SWAMP STORIES FOR YOU TONIGHT
GOLD:$1946.95  UP $19.55   The quote is London spot price
Silver:$26.90 UP $.06   London spot price ( cash market)
Well again for the 5th consecutive day, the crooks tried to raid again trying to prove Einstein's definition of insanity is incorrect as they were hoping for a positive outcome. Gold refused to buckle and by the end of day it rose  $19.55 to $1946.95.  Silver rose 6 cents to $26.90.  We have almost 11.5 tonnes of gold standing at the comex.  In another development we are witnessing a lot fewer exchange for physicals being underwritten by our bankers.  They are afraid of being bitten as Londoners are exercising these serial forwards  for metal.
Let us see if the crooks decide on making it 6 days in a row raiding our precious metals.
here is your data for today.
H
Closing access prices:  London spot
i)Gold : $1947.50  LONDON SPOT  4:30 pm
ii)SILVER:  $26.98//LONDON SPOT  4:30 pm
CLOSING FUTURES PRICES:  KEY MONTHS
OCT GOLD:  $1946.20  CLOSE 1.30 PM//   SPREAD SPOT/FUTURE OCT /: $.65 BACKWARD  //
DEC. GOLD  $1954.50   CLOSE 1.30 PM      SPREAD SPOT/FUTURE DEC   $7.75/ CONTANGO   ($4.45 BELOW NORMAL CONTANGO)
CLOSING SILVER FUTURE MONTH
SILVER SEPT COMEX CLOSE;   $26.91…1:30 PM.//SPREAD SPOT/FUTURE SEPT//  :    ( 1 CENT BACKWARD)
SILVER DECEMBER  CLOSE:     $27.09  1:30  PM SPREAD SPOT/FUTURE DEC.       : 19  CENTS PER OZ  CONTANGO ( 7 CENTS ABOVE NORMAL CONTANGO)
XXXXXXXXXXXXXXXXXXXXXXXXX
JPMorgan has been receiving gold with reckless abandon and sometimes supplying (stopping)
receiving today:  33/104
issued  0
DLV615-T CME CLEARING
BUSINESS DATE: 09/08/2020 DAILY DELIVERY NOTICES RUN DATE: 09/08/2020
PRODUCT GROUP: METALS RUN TIME: 21:06:27
EXCHANGE: COMEX
CONTRACT: SEPTEMBER 2020 COMEX 100 GOLD FUTURES
SETTLEMENT: 1,933.000000000 USD
INTENT DATE: 09/08/2020 DELIVERY DATE: 09/10/2020
FIRM ORG FIRM NAME ISSUED STOPPED
____________________________________________________________________________________________
132 C SG AMERICAS 1
355 C CREDIT SUISSE 1
657 C MORGAN STANLEY 36
657 H MORGAN STANLEY 101
661 C JP MORGAN 33
661 H JP MORGAN 26
709 C BARCLAYS 2
737 C ADVANTAGE 3 2
905 C ADM 3
____________________________________________________________________________________________
TOTAL: 104 104
MONTH TO DATE: 3,561
NUMBER OF NOTICES FILED TODAY FOR  SEPT CONTRACT: 104 NOTICE(S) FOR 10400 OZ  (0.3234 tonnes)
TOTAL NUMBER OF NOTICES FILED SO FAR:  3564 NOTICES FOR 356400 OZ  (11.0762 tonnes)
286 NOTICE(S) FILED TODAY FOR 1,430,000  OZ/
total number of notices filed so far this month: 9100 for 45.500 MILLION oz
BITCOIN MORNING QUOTE  $10227  UP 100
BITCOIN AFTERNOON QUOTE.: $10,286 UP 160
GLD AND SLV INVENTORIES:
WITH GOLD UP $19.55 AND NO PHYSICAL TO BE FOUND ANYWHERE:
WITH ALL REFINERS CLOSED//MEXICO ORDERING ALL MINES SHUT:   WHERE ARE THEY GETTING THE "PHYSICAL?
NO CHANGES IN GOLD INVENTORY AT THE GLD…
GLD: 1,250.04 TONNES OF GOLD//
WITH SILVER UP $0.06  TODAY: AND WITH NO SILVER AROUND:
WE HAD A HUGE CHANGE IN SILVER INVENTORY AT THE SLV//
A MASSIVE WITHDRAWAL OF 3.63 MILLION OZ  (PROBABLY USED IN THE RAIDS THESE PAST FEW DAYS)
RESTING SLV INVENTORY TONIGHT:
SLV: 561.169  MILLION OZ./
XXXXXXXXXXXXXXXXXXXXXXXXX
Let us have a look at the data for today
xxxxxxxxxxxxxxxxxxxxxxxxxxxxxxxxxxxxxxxxxxxxxxxxxxxxxxxxxxxxxxxxxxxxxxxxxx
IN SILVER THE COMEX OI ROSE BY A TINY 247 CONTRACTS FROM 158,744 UP TO 159,177, AND CLOSER TO OUR NEW RECORD OF 244,710, (FEB 25/2020. THE  GAIN IN OI OCCURRED WITH OUR  $0.27 RISE IN SILVER PRICING AT THE COMEX. IT SEEMS THAT THE GAIN IN COMEX OI IS  DUE TO CONSIDERABLE BANKER  SILVER SHORT COVERING..  COUPLED AGAINST A VERY WEAK EXCHANGE FOR PHYSICAL ISSUANCE, ZERO  MINOR LONG LIQUIDATION, A SMALL DECREASE IN SILVER OZ  STANDING  AT THE COMEX FOR SEPT..  WE HAD A SMALL NET GAIN IN OUR TWO EXCHANGES OF 722 CONTRACTS  (SEE CALCULATIONS BELOW).
WE HAVE ALSO WITNESSED A STRONG AMOUNT OF PHYSICAL METAL STAND FOR COMEX DELIVERY AS WELL WE ARE WITNESSING CONSIDERABLE LONGS PACKING THEIR BAGS AND MIGRATING OVER TO LONDON IN GREATER NUMBERS IN THE FORM OF EFP'S.  WE WERE  NOTIFIED  THAT WE HAD A WEAK SIZED NUMBER OF COMEX LONGS TRANSFERRING THEIR CONTRACTS TO LONDON THROUGH THE EFP ROUTE:   SEP 0;  DEC:  475, MARCH  0 FOR ZERO ALL  OTHER MONTHS  AND THEREFORE TOTAL ISSUANCE  475 CONTRACTS. WITH THE TRANSFER OF 475 CONTRACTS, WHAT THE CME IS STATING IS THAT THERE IS NO SILVER (OR GOLD) TO BE DELIVERED UPON AT THE COMEX AS THEY MUST EXPORT THEIR OBLIGATION TO LONDON. ALSO KEEP IN MIND THAT THERE CAN BE A DELAY OF 24-48 HRS IN THE ISSUING OF EFP'S. THE 475 EFP CONTRACTS TRANSLATES INTO 0.250 MILLION OZ  ACCOMPANYING:
Read More @ HarveyOrganBlog.com