by Harvey Organ, Harvey Organ Blog: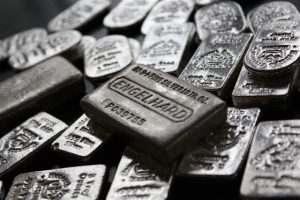 POWELL PROVIDES THE THUNDER AS AVERAGE INFLATION IS NOW IN: INTEREST RATES WILL NOT RISE FOR 42 YEARS//NEGATIVE INTEREST RATES WILL NOW BE THE NORM; GOLD AND SILVER RAIDED AGAIN: GOLD DOWN $17.50 TO $1927.40//SILVER DOWN 28 CENTS TO $27.00//GOLD TONNAGE AT THE COMEX UP TO 152.5 TONNES//IN SILVER WE WILL HAVE A WHOPPER OF A DELIVERY MONTH IN SEPT//CORONAVIRUS UPDATE, THE GLOBE/CHINA VS USA//TURKEY VS GREECE/ITALY, FRANCE IN THE MED.SEA//TURMOIL IN THE NBA AS GAMES CANCELLED, BUT RE INSTATED FOR TOMORROW//HURRICANE LAURA A WHOPPER//ANDREW MAGUIRE PODCAST//MORE AMERICAN STORIES FOR YOU TONIGHT//SWAMP STORIES AS WELL
GOLD:$1927.40  DOWN $17.50   The quote is London spot price
Silver:$27.00 DOWN$0.28   London spot price ( cash market)
Today marks the 10TH day out of the last 13 days that a raid has been orchestrated.  The bankers regrouped from yesterday and they whacked again.  They were mildly successful in lowering the price of our precious metals.  However, the risk to them is now great as those purchasers of paper will turn that paper into real metal.
Friday is options expiry OTC /London LBMA 10 am.. not Monday, as the 31st is a UK banking holiday.  First day notice is still the 31st of August.
Closing access prices:  London spot
i)Gold : $1929.50  LONDON SPOT  4:30 pm
ii)SILVER:  $27.02//LONDON SPOT  4:30 pm
CLOSING FUTURES PRICES:  KEY MONTHS
SEPT GOLD:   $1923.40  CLOSE  1::30 PM  SPREAD SPOT/FUTURE AUG  (BACKWARD  $4.00//) SCARCITY//
OCT GOLD:  $1928.00  CLOSE 1.30 PM//   SPREAD SPOT/FUTURE OCT /:   : $0.60//CONTANGO//$2.40 BELOW NORMAL CONTANGO
DEC. GOLD  $1935.40   CLOSE 1.30 PM      SPREAD SPOT/FUTURE DEC   $8.00/ CONTANGO   ($4.00 BELOW NORMAL CONTANGO)
CLOSING SILVER FUTURE MONTH
SILVER SEPT COMEX CLOSE;   $27.05…1:30 PM.//SPREAD SPOT/FUTURE SEPT//  :    ( 5 cent contango//2 CENTS ABOVE NORMAL contango)
SILVER DECEMBER  CLOSE:     $27.12  1:30  PM SPREAD SPOT/FUTURE DEC.       : 12  CENTS PER OZ  CONTANGO ( 5 CENTS ABOVE NORMAL CONTANGO)
XXXXXXXXXXXXXXXXXXXXXXXXX
JPMorgan has been receiving gold with reckless abandon and sometimes supplying (stopping)
receiving today: 1/83
issued  0
EXCHANGE: COMEX
CONTRACT: AUGUST 2020 COMEX 100 GOLD FUTURES
SETTLEMENT: 1,940.700000000 USD
INTENT DATE: 08/26/2020 DELIVERY DATE: 08/28/2020
FIRM ORG FIRM NAME ISSUED STOPPED
____________________________________________________________________________________________
657 C MORGAN STANLEY 51
657 H MORGAN STANLEY 79
661 C JP MORGAN 1
685 C RJ OBRIEN 1
686 C INTL FCSTONE 5
690 C ABN AMRO 24
905 C ADM 4 1
____________________________________________________________________________________________
TOTAL: 83 83
MONTH TO DATE: 48,934
NUMBER OF NOTICES FILED TODAY FOR  AUGUST CONTRACT: 83 NOTICE(S) FOR 8300 OZ  (0.2582 tonnes)
TOTAL NUMBER OF NOTICES FILED SO FAR:  48,934 NOTICES FOR 4,893400 OZ + 2400 oz enhanced standing  =  48958 notices  or 4895800 oz  (152.279 tonnes
12 NOTICE(S) FILED TODAY FOR 60,000  OZ/
total number of notices filed so far this month: 1294 for 6.470 MILLION oz
BITCOIN MORNING QUOTE  $11,328  DOWN 131
BITCOIN AFTERNOON QUOTE.: $11,463 UP 144
GLD AND SLV INVENTORIES:
WITH GOLD UP $17.50 AND NO PHYSICAL TO BE FOUND ANYWHERE:
WITH ALL REFINERS CLOSED//MEXICO ORDERING ALL MINES SHUT:   WHERE ARE THEY GETTING THE "PHYSICAL?
A HUGE CHANGE IN GOLD INVENTORY AT THE GLD/// // A DEPOSIT OF 3.24 TONNES FROM THE GLD
GLD: 1,252.09 TONNES OF GOLD//
WITH SILVER DOWN 28 CENTS TODAY: AND WITH NO SILVER AROUND:
RESTING SLV INVENTORY TONIGHT:
SLV: 566.419  MILLION OZ./
XXXXXXXXXXXXXXXXXXXXXXXXX
Let us have a look at the data for today
xxxxxxxxxxxxxxxxxxxxxxxxxxxxxxxxxxxxxxxxxxxxxxxxxxxxxxxxxxxxxxxxxxxxxxxxxx
IN SILVER THE COMEX OI FELL BY A HUGE SIZED 4871 CONTRACTS FROM 187,631 DOWN TO 182,760, AND FURTHER FROM OUR NEW RECORD OF 244,710, (FEB 25/2020. THE HUGE LOSS IN OI OCCURRED DESPITE OUR STRONG  $1.04 GAIN  IN SILVER PRICING AT THE COMEX. IT SEEMS THAT THE LOSS IN COMEX OI IS PRIMARILY DUE TO A HUGE  SILVER SPREADER LIQUIDATION, CONSIDERABLE  BANKER SHORT COVERING  COUPLED AGAINST A STRONG EXCHANGE FOR PHYSICAL ISSUANCE, ZERO LONG LIQUIDATION, WITH A ZERO INCREASE IN SILVER OZ. STANDING AT THE COMEX FOR AUGUST.  WE HAD A CONSIDERABLE NET LOSS IN OUR TWO EXCHANGES OF 3627 CONTRACTS, WITH ALL OF THE LOSS DUE TO THE LIQUIDATION OF OUR CRIMINAL SPREADERS…  (SEE CALCULATIONS BELOW).
Read More @ HarveyOrganBlog.com