by Pam Martens and Russ Martens, Wall St On Parade: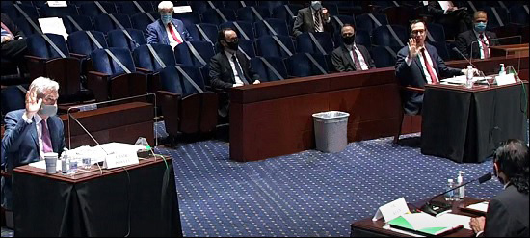 Fed Chairman Jerome Powell and Treasury Secretary Steve Mnuchin apparently fear unleashing more angry protesters across the country screaming "no justice, no peace" into an air increasingly filled with COVID-19 droplets, more than they fear Trump Tweeting reprisals against them in the wee hours of the morning. Both Powell and Mnuchin raised their hands yesterday during the House Financial Services Committee hearing to agree to work with a proposed Department of Reconciliation to deal with the country's history of slavery, segregation and ongoing "invidious discrimination" of people of color.
The hearing had been called by the Chair of the Committee, Maxine Waters, to take testimony on "Oversight of the Treasury Department's and Federal Reserve's Pandemic Response." That topic was frequently framed around questions of racial discrimination and inequality.
The raised hands from Powell and Mnuchin came in response to questioning from Congressman Al Green of Texas, a Democrat who can reliably be counted on to ask probing, cogent questions of witnesses that come before the Committee.
Green started off his questioning yesterday like this:
Green: "I'd like to lay a proper predicate for my questions. According to the latest HMDA [Home Mortgage Disclosure Act] data, in 2019 the vast majority of home purchase loans went to white borrowers at approximately ten times that of loans that went to black and AAPI [Asian American and Pacific Islander] borrowers. Here are the numbers: the share that went to white borrowers – 60.3 percent; to Hispanic borrowers, 9.2 percent; to AAPI borrowers, 5.7 percent; and to black borrowers, 7 percent…
"Even when lending discrimination does not result in outright denials of credit, it drives up borrowing costs for minority home buyers. Loans to black and Hispanic borrowers continue to be higher-priced for both conventional and non-conventional loans in 2019…
"Adjusting for education, credit score, assets and other relevant factors, do you believe that invidious discrimination in lending exists against borrowers of color?…If you do believe so, would you kindly extend a hand into the air."
Mnuchin played with his reading glasses in his hand until he saw what Powell was going to do. Once Powell raised his hand, Mnuchin followed.
Green then asked both if they felt that legislation should play a part in ending this invidious discrimination. Both answered in the affirmative. Green then said this:
"Green: I believe that it's time for us to reconcile in this country. We've survived slavery but we didn't reconcile. We survived the invidious discrimination that exists now; segregation; but we haven't reconciled. If we had a Department of Reconciliation with a Secretary of Reconciliation, would you work with a Secretary of Reconciliation…If so, raise your hand."
Mnuchin, again, waited to see what Powell was going to do. Powell, hesitated, then raised his hand, saying "not sure what this is." Mnuchin, then, finally, also raised his hand.
Congressman Gregory Meeks of New York had earlier in the hearing pinned down Powell and Mnuchin on whether structural discrimination exists in the U.S. The exchange went as follows:
Meeks: "Do you agree that structural discrimination exists in the United States economy today and impedes the economic success of communities of color and is key to understanding why black wealth is just 10 percent of that of white communities?"
Powell: "Yes, I do agree."
Meeks then asked Mnuchin if he agreed also. Mnuchin said "I agree we need to do everything to create a level playing field."
Later in his questioning, Meeks asked this:
Meeks: "Has the Fed made a requirement of all asset managers and broker-dealers with which they contract to partner with minority firms in fulfilling contracts and transactions?"
Powell: "Yes, we do have obligations, for example, with the companies we've contracted with during the pandemic. They have to address diversity and inclusion issues at their company and they have to reach out to minority suppliers as well."
Apparently, neither Powell nor anyone else at the Fed is actually holding their vendors' feet to the fire when it comes to racial diversity.
The Federal Reserve, via the New York Fed, has outsourced its $750 billion corporate bond buying programs to BlackRock. BlackRock also manages investments for the federal employees' Thrift Savings Plan. As a federal vendor, BlackRock had to file a diversity report, which is conveniently attached to the annual report of the Thrift Savings Plan for 2018. (See Appendix A at this link.)
BlackRock's diversity report shows that it has 6,096 employees in its top three categories of workers, which include the following job titles: Executive, Senior Official, Manager; First/Mid Officials, Managers; and Professionals.
Read More @ WallStOnParade.com