by Chris Menahan, Information Liberation: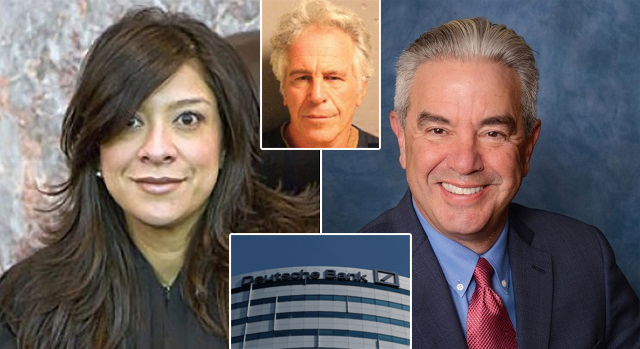 A gunman "posing as a FedEx driver" went to the home of Federal Judge Esther Salas on Sunday evening and reportedly shot and killed her son when he answered the door and then shot her husband repeatedly before fleeing the scene.
Salas was assigned a case involving Deutsche Bank and Jeffrey Epstein just days ago and speculation is running wild that this was an attempted "hit" or was done to send a message.
Judge Salas was assigned 4 days ago to unravel all of the money laundering in the Epstein case. Hundred of millions worth with banks, suspects, whole black book. Yesterday a gunman shows up at her house, shoots her husband, kills her son, and escapes without going into house.

— Tim Dillon (@TimJDillon) July 20, 2020
The FBI is investigating a shooting that occurred at the home of Judge Ester Salas in North Brunswick Township, New Jersey earlier this evening, July 19. We're looking for one subject & ask that anyone who thinks they may have relevant information call us at 1-973-792-3001.

— FBI Newark (@FBINewark) July 20, 2020
From The Daily Mail, "Federal judge's son, 20, is shot dead and her criminal defense attorney husband is critically injured after a gunman disguised as a FedEx driver ambushed their home – four days after she was assigned a case linked to Jeffrey Epstein":
The son of a federal judge has been shot dead and her husband critically wounded after they were attacked at their home by a gunman dressed as a FedEx driver.

The attack happened at the home of Esther Salas, 51, an Obama-appointed District Court judge, in North Brunswick, New Jersey, on Sunday evening.

The judge's 20-year-old son Daniel Anderl was killed, and her defense attorney husband Mark Anderl, 63, was critically injured.
Local news report:
Judge Salas was assigned a case involving Epstein and Deutsche Bank on July 15.
Global News Wire reported on July 16:
The lawsuit has been filed in the U.S. District Court for the District of New Jersey on behalf of all those who purchased Deutsche Bank securities between November 7, 2017 and July 6, 2020 (the "Class Period"). The case, Karimi v. Deutsche Bank Aktiengesellschaft et al., No. 20-cv-08978 was filed on July 15, 2020, and has been assigned to Judge Esther Salas.
Read More @ InformationLiberation.com