from ZeroHedge: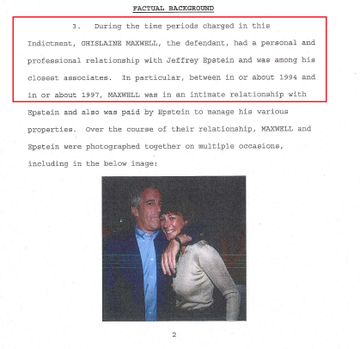 Update (1455ET): MSNBC's Ayman Mohyeldin reports that multiple federal law enforcement officials say that depending on what the judge overseeing today's detention & removal hearing & the Bureau of Prisons determine, Ghislaine Maxwell could be housed at MCC in New York – the same jail where Jeffrey Epstein killed himself.
"We will be seeking detention," Acting U.S. Attorney Audrey Strauss in Manhattan said in a press conference announcing charges. Prosecutors said Maxwell helped Epstein entice girls as young as 14 into sex from 1994 through 1997, then lied about it under oath in 2016.
As Bloomberg adds, unless the judge in New Hampshire releases her on bail, "Maxwell will either be held overnight in a local jail there or transported immediately back to New York, said Jack Donson, a consultant who formerly worked for the federal Bureau of Prisons. In New York, she would likely be transferred to one of two federal lockups, the Metropolitan Correctional Center in Lower Manhattan or the Metropolitan Detention Center in Brooklyn."
Of course, Manhattan's MCC is where Epstein was found dead in his cell in August after committing "suicide" by hanging himself using his bed sheets. How he was permitted to do so remains a mystery. Two MCC guards are facing charges for falsifying records and failing to check on inmates in the hours before Epstein's death. Both have pleaded not guilty. In May, the Manhattan jail also faced criticism after a judge-ordered inspection found it was failing to adequately protect inmates from the coronavirus.
Asked if any special precautions will be taken to ensure Maxwell's safety in custody, Strauss said: "As you know, we are sensitive to that concern and certainly we'll be in dialogue with the Bureau of Prisons about it."
Which probably means that Ghislaine has days left, if not hours, left to live.
Donson added it was possible federal officials might choose to hold Maxwell elsewhere to avoid press attention. "Maybe they'll want to get her out of New York entirely," he said. Wherever she ends up, Maxwell will be evaluated for suicide or other risks, he added.
Meanwhile, @Techno_Fog notes some new info from the US Detention Memo:
1) The grand jury returned the indictment on 6/29/20

2) Maxwell has 15+ bank accounts. Some hold more than $20 million.

3) Transfers of millions $$ to/from Epstein

4) Cash purchase of 156 acre NH Property in 2019
More arrests expected (timing unknown) in the Epstein sex trafficking conspiracy.

Maxwell indictment: references 1994-1997.

Epstein indictment: references a conspiracy from 2002-2005.

Epstein indictment: specifies 3 employees who facilitated abuse of minors in 2004-2005. pic.twitter.com/zyvu2uVOBZ

— Techno Fog (@Techno_Fog) July 2, 2020
Public Service Announcement for Ghislaine, we strongly suggest you do not fall asleep.
*  *  *
Update (1215ET): Acting US Attorney Audrey Strauss said that "this case against Ghislaine Maxwell is a prequel to the earlier case that we brought against Jeffrey Epstein,"
"Maxwell lied because the truth, as alleged, was almost unspeakable. Maxwell enticed minor girls, got them to trust her, then delivered them into the trap that she and Epstein had set for them. She pretended to be a woman they could trust…"

"We were working hard on this investigation this past year. It's not easy to put together a case that goes back that far. There's nothing other than we did the investigation, and we were ready at this time to proceed."