by Ronan Manly, BullionStar: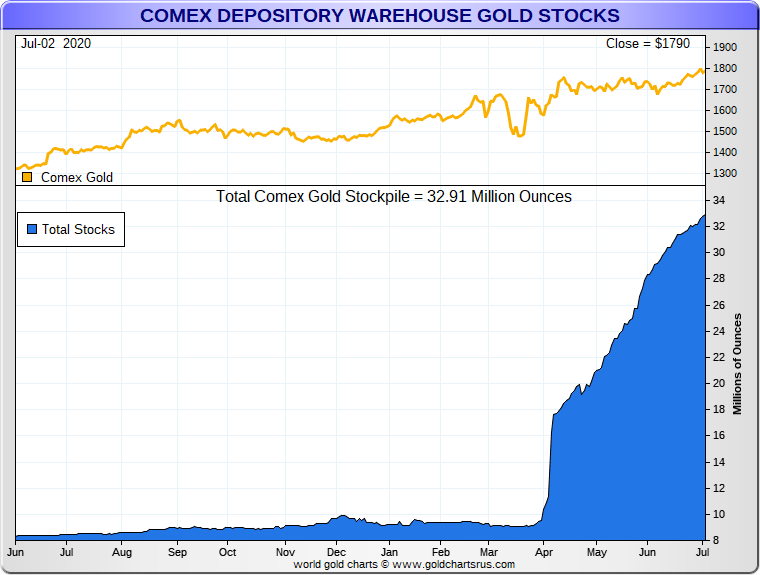 Back in the last full trading week of March beginning Monday 23 March when bullion banks in London failed to deliver gold in Exchange for Physical (EFP) transactions, this kicked off a huge and unprecedented divergence between COMEX 100 gold futures contract prices and the interbank spot gold price quoted in London, with for example, the COMEX price trading by over $80 higher than spot on Tuesday 24 March.
This price differential, known as the COMEX-spot spread or the basis (between the gold futures price and the bullion bank gold spot price), is also used to calculate pricing on gold Exchange for Physical (EFP) transactions, hence a lot of media talk at the time and indeed since then has referred to the March's price rupture phenomenon as an EFP spread divergence, COMEX spread blow out etc.
The COMEX-spot spread blow out which followed the gold delivery failure and which also triggered an associated illiquid London market (causing gold market maker bid-ask quotes to blow out to over $100 on 24 March), was sufficiently terrifying for the bullion banks that operate the gold market in London to rush out a damage control statement on the morning of 24 March through their front group, the London Bullion Market Association (LBMA), claiming to have "offered its support to CME Group [COMEX] to facilitate physical delivery in New York" and to be "working closely with COMEX and other key stakeholders".
The most interesting thing about that statement, apart from the public collusion between the LBMA bullion banks and the Commodity Exchange (COMEX), was that bullion banks had never before had to worry about physical delivery of gold to a futures exchange in New York, so why all of a sudden did they need to do so on 24 March and to such a coordinated extent?
Coupled with the LBMA's jaded cover story of flight logistics delays and refinery shutdowns, the LBMA 24 March statement did nothing to placate the global gold market nor EFP clients nor COMEX clients, because for the rest of the month the COMEX-to-Spot spread remained wide and elevated.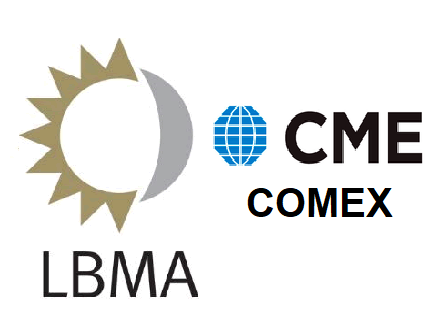 This then forced the panicked bullion banks to come back a week later on 1 April, this time with the LBMA roping in the COMEX owner, the CME Group, with an unprecedented second damage control statement, making two in one week, titled "LBMA and CME Group comment on healthy gold stocks In New York And London" and sub-headed "LBMA reports record gold stocks" and "CME Group depositories open and gold stocks near record high". This second statement was disingenuous in a number of ways as:
– it referred to a rolled up and out of date London gold vault holdings total of 8326 tonnes without explaining that about 85% of the quoted figure comprised central banks gold holdings and ETF gold holdings.
– it referred to a total of 9.2 million ozs (286 tonnes) of gold held in the COMEX vaults with 5.6 million ozs (174 tonnes) eligible, without explaining that eligible gold may have nothing to do with COMEX trading, that the balance, 3.6 million ozs (112 tonnes), was registered was already under warrant, and so may not be available for contract settlement either, and that there was also pledged gold (as collateral) which was not available for contract settlement.
– it did not refer to the CME's intended letter to the US Commodity Futures Trading Commission (CFTC), which CME sent to the CFTC one week later on 9 April, which in one fowl swoop by the CME's own logic took half the eligible gold off the table. In the CME's own words "the Exchange (COMEX), in an effort to represent a conservative deliverable supply that may be readily available for delivery, made a determination at this time to discount from its estimate of deliverable supply 50% of its reported eligible gold" because "gold is used as an investment vehicle and as such some gold stock may be held as a long-term investment".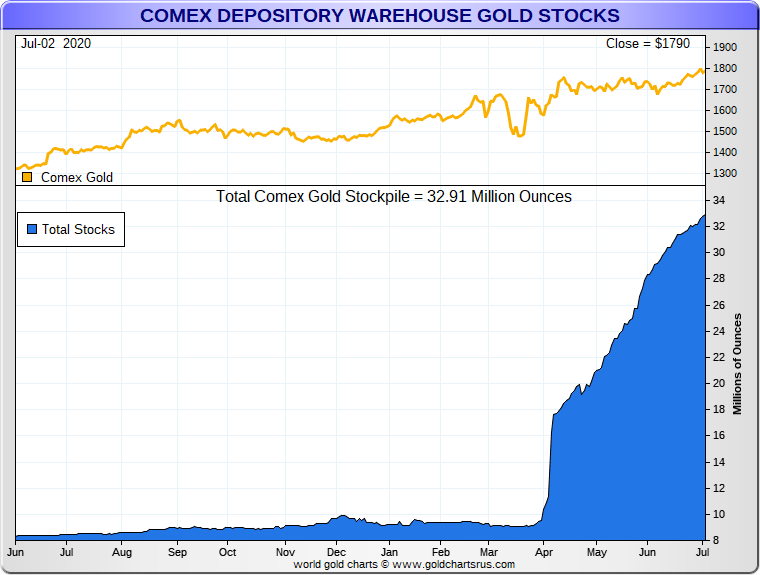 Unanswered Questions
Interestingly, this second LBMA/CME joint statement from 1 April also commented on the COMEX's New York precious metals depositories claiming that "deliveries are occurring as planned". So between the 24 March and 1 April LBMA-CME statements, we know that the LBMA and its bullion banks were offering support to COMEX to facilitate physical delivery of gold in New York and that gold deliveries were occurring in New York as planned. The question is why?
• Why were gold deliveries needed to COMEX in New York if there were "healthy gold stocks in New York", which were "near record high"? Why the need to stockpile?
• Why on 24 March did LBMA rush to "facilitate physical delivery [of gold] in New York" and "work closely with COMEX" if there was no gold shortage in New York?
• What, on 24 March, made the LBMA suddenly think that it needed to facilitate physical delivery of gold in New York when there had never been before any gold delivered from London / Europe to settle loco New York on COMEX?
• How could LBMA, on 24 March, already know what COMEX physical gold delivery intentions would be like in April or subsequent months when delivery intentions for the April gold futures contract only began to be published starting 30 March?
• Why on 1 April did LBMA/CME claims that "deliveries are occurring as planned". Occurring according to which plan?
Unless of course the LBMA and COMEX knew on Tuesday 24 March that because of the physical delivery failure in the gold EFP, there would instead need to be equivalent delivery against the COMEX 100 gold futures contracts in New York, an alternative solution for EFP clients who had asked for delivery.
As of close of business Monday 23 March, there were 1,795,846 ozs (55.86 tonnes) of gold bars in the registered category in the COMEX approved warehouses of which 556,226 ozs (17.30 tonnes) was pledged as collateral, and 6,938,585 ozs (215.81 tonnes) of gold bars in the eligible gold  category, for a total of 8,734,431 oz (271.67 tonnes).