by Joe Lauria, Consortium News: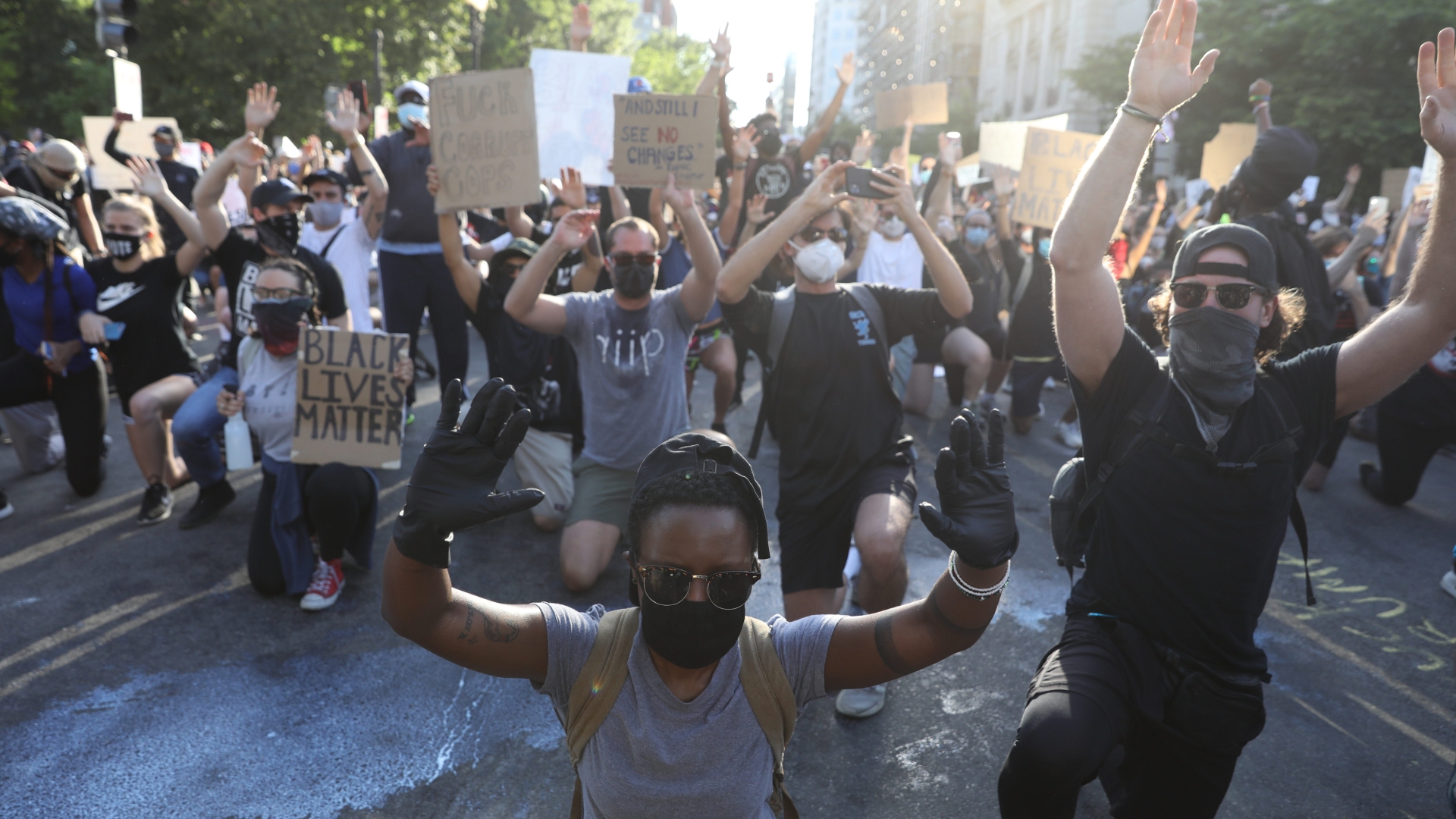 UPDATE: If they are sustained, the protests can lead toward more repression, or genuine reform, such as Minneapolis pledging to dismantle its police force on Sunday, writes Joe Lauria.
Minneapolis to Abolish its Police Department;
Massive Protests Across Towns and Cities;
Denver Judge Rules Against Gas and Projectiles;
Congress Considers Ending Pentagon Program
Hundreds of thousands of demonstrators poured into American cities and towns on Saturday to protest police violence against African-Americans in the wake of the killing of George Floyd, an unarmed black man, in Minneapolis, Minnesota nearly two weeks ago, where on Sunday the city council pledged to take apart the city's police department and replace it with a public safety system.
Saturday's organized demonstrations came after eleven days and nights of spontaneous protests in cities across the nation in which citizens squared off in violent confrontations with heavily armed police.
In Washington, tens of thousands of protestors gathered at different locations including the Lincoln Memorial, Freedom Plaza and Capitol Hill and at the park across from the White House, the scene of the most contentious events over the past week.
Thousands protest against racism in Washington DC https://t.co/LyQro3hFLr

— Julie Marshall (@NZJulieMarshall) June 7, 2020
Black Lives Matter organizers are painting "Defund the Police" in yellow paint on 16th Street right now pic.twitter.com/62zFMPXXOo

— Samantha Schmidt (@schmidtsam7) June 7, 2020
#Arlington residents march across Memorial Bridge to join the DC protests in a show of solidarity @ABC7News pic.twitter.com/VXLXifJBRZ

— Ashlie Rodriguez ABC7 (@ABC7Ashlie) June 6, 2020
President Donald Trump is still reeling from serious criticism, from within his own party and administration, for his reaction to the protests. While decrying the death of Floyd, Trump reacted harshly to largely peaceful protests that also included some incidents of arson and looting.
He called governors of the 50 states "jerks" if they did not call out the state National Guards to "dominate" the streets and threatened to send in federal troops if they did not act. His defense secretary, Mark Esper, call those streets "battle spaces."
But after Trump on Monday had military and local police use pepper pellets, rubber bullets and batons to clear peaceful protestors from near the White House to open a path so that he could walk across the street to pose in front of a church damaged by arsonists with a Bible, much of the establishment has turned against him.
Even Esper publicly opposed the president after that, saying he was against sending federal troops into states to quell the protests. The former defense secretary, Gen. James Mattis, said Trump was not even attempting to pretend to unite the country.
Military helicopters flying dangerously low over crowds in Washington, DC pic.twitter.com/0r4QYbbKYf

— Indur Chhugani (@IndurChhugani) June 7, 2020
Muriel Bowser, the mayor of Washington, has marched with the protestors and was able to get the military out of the city. But before she did, military helicopters during the week had flown low above protestors to scatter them, a tactic used in Iraq and Afghanistan. And there are still thousands of armed federal agents, some not wearing identifying markers, surrounding the White House.
Demonstrators on Saturday marched from Brooklyn to Manhattan, and back to Brooklyn again as protests continued in New York City.

Read the latest from New York here. https://t.co/ggculaPGW3 pic.twitter.com/DRwyPByqbb

— Global Analytica (@AnalyticaGlobal) June 7, 2020
In New York on Saturday, thousands of protestors gathered in parts of Brooklyn and Manhattan, ultimately meeting at 34th Street. New York, as have dozens of other U.S. cities, has been under a nighttime curfew, especially after a spree of looting of high-end shops on Monday. The mayor, Bill di Blasio, has been under fire for defending police, who've been caught numerous times inflicting violence against peaceful protestors.
In Seattle, health care workers battling the pandemic joined in the demonstrations, chanting "Black Health Matters" and "Racism Is a Public Health Emergency."
From some to just about everyone. The march on the Golden Gate Bridge has stopped all traffic. This is a captivating shot from our chopper. #BlackLivesMatter pic.twitter.com/T5GPrvvJyj

— Eric Shackelford (@ABC7Shack) June 6, 2020
In San Francisco, hundreds of protestors briefly blocked traffic on the Golden Gate Bridge. There are more than 20 demonstrations planned this weekend in the Bay Area.
Thousands of people filled the streets of Philadelphia in what appears to be the largest turnout in the city since the death of George Floyd.https://t.co/czbQ75h9Hl

— Twitter Moments (@TwitterMoments) June 6, 2020
Chopper 6 over the protest against police brutality being held at the Philadelphia Museum of Art. https://t.co/0UMNn2DFWI pic.twitter.com/jNUZMoZAd8

— Action News on 6abc (@6abc) June 6, 2020
In Philadelphia, thousands poured into a park near the Art Museum where some demanded a 10 percent cut to the city's police budget. Defunding police departments has been a common demand across the country.
Officials Respond
Hundreds of instances of police violence against protestors captured on mobile phones since Floyd's death on May 25, has led to a shift in the public mood and in the responses of authorities.
The vehemence and endurance of angry demonstrators appear to have taken government by surprise until Saturday's organized marches. Police forces and municipal governments have begun instituting numerous reforms in direct response to the demands of the protestors.
For instance chokeholds and other tactics that have led to deaths of arrested persons are being banned in numerous police departments. The governor of California has called for a ban on "carotid holds," the maneuver that led to Floyd's death. A judge in Denver ruled that police could not use chemical agents or projectiles against protestors.
And in Minneapolis on Sunday, where Floyd was killed and the protests began, the city council pledged by a veto-proof majority to abolish its police department and replace it with a public safety system. "It shouldn't have taken so much death to get us here," Kandace Montgomery, the director of the activist organization Black Vision, told a crowd gathered at a rally. "We're safer without armed, unaccountable patrols supported by the state hunting black people."
Read More @ ConsortiumNews.com