by Wolf Richter, Wolf Street: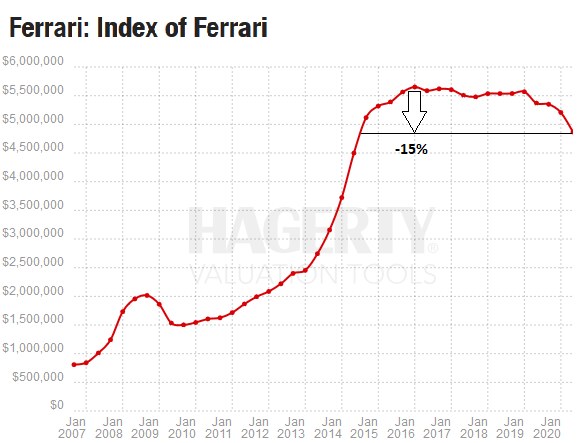 1958 Ferrari 250 GT California Spyder LWB down 29%. But "Affordable Classics" sizzle.
It hadn't been a smooth ride for the asset class of beautiful machines before the pandemic, including the fiasco at the Monterey auctions last August. Now, in response to the pandemic, all live auctions were either canceled, postponed, or moved to online platforms. Auction activity dropped to the lowest level since December 2010, and private-market activity fell to the lowest level since May 2012, said vintage-auto insurer Hagerty in its release today.
The Hagerty Market Index – which tracks prices and volume of classic cars that sold at auctions and private sales, and is adjusted for inflation – dropped 1.9% in June from May to a value of 138.07. It is now down 11.8% from a year ago, and 26% from the all-time high in August 2015. During the Financial Crisis, the index fell 16% peak-to-bottom (chart via Hagerty, notes added):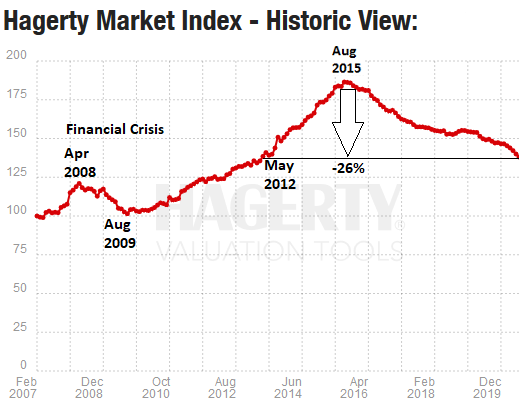 Price changes ranged widely among Hagerty's seven primary indices, with the Ferrari Index and the Blue Chip Index experiencing the biggest price declines, and with the Affordable Classics Index experiencing the only price gain.
We're going to take four of these indices of beautiful machines out for a spin: Blue Chips, Ferraris, Affordable Classics, and American Muscle Cars.
The Hagerty "Blue Chip" Index of the Automotive A-List
The average price reflected in this index of "25 of the most sought-after collectible automobiles of the post-war era" dropped 7% in May from the last reading in January, after having dropped 6% in January from the prior period, to just above $2.25 million. The index is down 14% from the $2.62 million peak range in 2018.
But note over the 2013-2014 period, the average price doubled! Since 2007, the index is still up fourfold!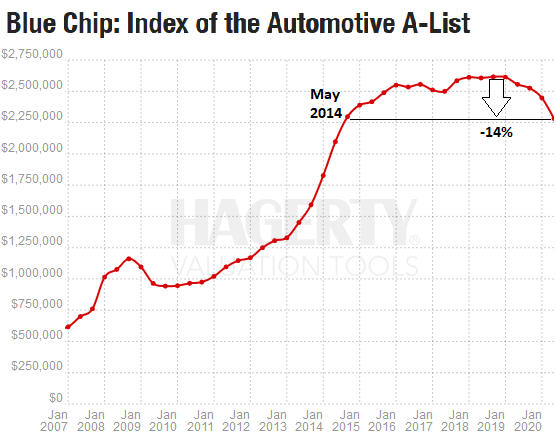 Hagerty observed:
"Over half of the component cars tracked straight."
"The Ferrari 250 GT California LWB Spyder and the Lancia Aurelia B24 Spider America each shed nearly a third of their values."
"Other iconic classics like the Aston Martin DB5, Mercedes-Benz 300SL, 1973 Porsche 911 Carrera RS and Shelby Cobra 289 all experienced drops that were less severe but still significant."
"The sole gainer this period was the Tucker 48, largely thanks to a massive auction result in Scottsdale."
These are the 25 cars that are in the Blue Chip Index:
1967 Chevrolet Corvette, 2dr Convertible 8-cyl.
1957 Mercedes-Benz 300SL Gullwing, 2dr Coupe 6-cyl.
1966 Shelby Cobra 427, 2dr Roadster 8-cyl.
1965 Shelby GT350, 2dr Fastback 8-cyl.
1969 Toyota 2000GT, 2dr Coupe 6-cyl.
1959 Maserati 5000GT Frua, 2dr Coupe 8-cyl.
1958 Ferrari 250 California LWB, 2dr Spider (closed headlight) 12-cyl.
1954 Lancia Aurelia B24, 2dr Spider America 6-cyl.
1972 Iso Grifo IR9 Can Am, 2dr Coupe 8-cyl.
1970 Plymouth Cuda, 2dr Convertible 8-cyl.
1958 Bentley S1 Continental Coachbuilt, 2dr Drophead Coupe 6-cyl.
1964 Alfa Romeo TZ-2, 2dr Coupe 4-cyl.
 1963 Mercedes-Benz 300SL, 2dr Roadster 6-cyl.
1953 Chevrolet Corvette, 2dr Roadster 6-cyl.
1965 Aston Martin DB5, 2dr Saloon 6-cyl.
1973 Porsche 911 Carrera RS 2.7, 2dr Coupe 6-cyl.
1948 Tucker 48, 4dr Sedan 6-cyl.
1963 Shelby Cobra 289 R&P, 2dr Roadster 8-cyl.
1954 Jaguar D-Type, 2dr Roadster 6-cyl.
1958 Porsche 356A 1600 Super, 2dr Speedster 4-cyl.
1963 Ferrari 250 California SWB, 2dr Spider (closed headlight) 12-cyl.
1957 Rolls-Royce Silver Cloud I HJ Mulliner, 2dr Drophead Coupe 6-cyl.
1968 Ferrari 275 GTB/4, 2dr Coupe 12-cyl.
1959 BMW 507, 2dr Roadster 8-cyl.
1971 Lamborghini Miura P400 SV, 2dr Coupe 12-cyl.
The Ferrari Index:
The index averages the prices of 13 of the "most sought-after street Ferraris of the 1950s-70s." Their average price dropped about 8% in May from January, to $4.8 million, and is down 15% from the peak in January 2016 ($5.7 million), after having skyrocketed sevenfold from 2007 to the peak in January 2016 (chart via Hagerty):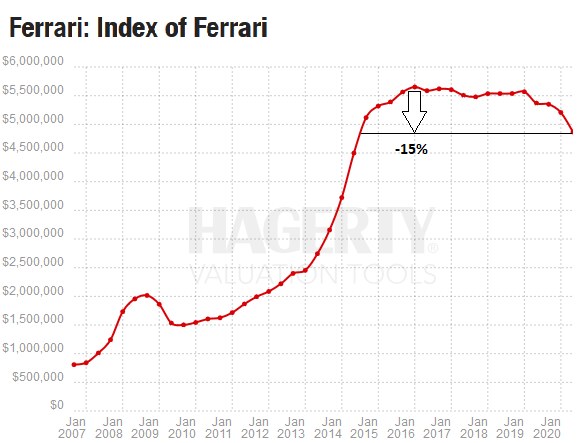 Hagerty observed:
"Not a single component car recorded an increase, while over half of them lost value."
"One of the index's most expensive cars – the 1958 250 GT California Spyder LWB – was the biggest drop at 29 percent.
"Other declines, both within and outside this index, were much more modest, but the 250 GT SWB still shed 7 percent (or $600,000).
"Not all Ferraris are sliding, as later and less expensive models [outside the index] like the 360 coupe, 348 ts, 550 Maranello, 456 GT and Mondial all recorded an increase."