from ZeroHedge: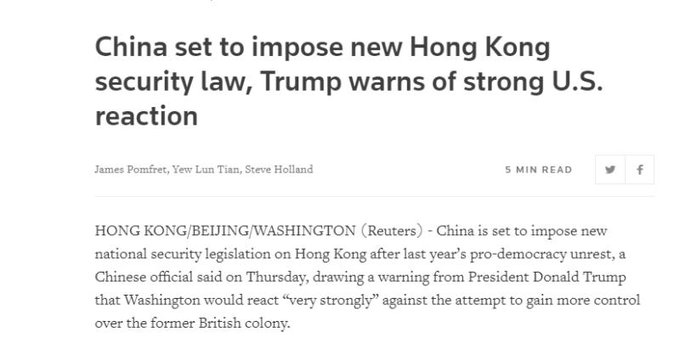 With China's ambitions toward Hong Kong having emerged as the top political fault line in recent days, the market was closely following the start of Friday's National People's Congress (NPC) where in addition to disclosures on Chinese political strategy, Beijing announces decisions on targets on GDP, CPI and fiscal deficit.
Which is why many were surprised when in the text of Premier Li Keqiang's annual address, for the first time China abandoned its usual practice of setting a numerical target for economic growth this year due to the turmoil caused by the coronavirus pandemic.
"I would like to point out that we have not set a specific target for economic growth this year," the report said, according to Bloomberg which saw a leaked version. "This is because our country will face some factors that are difficult to predict in its development due to the great uncertainty regarding the Covid-19 pandemic and the world economic and trade environment."
Here are some of the highlights of China Premier Li Keqiang's policy address:
– "1 Country, 2 Systems" policy will govern Hong Kong
– U.S. trade deal will be implemented in NPC work report
– No GDP target for 2020#两会 #TwoSessions pic.twitter.com/NVZRmfsC5e

— Bloomberg QuickTake (@QuickTake) May 22, 2020
As Bloomberg adds, the shift away from a hard target for output growth not only breaks with decades of Communist Party planning habits, but is an admission of the deep rupture that the disease has caused in the world's second-largest economy. With the growth outlook depending also on the efforts of trading partners to rein in the pandemic, the government is shifting its focus to employment and maintaining stability.