by Clive Maund, Gold Seek: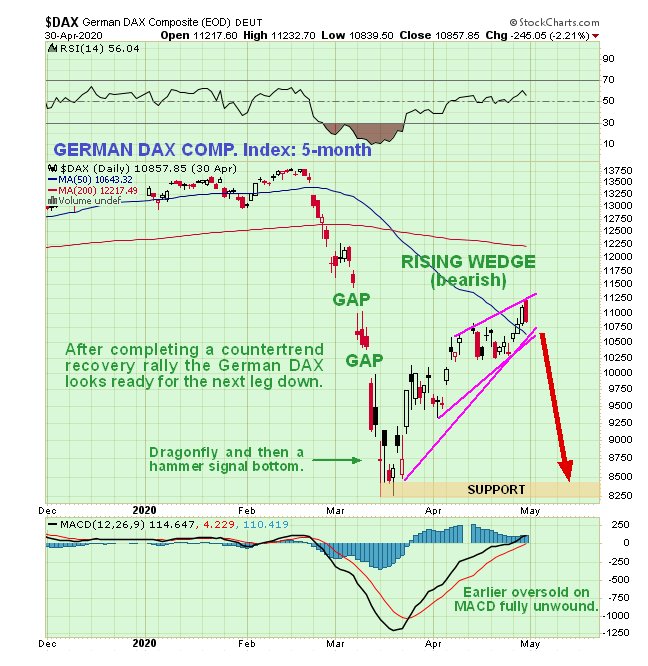 Notwithstanding the Fed's seemingly limitless ability to create money to throw at the stockmarket, which has caused it to rally in recent weeks in the face of a dead economy and apocalyptic jobs data and earnings etc., all the charts we are going to look at here point to another severe downleg soon.
My attention was drawn to a bearish Rising Wedge completing in the London FTSE index by a colleague in England. So I took a look at it, and sure enough it is. So, I thought I'd take a look at a couple of other European indices, the CAC 40 in France and the German DAX Composite, which showed a very similar picture. Their charts are shown below and as you will see, they are both very bearish, and point to a break lower soon leading to a severe decline.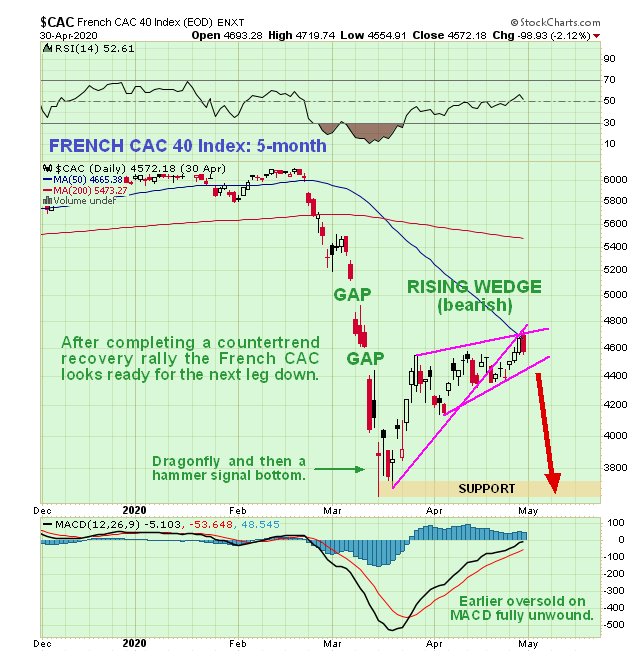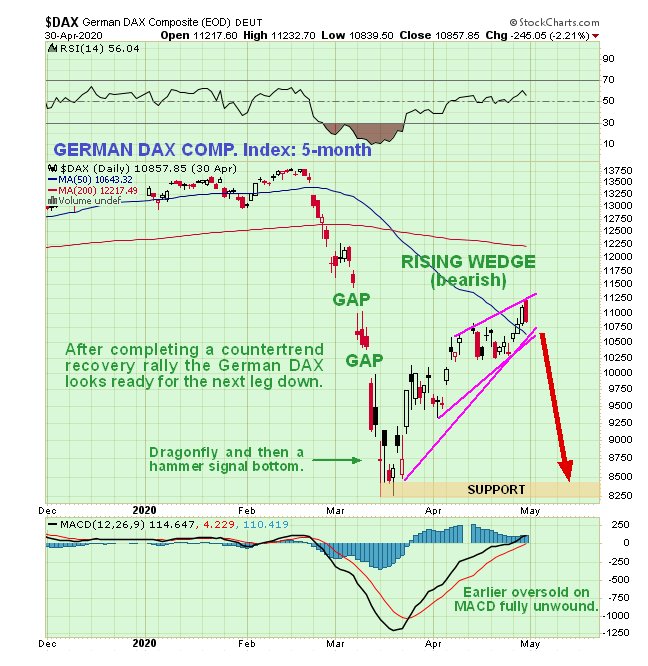 You will recall that we were thrown somewhat a week or two ago, when the main US indices, the Dow Jones Industrials and the S&P500 index, broke down from their bearish Rising Wedges but then didn't follow through, and instead rose to new highs for the rally from the March lows, which caused us to dump our Puts and then bide our time to see what transpired. The sharp drop at the end of the month – this past Friday – jolted me into action and prompted me to hunt around in a quest for greater clarity regarding what is going on, and it has turned out to be a rewarding search.
While it's not exactly clear what is going on with the main US indices, the picture becomes much clearer when we look at the broader but much less used Wilshire 5000 index. Take a look at this first of all – it's a 5-month chart for the Wilshire 5000 which reveals that it didn't break down from its Rising Wedge about 10 days ago, unlike the Dow Industrials and the S&P500 index, but it did last Friday, which happened to be the end of the month, by a significant margin. This is regarded as an ominous development that probably marks the start of the 2nd major downleg of this bearmarket. We can also see that the countertrend rally got stopped by the important resistance level shown.