by Harvey Organ, Harvey Organ Blog: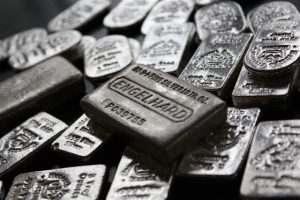 WITH RATES ESCALATING THE BANKERS ORCHESTRATED ANOTHER RAID ON GOLD/SILVER: GOLD DOWN $17.00 TO $1687.00//SILVER DOWN 6 CENTS TO $14.92//MAY SEES ANOTHER RISE IN GOLD TONNAGE STANDING: 26.2208 TONNES//CORONAVIRUS UPDATE//HONG KONG REAL ESTATE CRASHES//10 YEAR USA BOND YIELDS RISE WITH ANNOUNCEMENT OF HUGE 96 BILLION TREASURY REFUNDING//LAZARD: CASCADING BANKRUPTCIES WILL BE UPON US/ ;LORD AND TAYLOR LIQUIDATION TO PROCEED//SAM ZELL: WORSE THAN A DEPRESSION//SWAMP STORIES FOR YOU TONIGHT
GOLD:$1687.00  DOWN $17.00   The quote is London spot price
Silver:$14.92  DOWN 6 CENTS
Closing access prices:  London spot
i)Gold : $1688.00  LONDON SPOT  4:30 pm
ii)SILVER:  $14.86//LONDON SPOT  4:30 pm
CLOSING FUTURES PRICES:  KEY MONTHS
MAY COMEX GOLD:  XXX 1:30 PM
JUNE GOLD:  $1689.00  CLOSE 1.30 PM//   SPREAD SPOT/FUTURE JUNE: $2.00.//PREMIUMS WENT UP AGAIN
CLOSING SILVER FUTURE MONTH
SILVER APRIL COMEX CLOSE: XXX
SILVER MAY COMEX CLOSE;   $15.02…1:30 PM.//SPREAD SPOT/FUTURE MAY:  10 CENTS  PER OZ//PREMIUMS UP AGAIN
the gold market continues to be broken as future prices are much higher than spot prices.  The comex is desperate to fix things but they have no available gold.
If one is to buy gold and or gold coins, the price is around $2800. usa per oz
and silver; $31.00 per oz//
LADIES AND GENTLEMEN: YOU ARE NOW WITNESSING FIRST HAND THE DIFFERENCE BETWEEN PAPER GOLD/SILVER AND THE REAL PHYSICAL STUFF!!
DO NOT PAY ANY ATTENTION TO WHAT THE CROOKS ARE DOING AT THE COMEX AND LONDON LBMA..PHYSICAL IS THE NAME OF THE GAME AND NOTHING ELSE
COMEX DATA
JPMorgan has been receiving gold with reckless abandon and sometimes supplying (stopping)
today RECEIVING: 480/1208
issued 1000
EXCHANGE: COMEX
CONTRACT: MAY 2020 COMEX 100 GOLD FUTURES
SETTLEMENT: 1,704.400000000 USD
INTENT DATE: 05/05/2020 DELIVERY DATE: 05/07/2020
FIRM ORG FIRM NAME ISSUED STOPPED
____________________________________________________________________________________________
072 C GOLDMAN 16
099 H DB AG 129
118 H MACQUARIE FUT 180
135 H RAND 1
152 C DORMAN TRADING 8
323 H HSBC 32
355 C CREDIT SUISSE 32
435 H SCOTIA CAPITAL 66
624 C BOFA SECURITIES 26
657 C MORGAN STANLEY 66
661 C JP MORGAN 1000 480
685 C RJ OBRIEN 2
686 C INTL FCSTONE 1 25
690 C ABN AMRO 4 240
732 C RBC CAP MARKETS 12
737 C ADVANTAGE 6 17
800 C MAREX SPEC 2 16
905 C ADM 55
____________________________________________________________________________________________
TOTAL: 1,208 1,208
MONTH TO DATE: 4,710
NUMBER OF NOTICES FILED TODAY FOR  MAY CONTRACT: 1208 NOTICE(S) FOR 120,800 OZ (3.757 tonnes)
TOTAL NUMBER OF NOTICES FILED SO FAR:  4710 NOTICES FOR 471000 OZ  (14.650 TONNES)
FOR MAY
424 NOTICE(S) FILED TODAY FOR  2,120,000  OZ/
total number of notices filed so far this month: 6953 for 34,765,000 oz
BITCOIN MORNING QUOTE  $9206 UP  181 
BITCOIN AFTERNOON QUOTE.: $9229 UP $207
GLD AND SLV INVENTORIES:
WITH GOLD DOWN $17.00: AND NO PHYSICAL TO BE FOUND ANYWHERE:
WITH ALL REFINERS CLOSED//MEXICO ORDERING ALL MINES SHUT:   WHERE ARE THEY GETTING THE "PHYSICAL"?
A BIG CHANGE IN GOLD INVENTORY//
A HUGE DEPOSIT OF 3.68 TONNES OF GOLD INTO THE GLD//
GLD: 1,071.71 TONNES OF GOLD//
WITH SILVER DOWN 6 CENTS TODAY: AND WITH NO SILVER AROUND
NO CHANGE IN SILVER INVENTORY AT THE SLV///
RESTING SLV INVENTORY TONIGHT:
SLV: 413.124  MILLION OZ./
XXXXXXXXXXXXXXXXXXXXXXXXX
Let us have a look at the data for today
xxxxxxxxxxxxxxxxxxxxxxxxxxxxxxxxxxxxxxxxxxxxxxxxxxxxxxxxxxxxxxxxxxxxxxxxxx
IN SILVER THE COMEX OI ROSE  BY A FAIR SIZED 743 CONTRACTS FROM 131,830 UP TO 132,573 AND CLOSER TO OUR NEW RECORD OF 244,710, (FEB 25/2020. THE FAIR SIZED GAIN IN OI OCCURRED WITH  OUR 17 CENT GAIN IN SILVER PRICING AT THE COMEX. IT SEEMS THAT THE GAIN IN COMEX OI IS DUE TO STRONG  BANKER SHORT COVERING PLUS A SMALL EXCHANGE FOR PHYSICAL ISSUANCE, SOME LONG LIQUIDATION, ACCOMPANYING  A SMALLER SILVER OZ STANDING AT THE COMEX FOR MAY. WE HAD A NET GAIN IN OUR TWO EXCHANGES OF 1049 CONTRACTS  (SEE CALCULATIONS BELOW).
Read More @ HarveyOrganBlog.com