by Harvey Organ, Harvey Organ Blog: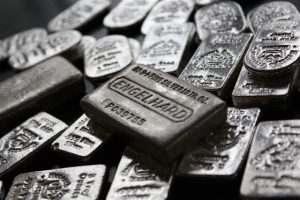 RAID ON GOLD//SILVER AS WE APPROACH COMEX OPTIONS EXPIRY//GOLD DOWN $26.40 TO $1723.20//SILVER DOWN 50 CENTS TO $17.01//CORONAVIRUS UPDATES FOR TODAY//CHINA VS USA: CHINA CRACKS DOWN HARD ON HONG KONG AND TRUMP//SENATORS RESPOND//MICHAEL EVERY..IMPORTANT READ
GOLD:$1723.20  DOWN $26.40   The quote is London spot price
Silver:$17.01  DOWN 50 CENTS (London spot closing price
COMEX OPTIONS EXPIRY TUESDAY MAY 26
OTC/LBMA OPTIONS EXPIRY FRIDAY MAY 29
The reason for the raid today is the comex expiry this coming Tuesday.
Expect gold/silver to be subdued in price until after first day notice.
Closing access prices:  London spot
i)Gold : $1727.00  LONDON SPOT  4:30 pm
ii)SILVER:  $17.11//LONDON SPOT  4:30 pm
CLOSING FUTURES PRICES:  KEY MONTHS
MAY COMEX GOLD:  XXX
JUNE GOLD:  $1723.20  CLOSE 1.30 PM//   SPREAD SPOT (LONDON) VS/FUTURE JUNE: $0.//PREMIUMS WENT UP AGAIN
CLOSING SILVER FUTURE MONTH
SILVER JUNE COMEX CLOSE;   $17.32…1:30 PM.//SPREAD SPOT/(LONDON) VS FUTURE JUNE:  31 CENTS  PER OZ//PREMIUMS UP AGAIN//HUGE DIFFERENCE
JULY: 1:30 PM:                          $1738//1:30 PM //SPREAD SPOT LONDON VS FUTURE JULY:      38 CENTS PER OZ//
the gold market continues to be broken as future prices are much higher than spot prices.  The comex is desperate to fix things but they have no available gold.
If one is to buy gold and or gold coins, the price is around $2800. usa per oz
and silver; $31.00 per oz//
LADIES AND GENTLEMEN: YOU ARE NOW WITNESSING FIRST HAND THE DIFFERENCE BETWEEN PAPER GOLD/SILVER AND THE REAL PHYSICAL STUFF!!
DO NOT PAY ANY ATTENTION TO WHAT THE CROOKS ARE DOING AT THE COMEX AND LONDON LBMA..PHYSICAL IS THE NAME OF THE GAME AND NOTHING ELSE
COMEX DATA
JPMorgan has been receiving gold with reckless abandon and sometimes supplying (stopping)
today RECEIVING:  1/13
EXCHANGE: COMEX
CONTRACT: MAY 2020 COMEX 100 GOLD FUTURES
SETTLEMENT: 1,750.600000000 USD
INTENT DATE: 05/20/2020 DELIVERY DATE: 05/22/2020
FIRM ORG FIRM NAME ISSUED STOPPED
____________________________________________________________________________________________
118 H MACQUARIE FUT 6
661 C JP MORGAN 1
690 C ABN AMRO 4
737 C ADVANTAGE 6 2
800 C MAREX SPEC 7
____________________________________________________________________________________________
TOTAL: 13 13
MONTH TO DATE: 9,822
NUMBER OF NOTICES FILED TODAY FOR  MAY CONTRACT: 13 NOTICE(S) FOR 1300 OZ (0.0404 tonnes)
TOTAL NUMBER OF NOTICES FILED SO FAR:  9822 NOTICES FOR 982200 OZ  (30.550 TONNES)
FOR MAY
2 NOTICE(S) FILED TODAY FOR  10,000  OZ/
total number of notices filed so far this month: 8910 for 44,550,000 oz
BITCOIN MORNING QUOTE  $9087 DOWN 444 
BITCOIN AFTERNOON QUOTE.: $9515 DOWN 258
GLD AND SLV INVENTORIES:
WITH GOLD DOWN $26.70 AND NO PHYSICAL TO BE FOUND ANYWHERE:
WITH ALL REFINERS CLOSED//MEXICO ORDERING ALL MINES SHUT:   WHERE ARE THEY GETTING THE "PHYSICAL"?
NO CHANGES IN GOLD INVENTORY AT THE GLD:
GLD: 1,112.78 TONNES OF GOLD//
WITH SILVER DOWN 50 CENTS TODAY: AND WITH NO SILVER AROUND
ANOTHER HUGE 7.923 MILLION OZ DEPOSIT//WHAT FRAUDSTERS!!
RESTING SLV INVENTORY TONIGHT:
SLV: 457.681  MILLION OZ./
XXXXXXXXXXXXXXXXXXXXXXXXX
Let us have a look at the data for today
xxxxxxxxxxxxxxxxxxxxxxxxxxxxxxxxxxxxxxxxxxxxxxxxxxxxxxxxxxxxxxxxxxxxxxxxxx
IN SILVER THE COMEX OI ROSE  BY A STRONG SIZED 3364 CONTRACTS FROM 151,890 UP TO 155,360 AND CLOSER TO OUR NEW RECORD OF 244,710, (FEB 25/2020. THE STRONG SIZED GAIN IN  OI OCCURRED WITH  OUR VERY GOOD 11 CENT GAIN IN SILVER PRICING AT THE COMEX. IT SEEMS THAT THE GAIN IN COMEX OI IS DUE TO STRONG  BANKER SHORT COVERING PLUS A FAIR EXCHANGE FOR PHYSICAL ISSUANCE, ZERO LONG LIQUIDATION, ACCOMPANYING  A SMALL DECREASE IN SILVER OZ STANDING AT THE COMEX FOR MAY. WE HAD A NET GAIN IN OUR TWO EXCHANGES OF 4130 CONTRACTS  (SEE CALCULATIONS BELOW).
WE HAVE ALSO WITNESSED A HUMONGOUS AMOUNT OF PHYSICAL METAL STAND FOR COMEX DELIVERY AS WELL WE ARE WITNESSING CONSIDERABLE LONGS PACKING THEIR BAGS AND MIGRATING OVER TO LONDON IN GREATER NUMBERS IN THE FORM OF EFP'S.  WE WERE  NOTIFIED  THAT WE HAD A SMALL SIZED NUMBER OF COMEX LONGS TRANSFERRING THEIR CONTRACTS TO LONDON THROUGH THE EFP ROUTE:   MARCH:  00 AND MAY: 0 AND JULY: 660  AND ZERO FOR ALL  OTHER MONTHS  AND THEREFORE TOTAL ISSUANCE  660 CONTRACTS. WITH THE TRANSFER OF 660 CONTRACTS, WHAT THE CME IS STATING IS THAT THERE IS NO SILVER (OR GOLD) TO BE DELIVERED UPON AT THE COMEX AS THEY MUST EXPORT THEIR OBLIGATION TO LONDON. ALSO KEEP IN MIND THAT THERE CAN BE A DELAY OF 24-48 HRS IN THE ISSUING OF EFP'S. THE 660 EFP CONTRACTS TRANSLATES INTO 3.30 MILLION OZ  ACCOMPANYING:
1.THE 11 CENT GAIN IN SILVER PRICE AT THE COMEX AND
2. THE STRONG AMOUNT OF SILVER OUNCES WHICH STOOD FOR DELIVERY IN THE LAST 12 MONTHS:
JUNE/2018. (5.420 MILLION OZ);
FOR JULY: 30.370 MILLION OZ
FOR AUG., 6.065 MILLION OZ
FOR SEPT. 39.505 MILLION  OZ S
FOR OCT.2.525 MILLION OZ.
FOR NOV:  A HUGE 7.440 MILLION OZ STANDING  AND
21.925 MILLION OZ FINALLY STAND FOR DECEMBER.
5.845 MILLION OZ STAND IN JANUARY.
2.955 MILLION OZ STANDING FOR FEBRUARY.:
27.120 MILLION OZ STANDING IN MARCH.
3.875 MILLION OZ STANDING FOR SILVER IN APRIL.
18.845 MILLION OZ STANDING FOR SILVER IN MAY.
2.660 MILLION OZ STANDING FOR SILVER IN JUNE//
22.605 MILLION OZ  STANDING FOR JULY
10.025   MILLION OZ INITIAL STANDING IN AUGUST.
43.030   MILLION OZ INITIALLY STANDING IN SEPT. (HUGE)
7.32     MILLION OZ INITIALLY STANDING IN OCT
2.630     MILLION OZ STANDING FOR NOV.
20.970   MILLION OZ  FINAL STANDING IN DEC
5.075     MILLION OZ FINAL STANDING IN JAN
1.480    MILLION OZ FINAL STANDING IN FEB
23.005  MILLION OZ FINAL STANDING FOR MAR
4.660  MILLION OZ FINAL STANDING FOR APRIL
45.330 MILLION OZ INITIALLY STANDING FOR MAY
WEDNESDAY, AGAIN OUR CROOKS USED COPIOUS PAPER IN ORDER TO LIQUIDATE SILVER'S PRICE…AND THEY WERE UNSUCCESSFUL IN KNOCKING THE PRICE OF SILVER DOWN (IT ROSE 11 CENTS).. AND, OUR OFFICIAL SECTOR/BANKERS  WERE  UNSUCCESSFUL IN THEIR ATTEMPT TO FLEECE ANY AMOUNT OF SILVER LONGS FROM THEIR POSITIONS. THE GOOD GAIN AT THE COMEX WAS ACCOMPANIED BY : i)  A STRONG ISSUANCE OF EXCHANGE FOR PHYSICALS 2) A SMALL LOSS IN SILVER OZ STANDING FOR MAY,3) CONSIDERABLE BANKER SHORT COVERING  AND 4) ZERO LONG LIQUIDATION AS  WE DID HAVE A  NET GAIN OF 4024 CONTRACTS OR 20.120 MILLION OZ ON THE TWO EXCHANGES! YOU CAN BET THE FARM THAT OUR BANKER  ARE DESPERATE TO LIQUIDATE THEIR HUGE SHORT POSITIONS IN SILVER
ACCUMULATION FOR EFP'S/SILVER/J.P.MORGAN'S HOUSE OF BRIBES, / STARTING FROM FIRST DAY /FOR MONTH OF MAY:
10,908 CONTRACTS (FOR 15 TRADING DAYS TOTAL 10,908 CONTRACTS) OR 54.54 MILLION OZ: (AVERAGE PER DAY: 727 CONTRACTS OR 3.636 MILLION OZ/DAY)
TO GIVE YOU AN IDEA AS TO THE HUGE SUPPLY THIS MONTH IN SILVER:  SO FAR THIS MONTH OF MAY: 54.54 MILLION PAPER OZ HAVE MORPHED OVER TO LONDON. THIS REPRESENTS AROUND 7.79% OF ANNUAL GLOBAL PRODUCTION (EX CHINA EX RUSSIA)*  JUNE'S 345.43 MILLION OZ IS THE SECOND HIGHEST RECORDED ISSUANCE OF EFP'S AND IT FOLLOWED THE RECORD SET IN APRIL 2018 OF 385.75 MILLION OZ.
Read More @ HarveyOrganBlog.com