from ZeroHedge: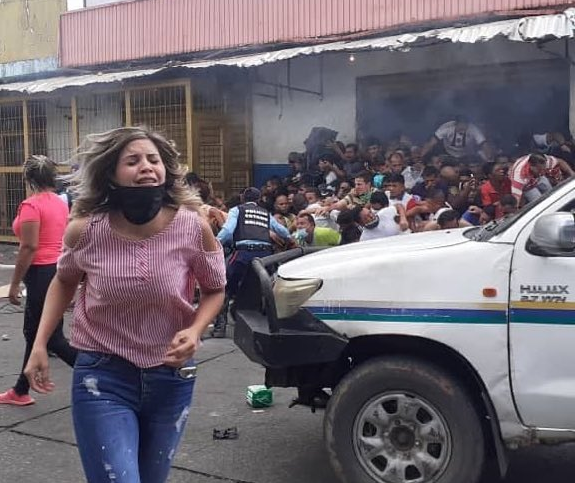 Despite a six week mandated nationwide coronavirus lockdown, broad protests have once again gripped parts of Venezuela amid crippling food and fuel shortages. Citizens are being asked to stay home, yet can't get enough food to survive.
New reporting by Bloomberg counts at least 500 protests across 15 states so far this month, which has included multiple killed and scores wounded and arrested in often violent clashes with police, also as protests turn to looting.
Riots have also reportedly erupted in some instances over police attempting to enforce quarantine rules, such as the wearing of masks being enforced in all public spaces. This as only 311 cases of coronavirus and 10 deaths have been reported nationwide according to official government figures.
However, in part thanks to US-led sanctions, what little personal protective gear was available flew off the shelves last month, with few options available for most citizens other than sewing their own masks.
#23Abr "Queremos comida… No se puede comprar nada".

Este es el grito de protesta exigiendo gasolina y la garantía del derecho a la alimentación.

Foto: @prensakike Guanare #Portuguesa #OVCS pic.twitter.com/kiIy4aU4Kw

— Observatorio de Conflictos (@OVCSocial) April 23, 2020
While most families in North America have Amazon and Walmart deliveries of food and vital items coming to their door, also amid an abundance of cheap gas, Venezuleans are forced to venture out of self-isolation seeking out needed resources to survive.
"Stocking up and hunkering down isn't an option for many people who are too poor to buy enough food in advance," as Bloomberg notes.