by Jim Rickards, Daily Reckoning: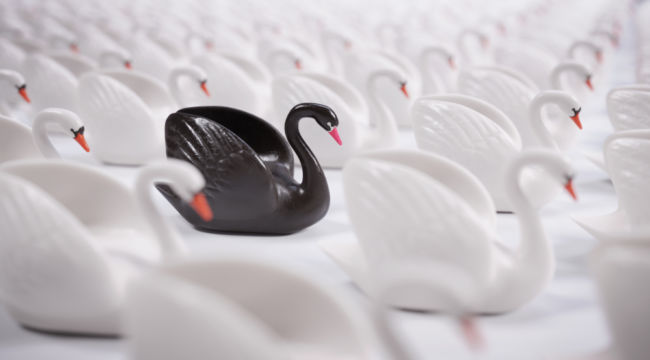 I began studying complexity theory as a consequence of my involvement with Long-Term Capital Management, LTCM, the hedge fund that collapsed in 1998 after derivatives trading strategies went catastrophically wrong.
After the collapse and subsequent rescue, I chatted with one of the LTCM partners who ran the firm about what went wrong. I was familiar with markets and trading strategies, but I was not expert in the highly technical applied mathematics that the management committee used to devise its strategies.
The partner I was chatting with was a true quant with advanced degrees in mathematics. I asked him how all of our trading strategies could have lost money at the same time, despite the fact that they had been uncorrelated in the past.
He shook his head and said, "What happened was just incredible. It was a seven-standard deviation event."
In statistics, a standard deviation is symbolized by the Greek letter sigma. Even non-statisticians would understand that a seven-sigma event sounds rare. But, I wanted to know how rare. I consulted some technical sources and discovered that for a daily occurrence, a seven-sigma event would happen less than once every billion years, or less than five times in the history of the planet Earth!
I knew that my quant partner had the math right. But it was obvious to me his model must be wrong. Extreme events had occurred in markets in 1987, 1994 and then 1998. They happened every four years or so.
Any model that tried to explain an event, as something that happened every billion years could not possibly be the right model for understanding the dynamics of something that occurred every four years.
From this encounter, I set out on a ten-year odyssey to discover the proper analytic method for understanding risk in capital markets. I studied, physics, network theory, graph theory, complexity theory, applied mathematics and many other fields that connected in various ways to the actual workings of capital markets.
In time, I saw that capital markets were complex systems and that complexity theory, a branch of physics, was the best way to understand and manage risk and to foresee market collapses. I began to lecture and write on the topic including several papers that were published in technical journals.
I built systems with partners that used complexity theory and related disciplines to identify geopolitical events in capital markets before those events were known to the public.
Finally I received invitations to teach and consult at some of the leading universities and laboratories involved in complexity theory including The Johns Hopkins University, Northwestern University, The Los Alamos National Laboratory, and the Applied Physics Laboratory.
In these venues, I continually promoted the idea of inter-disciplinary efforts to solve the deepest mysteries of capital markets. I knew that no one field had all the answers, but a combination of expertise from various fields might produce insights and methods that could advance the art of financial risk management.
I proposed that a team consisting of physicists, computer modelers, applied mathematicians, lawyers, economists, sociologists and others could refine the theoretical models that I and others had developed, and could suggest a program of empirical research and experimentation to validate the theory.
These proposals were greeted warmly by the scientists with whom I worked, but were rejected and ignored by the economists. Invariably top economists took the view that they had nothing to learn from physics and that the standard economic and finance models were a good explanation of securities prices and capital markets dynamics.
Whenever prominent economists were confronted with a "seven-sigma" market event they dismissed it as an "outlier" and tweaked their models slightly without ever recognizing the fact that their models didn't work at all.
Physicists had a different problem. They wanted to collaborate on economic problems, but were not financial markets experts themselves. They had spent their careers learning theoretical physics and did not necessarily know more about capital markets than the everyday investor worried about her 401(k) plan.
I was an unusual participant in the field. Most of my collaborators were physicists trying to learn capital markets. I was a capital markets expert who had taken the time to learn physics.
Read More @ DailyReckoning.com