by John W. Whitehead, Rutherford Institute: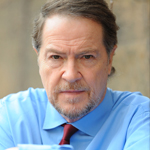 "The fact is that the government, like a highwayman, says to a man: Your money, or your life. And many, if not most, taxes are paid under the compulsion of that threat. The government does not, indeed, waylay a man in a lonely place, spring upon him from the road side, and, holding a pistol to his head, proceed to rifle his pockets. But the robbery is none the less a robbery on that account; and it is far more dastardly and shameful."—Lysander Spooner, American abolitionist and legal theorist
Cash may well become a casualty of the COVID-19 pandemic.
As these COVID-19 lockdowns drag out, more and more individuals and businesses are going cashless (for convenience and in a so-called effort to avoid spreading coronavirus germs), engaging in online commerce or using digital forms of currency (bank cards, digital wallets, etc.). As a result, physical cash is no longer king.
Yet there are other, more devious, reasons for this re-engineering of society away from physical cash: a cashless society—easily monitored, controlled, manipulated, weaponized and locked down—would play right into the hands of the government (and its corporate partners).
To this end, the government and its corporate partners-in-crime have been waging a subtle war on cash for some time now.
What is this war on cash?
It's a concerted campaign to shift consumers towards a digital mode of commerce that can easily be monitored, tracked, tabulated, mined for data, hacked, hijacked and confiscated when convenient.
According to economist Steve Forbes, "The real reason for this war on cash—start with the big bills and then work your way down—is an ugly power grab by Big Government. People will have less privacy: Electronic commerce makes it easier for Big Brother to see what we're doing, thereby making it simpler to bar activities it doesn't like, such as purchasing salt, sugar, big bottles of soda and Big Macs."
Much like the war on drugs and the war on terror, this so-called "war on cash" is being sold to the public as a means of fighting terrorists, drug dealers, tax evaders and now COVID-19 germs.
Digital currency provides the government and its corporate partners with the ultimate method to track, control you and punish you.
In recent years, just the mere possession of significant amounts of cash could implicate you in suspicious activity and label you a criminal. The rationale (by police) is that cash is the currency for illegal transactions given that it's harder to track, can be used to pay illegal immigrants, and denies the government its share of the "take," so doing away with paper money will help law enforcement fight crime and help the government realize more revenue.
Despite what we know about the government and its history of corruption, bumbling, fumbling and data breaches, not to mention how easily technology can be used against us, the campaign to do away with cash is really not a hard sell.
It's not a hard sell, that is, if you know the right buttons to push, and the government has become a grand master in the art of getting the citizenry to do exactly what it wants. Remember, this is the same government that plans to use behavioral science tactics to "nudge" citizens to comply with the government's public policy and program initiatives.
It's also not a hard sell if you belong to the Digital Generation, that segment of the population for whom technology is second nature and "the first generation born into a world that has never not known digital life."
And it's certainly not a hard sell if you belong to the growing class of Americans who use their cell phones to pay bills, purchase goods, and transfer funds.
In much the same way that Americans have opted into government surveillance through the convenience of GPS devices and cell phones, digital cash—the means of paying with one's debit card, credit card or cell phone—is becoming the de facto commerce of the American police state.
Not too long ago, it was estimated that smart phones would replace cash and credit cards altogether by 2020. Right on schedule, a growing number of businesses are adopting no-cash policies, including certain airlines, hotels, rental car companies, restaurants and retail stores. In Sweden, even the homeless and churches accept digital cash.
Making the case for "never, ever carrying cash" in lieu of a digital wallet, journalist Lisa Rabasca Roepe argues that cash is inconvenient, ATM access is costly, and it's now possible to reimburse people using digital apps such as Venmo. Thus, there's no longer a need for cash. "More and more retailers and grocery stores are embracing Apple Pay, Google Wallet, Samsung Pay, and Android Pay," notes Roepe. "PayPal's app is now accepted at many chain stores including Barnes & Noble, Foot Locker, Home Depot, and Office Depot. Walmart and CVS have both developed their own payment apps while their competitors Target and RiteAid are working on their own apps."