by Stefan Stanford, All News Pipeline: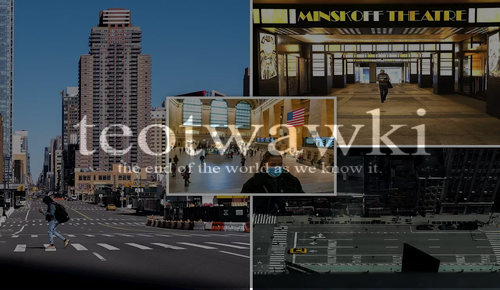 TEOTWAWKI.
'The End Of The World As We Know It'.
While some Americans believed we'd never see it in our lifetime's, 10's of millions of Americans and hundreds of millions more across the world are already witnessing it this very moment with much of life being shuttered and shut in, businesses closed 'en mass' with a boatload of unemployed soon to follow.
And while this TEOTWAWKI may look much differently than many thought it would, with President Trump and the White House just unveiling their '15 Days To Slow The Spread' strategy outlining their recommendations to Americans on how to get this beast under control, they also warned that new guidelines may be issued in 15 days if the spread of the virus hasn't yet been controlled and we can do a lot more than only imagine what those 'new guidelines' might be.
As we'll explore in the next section of this story and the 1st video at the bottom of this story, a Rockefeller Foundation paper published back in 2010 predicted a pandemic could be used as an excuse to establish an authoritarian global government with their 'Lock Step' scenario unfolding nearly exactly as we're witnessing with the coronavirus pandemic now. Predicting mass shutdowns across America and the world, that Rockefeller paper, which we've also embedded for you to read at the bottom of this story, also predicted a  scenario eerily similar to 'Event 201', the pandemic simulation staged last October by Johns Hopkins University with the World Economic Forum, the Bill and Melinda Gates Foundation and Johnson & Johnson.
So with the spread of the number of cases of COVID-19 doubling every few days according to this story over at Forbes, undergoing exponential growth that will continue as long as long as there is at least one infected person within a population who is exposed to others, it's easy to understand why some are now warning this crisis and the resulting 'lockdowns' could last for 2 years or more as reported in this new Daily Mail story. And interestingly, the 'lockdowns' are happening in 'lock step' from one nation to the next.
Yet with 'Kid Rock' refusing to close down his Nashville, Tennessee bar, arguing that the mandate from the Nashville mayor to close all bars and restaurants was 'unconstitutional', showing that not everybody will be going along with government mandates, this Sacramento Bee story saved at archive titled "Coronavirus vs Constitution: What Can Government Stop You From Doing During A Pandemic" offers us an interesting look at what will likely be unfolding all across America until this killer disease is eradicated or America transformed into a 'medical police state'.
Public closures, a ban on gatherings, quarantine notices and orders for isolation have become increasingly common as the coronavirus continues to spread across the United States.
Officials in Washington state and San Francisco are limiting the number of people allowed to attend public gatherings. The governor of California joined them on Thursday in urging the cancellation of all events with more than 250 people in attendance. The governor of Kentucky, a Bible belt state, has asked churches and other religious institutions to temporarily cancel services.
But if it seems these actions are infringing on individual freedoms guaranteed by the U.S. Constitution, think again.
"You don't have a right to assemble against the backdrop of known public health risk," James G. Hodge told McClatchy News.
Officials typically have to go through legal processes to close an establishment or shut down public gatherings, Hodge said. But under a state of emergency, everything is expedited.
"It's not that we don't have time for First Amendment interests, it's that we must act fast," he said. "What was opened today can be closed tomorrow."
That doesn't mean communities in the U.S. will see the kind of large-scale lock-downs happening in Italy and China, Hodge added. But there are circumstances under which a voluntary recommendation can become involuntary.

Read More @ AllNewsPipeline.com