from ZeroHedge: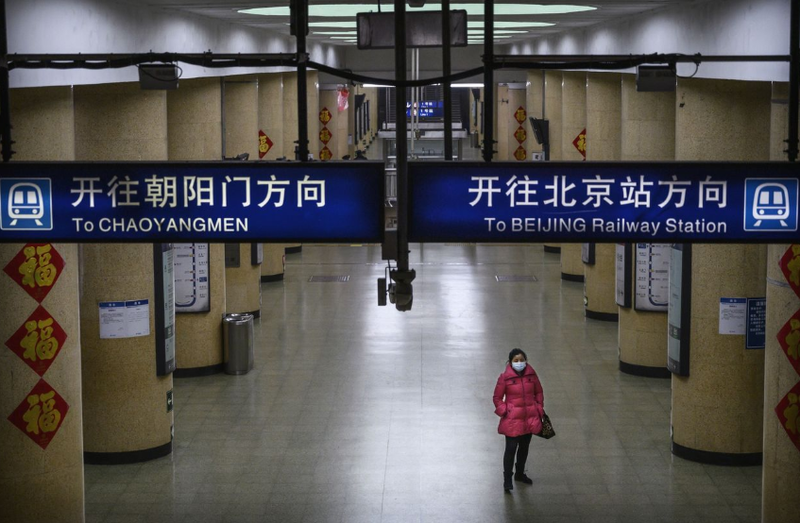 Update (1025ET): Epoch Times' Jennifer Zeng has shared some of the most startling videos gleaned from Chinese social media before the country's censors can take them down.
And this latest one is no exception.
According to Zeng, the crowd of people depicted in the video are being herded into the "No. 2 Hospital of Wuhan Iron & Steel Corp" to be "re-educated" after they were caught walking the street without permission or an excuse.
Last night, people from Qingshan District in #Wuhan taken to No. 2 Hospital of Wuhan Iron & Steel Corp to be "educated" after being caught for walking on the street. What they shout is "Qingshan stay strong."
Click here for more: https://t.co/fSwmxEsPYp#COVID2019 #Coronavirus pic.twitter.com/aTjhRY7wBs

— 曾錚 Jennifer Zeng (@jenniferatntd) February 19, 2020
These draconian crackdowns are driving millions of Chinese bonkers as they're confined largely to their homes. And all of it will be rendered insignificant as Japan unleashes a boat load of infected patients on Tokyo.
* * *
Update (0900ET): Following Russian newswire reports yesterday that the Kremlin would become the first country to completely ban all Chinese from entering the country and freeze all visas for Chinese applicants, the Russian Foreign Minister on Wednesday clarified that it will continue to issue some visas, with very strict guidelines.
Visas will continue to be issued for official, business, humanitarian and transit purposes, the foreign ministry said.
The ban will take effect Thursday at midnight Moscow Time.
The Kremlin imposed the ban because of the "worsening epidemiological situation" in China, according to the office of the deputy prime minister, according to the Guardian.
The Foreign Minister added that the ban is temporary and only applies to visitors with tourist, private, student and work visas.
"We reiterate our willingness to continue close cooperation with China in order to efficiently eradicate this common threat."
Russia has had three confirmed cases of the Covid-19 disease.
Beijing has made it known that it finds bans on Chinese travelers to be "racist". Following the expulsion of 3 WSJ journalists over a 'racist' opinion column, we suspect the Russian embassy got an earful from their partners in Beijing.
* * *
Update (0845ET): As the G-20 meeting of finance ministers and central bank governors begins in Riyadh, the IMF has published an essay warning that newfound "uncertainties" brought about by the coronavirus could lead to a "long-lasting and more severe outbreak".
In the lengthy piece, penned by IMF Managing Director Kristalina Georgieva, warns that after central banks around the world including the Fed cut rates 71 times last year, the biggest monetary boom since the global financial crisis has left the global economy in good shape.
Still, China presents a serious problem. If the virus is contained, the economic impact on the mainland will be short-lived, and the knock-on effects for the rest of the world, transmitted via disruptions to global supply chains, will be minimal.
But if Beijing can't get a handle on this thing, well…
The coronavirus is our most pressing uncertainty: a global health emergency we did not anticipate in January. It is a stark reminder of how a fragile recovery could be threatened by unforeseen events. There are a number of scenarios, depending on how quickly the spread of the virus is contained. If the disruptions from the virus end quickly, we expect the Chinese economy to bounce back soon. The result would be a sharp drop in GDP growth in China in the first quarter of 2020, but only a small reduction for the entire year. Spillovers to other countries would remain relatively minor and short-lived, mostly through temporary supply chain disruptions, tourism, and travel restrictions.

However, a long-lasting and more severe outbreak would result in a sharper and more protracted growth slowdown in China. Its global impact would be amplified through more substantial supply chain disruptions and a more persistent drop in investor confidence, especially if the epidemic spreads beyond China.
The rest of the essay goes on to discuss a host of other global risk factors.
The implications are clear: Central banks response to the outbreak will inevitably be to ease more (a process that the PBOC has already started, and which the Bank of Korea is expected to join). Which means Davos 2021 will be all about central banks' inability to rescue the global economy.
* * *
Tehran is not having a good year.
First, President Trump rang in the new decade by barbecuing the leader of the IRGC Quds Force. In response, Iran killed zero Americans but accidentally shot down a Ukrainian passenger plane, killing nearly 200 people, including dozens of Iranian students, then they tried to lie about it, before finally coming clean.
All that was probably enough to destabilize the regime on its own. Though it has quieted down somewhat, the public outrage is still simmering as Iran's rolling economic crisis continues.