by Michael Snyder, The Economic Collapse Blog: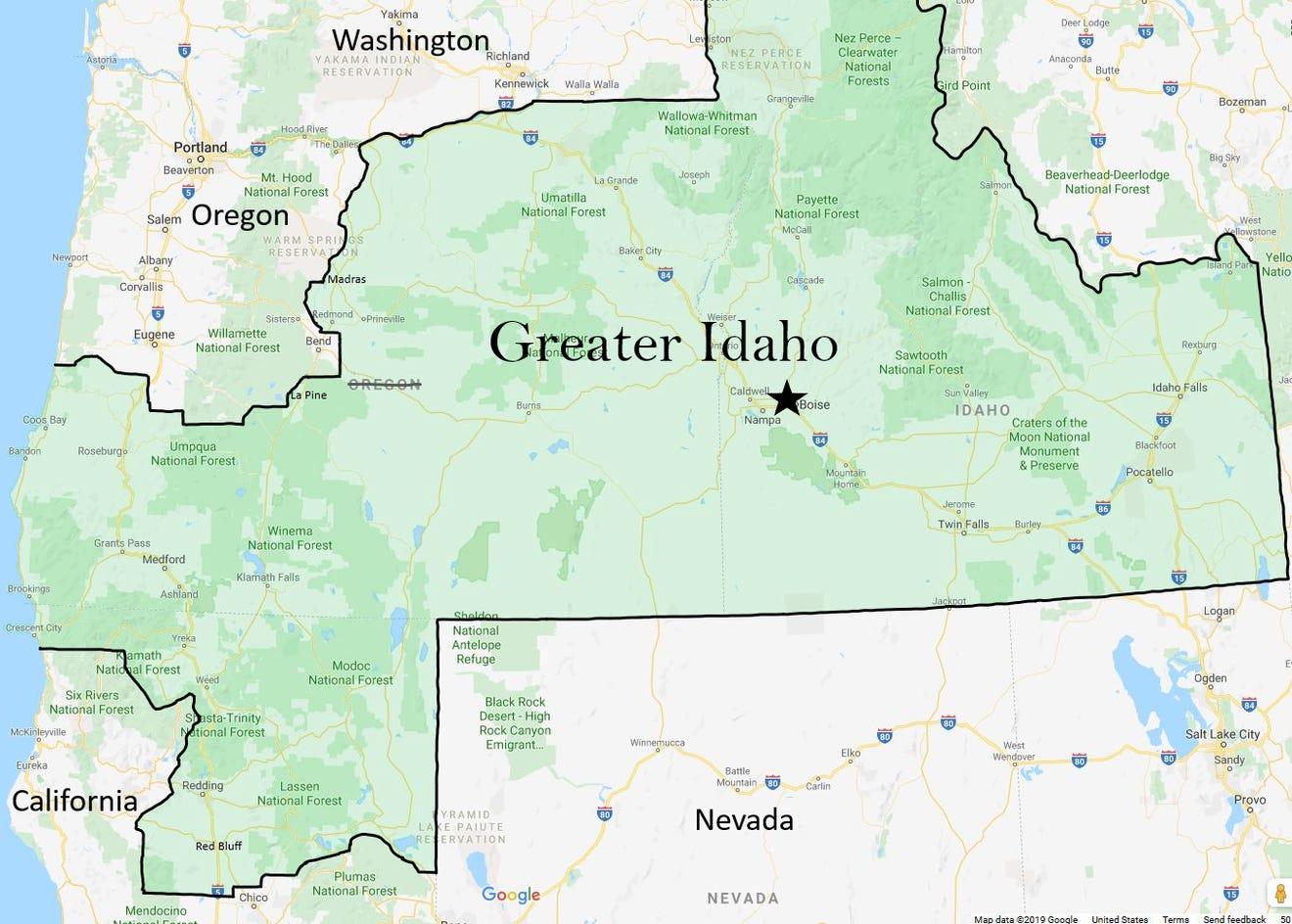 Is the state of Idaho going to get a whole lot bigger?  A group known as Greater Idaho is pushing for rural counties in Oregon and northern California to secede and become part of the state of Idaho.  In fact, as you will see below, this effort has actually been endorsed by some of the top Republicans in the Oregon legislature.  Today, the Oregon state government is completely and utterly dominated by the left, and due to the demographics of the state that is not likely to change any time soon.  So conservatives in rural areas that are deeply upset over the direction of the state essentially have just two options.  They can either move to a more conservative state, or they can attempt to redraw state lines.
Of course attempting to redraw state lines is a very complicated process, but at this point conservatives in Oregon are so fed up with the state legislature that they have decided to push ahead with this effort.
In fact, it is being reported that signatures are being collected right now in order to "put the proposal on ballots in November"…
Frustrated by liberal policies, some Oregon residents petitioned to leave the state – by moving the border with Idaho westward.

The movement secured initial approval from two counties and aims to get enough signatures to put the proposal on ballots in November, according to the group called Greater Idaho.
This is a very viable political movement, and it will be quite interesting to see where this goes.
For years, rural counties in Oregon have felt shortchanged by a state legislature that is dominated by the Portland area, and things have finally come to a breaking point.  One of the chief organizers of this movement, Mike McCarter, says that this secession push "is our last resort"…
"Rural counties have become increasingly outraged by laws coming out of the Oregon Legislature that threaten our livelihoods, our industries, our wallet, our gun rights, and our values," Mike McCarter, one of the chief petitioners, said in a news release. "We tried voting those legislators out, but rural Oregon is outnumbered and our voices are now ignored. This is our last resort."
Initial efforts are focused on just a few counties, but eventually the goal of Greater Idaho is to get dozens of counties in Oregon and northern California to secede.
The following comes from Greater Idaho's official website…
We are trying to change the present borders of Idaho, Oregon & Northern California so that certain counties & communities presently in Oregon & Northern California will become part of the State of Idaho.
Out of Oregon's existing 36 counties, only 14 would remain in the state if Greater Idaho is able to achieve their goals, and a big chunk of northern California would become Idaho territory as well.
But getting this accomplished will not be easy.  Approval would be needed from the state legislatures of Oregon, California and Idaho, and that would be a real challenge.
On top of that, the U.S. Congress would have to approve any plan, and getting that to happen would probably require a miracle.
But one thing that this movement has going for it is the fact that it has been endorsed by some big name state lawmakers in Oregon, and that includes the top Republican in the state Senate…
The Republican leader in the state Senate, Sen. Herman Baertschiger, supports the idea and told CNN he'd even help write the secession legislation.

"Democrats should be paying attention to how unhappy these Oregonians are with the current regime to seek secession from Oregon. I would welcome the idea to serve on the Greater Idaho legislature!" he said.
And Representative Gary Leif actually has a map of "Greater Idaho" hanging in his office…
Read More @ TheEconomicCollapseBlog.com